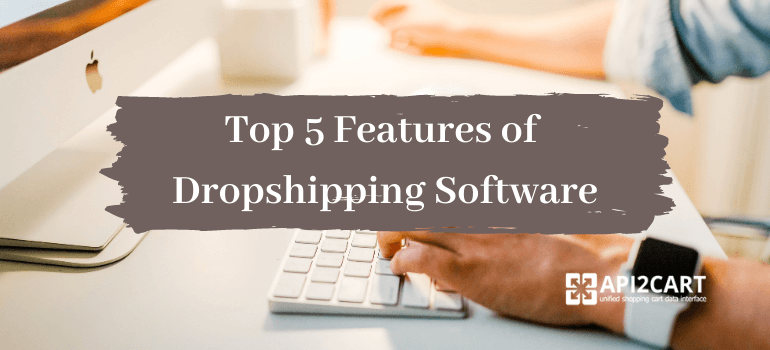 Dropshipping is a fulfillment model where the owners of eCommerce stores have no need to keep all of the goods that they sell in their own warehouses. Instead, when an online shop sells some product, it can buy it from a third party supplier and it will be delivered directly from the supplier's stock to the customer.
New online sellers choose dropshipping as a good starting point for progressing in the sphere of eCommerce business, while the experienced merchants utilize it as an alternative option in their supply activities.
Dropshipping automation software allows hands-off communication between eCommerce retailers and suppliers of goods. It enables online stores to upload products, synchronize orders, inventory, and shipment details automatically with multiple dropshipping suppliers.
Choosing the right dropshipping system is not a simple task. There are important factors that must be taken into consideration during the process of making a decision in which the dropshipping solution is better for the business.
Reliability of the Software
Dropshipping solution has a great influence on the total profit of the eCommerce store. First of all, it is important to notice how much time dropshipping software provider work on the market and how complicated it will be to implement such kind of system in the business model of an eCommerce store.
Clients' testimonials also matter. Positive testimonials from the customers can help retailers understand how exactly dropshipping automation software effects on the rise of the store's sales in practice.
Poorly performing software can damage the retailer's reputation and cause large financial troubles.
Range of features
The main purpose of any dropshipping solution is to fully automate all the operations connected with synchronization of inventory, order processing, importing dropshipped products, monitoring of prices, and connecting to multiple vendors.
Dropshipping automation software gives retailers the opportunity to test new products that appear on the market and save costs on storing them. It helps to track information updates with no additional efforts and send orders automatically to a specific warehouse.
Before choosing the effective dropshipping solution it is also very useful to explore the dashboard possibilities because it is very important to take a view of the store and orders over time.
Customer Support
It is recommended to pay attention to what kind of support each of dropshipping solutions offers. Why it is so necessary? Because when some problem connected for example with order synchronizing occurs the retailer will have a need to solve it very quickly.
There are a number of dropshipping software such as Ecomdash, Spark Shipping, ShopMaster and Ordoro that provide support via phone, email, live chat or even give the possibility to communicate with a dedicated account representative.
Price
Off course, the software price must be affordable. But sometimes, cheaper does not necessarily mean better. Selling the products online is a good business that has a lot of perspectives and sometimes saving a few dollars can cause huge damages and take away the opportunity to work effectively.
The price of dropshipping solutions usually depends on their features and ranges from 20 to 249$ per month.
Integration with Shopping Carts
Dropshipping automation software depends on integration with shopping carts and marketplaces to receive and manage the information about orders, customers and products.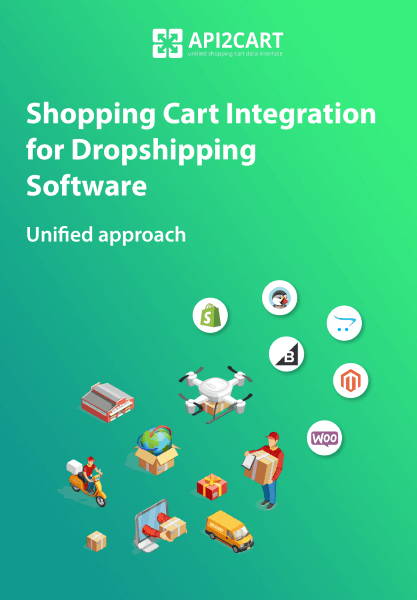 Shopping Platform Integration for Dropshipping Automation Software
Explore how to develop the integration with multiple shopping cart solutions easily.
DOWNLOAD
Data from retailers' stores power the majority of features and processes that every dropshipping management system covers. For such kind of software, it is necessary to have integration with a great amount of sales channels like Shopify, WooCommerce, eBay, Magento, Etsy, 3dcart, OpenCart, etc. More supported platforms, more possibilities to satisfy the retailers.
Conclusion
There are a lot of factors that influence the final decision of retailers what dropshipping software to choose for their business.
For dropshipping software, it is important to provide a wide range of features and have integration with multiple shopping carts. However, the integration with each eCommerce platform involves tons of tech work and requires a lot of time, money and effort. That is why many companies choose API2Cart to integrate with more than 40 shopping carts and marketplaces via one API.
If you are interested in cooperation with API2Cart, schedule a call with our sales manager and get more detailed information.