Accelerate the Pace of Your Business Growth with Mobile App Builder Integration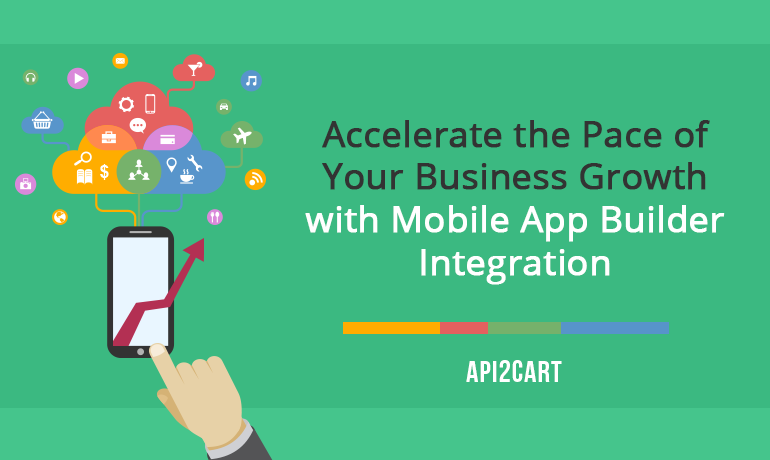 One of the newest and most perspective niches in the world of business as we know it today is mobile app building. Service providers in this field empower web store owners to build mobile shops and help to create their own apps for Android, iOS and Windows. They make it possible for e-retailers to provide their consumers with the opportunity to buy products via their mobile devices. Mobile app building is a highly competitive field of business. That's why such system providers keep an eye on innovations and try not to miss the one that would help their business thrive.
If you're one of mobile app builder providers, then you'll be especially interested in the opportunity of integration with shopping platforms. It would help you to significantly expand the circle of your potential clients and thus gain more profits. However, it's not so easy to connect to shopping carts. E-retailers build their stores based on different platforms, and each of them has a specific way of data storage. This means that you'll need to elaborate integration module for each platform separately. It would be a bit hard because the process of developing is complex and requires a lot of time and money spendings to be done.  
API2Cart is a service that can help you avoid the challenges related to the process of integration. It provides a unified API that works for 30+ shopping carts including Magento, Shopify, BigCommerce, WooCommerce, X-Cart, Ubercart and others.
Go through this infographic to find out more about mobile app builder integration with numerous shopping carts and API2Cart as a nostrum to overcome challenges and perform this process without extra effort.
Make your business thrive by performing mobile app builder integration via API2Cart and get connected to 30+ top shopping platforms at once. If you would like to find out more information, schedule a FREE сonsultation with our representative by clicking on the button below.