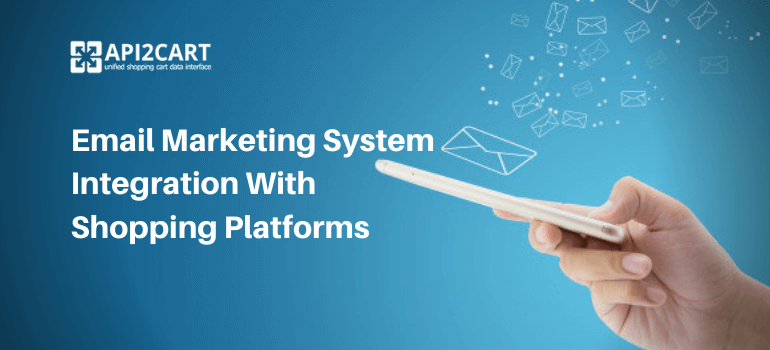 Currently, the eCommerce world is developing in fast tempo and direct contact with customers is critically important. So, for this purpose, email marketing system intends for. It offers an opportunity to enhance promotion efforts with emails sent via multiple channels. Thus, e-store owners who want to reach their customers have become an important segment of clients for email marketing providers.
In order to satisfy the most spontaneous client's desires, email marketing service providers should empower their soft to meet the requirements. Integration with shopping platforms appears to be a key, allowing to stay ahead of the pack and get web store owners' attention to your business soft.
Application Programming Interface is considered to be the most appropriate way to perform integration. It underpins the technical communication between email marketing business soft and multiple shopping platforms.
However, establishing API integration requires strong technical knowledge in the specific logic of data storage in every platform. So, performing a connection with each of them may cost you both time to develop and resources to maintain. Thus, designing a few integration services is not an effective option at all. Finding a simple and fast solution to performing data interactions will solve the problem.
API2Cart is an online solution that provides you with a single API to receive a connection to more than 40 shopping platforms and marketplaces simultaneously. You will be able to implement your email marketing system integration with such leading solutions like Magento, WooCommerce, BigCommerce, PrestaShop, Shopify, OpenCart and much more. Easily manipulate with products, orders, customers, categories and other related data.
API2Cart offers opportunities to:
Integrate email marketing software with numerous shopping platforms in order to make email marketing campaigns more effective;
Retrieve product, cost and order information from eCommerce store, process it within your system and notify clients about new items, discounts and special prices or order statuses via sms or email;
Sync customer information and contact details from various shopping platforms in order to perform mail-out;
Gather all related clients' information to establish email statistics easily.
API2Cart possesses all needed expertise and offers you benefits that are worth mentioning. Save your time and money as you don't have to pay for different integration modules since the service provides a single API to access 40+ platforms and numerous versions. Receive full technical support in order to satisfy all the needs and requirements. We are also here to broaden the functionality on your demand. Get secure data interaction whereas SSL certificate is used to make connections together with a 32-symbol API key to access the system. Be able to add as many stores as you need due to scalable and flexible infrastructure.  Extend the pool of your potential clients as you are provided with an excellent offer to integrate with multiple platforms.
Dispel all doubts and connect your email marketing soft with top industry platforms to satisfy all customers' needs. In case if you have some questions to ask about your email marketing system integration, don't hesitate to schedule a FREE Call with our expert. We are always pleased to help and provide qualified advice.