Empower Your Business with Magento Shipping Integration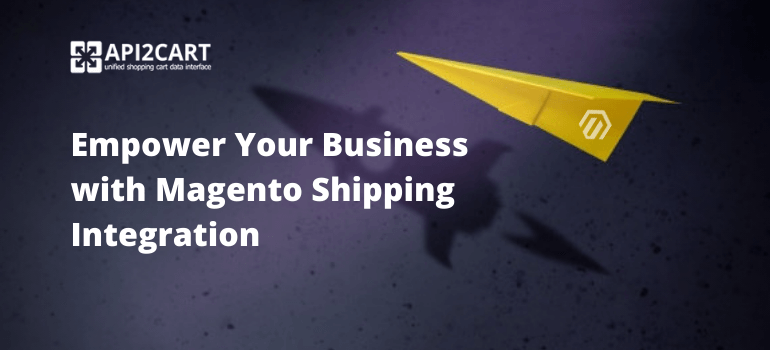 Buyers' expectations today are shifting to instant gratification. People want to know where the item they ordered coming from and how quickly they can get it. This puts a lot of pressure on e-retailers. To get orders out to customers as quickly and efficiently as possible, they take help from specialized shipping systems. Such solutions help vendors to pick, pack and ship all ordered products to their buyers. It highly increases the merchants' service level. As shipping is a crucial part of every e-retail business, it makes an excellent opportunity to build a profitable business on top of it.
Markets are competitive, and the niche of shipping management solutions is no exception. Looking better to the customer's eye takes effort. A way to achieve this is having more to offer or being able to serve the needs of a wider range of customers. You can achieve both through integration with shopping platforms.
In this article, we are going to explore the aspects of Magneto shipping integration. We've chosen Magento because it is one of the most popular eCommerce platforms in the world. The development of the connection between your shipping software and Magento will bring you a lot of possibilities.
The Difficulties of Connection with Shopping Platforms
Get connected with various shopping platforms is an excellent possibility that brings to shipping management system providers such advantages as a huge number of potential clients, a wider functionality range, and ultimately a revenue growth. However, to perform integration with eCommerce platforms is a tedious task. During the process of establishing the connection with platforms, you will meet two main challenges.
The first difficulty is to choose the shopping platforms that can bring you a significant number of benefits. The second one is to start developing a connection with them. And this is a technically complicated task that demands a lot of resources. It requires high budgets and months' of your developers' time. Also, don't forget that each integration needs its' further maintenance and update.
Solutions to the Problems
A solution to the first problem is to choose a platform that would bring more clients and gains than other ones. At best, it should be one of the largest and most popular shopping cart software, just like Magento. This market giant powers over 26% of all online stores worldwide. Being integrated with it can be beneficial for various services, and for shipping solutions in particular. That is because of more than 770,000 online store owners are Magento customers.
A solution for the second problem is a bit more difficult. Due to the different architecture and specific ways of data storage of every shopping platform the process of integration with each of them becomes unique and troublesome. In order to perform it, you need to find a qualified programmer. He must have experience with a particular platform and would be able to elaborate on the integration module for it. This would take you both much time and vast expenses. However, it's not the end of the story because you will need to spend more money in the future. That is because the module requires maintenance after it's finished.
But there is a solution that can help you to connect your shipping software with Magento, save your money and time. It is API2Cart - unified shopping platform integration interface.
How to Start Magento Shipping Integration?
With API2Cart, you get the possibility to perform Magento shipping integration easily and get connected to many other top shopping platforms at once.
API2Cart is a reliable solution that helps shipping and other software providers to successfully overcome two main integration challenges mentioned above. It offers a unified API that enables to establish a connection with Magento and automatically access to 40+ other shopping platforms simultaneously. Among the supported platforms are Shopify, Prestashop, WooCommerce, BigCommerce, X-Cart and others well-known worldwide platforms.
Using API2Cart, you'll be able to get all the information necessary including clients' names, shipping, and billing addresses easily. The service also allows you to get orders with related data and process them within your system. You can sync completed orders on various shopping platforms and meet all your clients' needs.
In case you're interested in the connection of your shipping system with Magento and other shopping cart software, you can perform it with the help of API2CartAPI2Cart. If you have any questions, schedule a сonsultation, and our expert will contact you and give the answers to all of them.