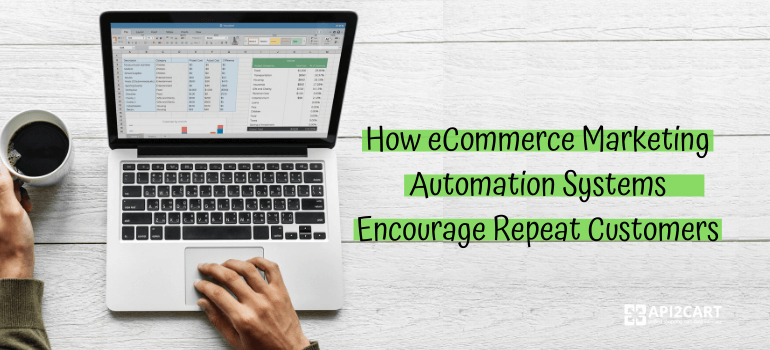 eCommerce marketing automation systems have opened up many new opportunities for online store owners to expand their business and serve existing customers. Such systems are a weapon for businesses to conquer their customer base. Without the need of manual approach, a marketing automation tool itself handles the marketing campaigns for business by generating new leads and encouraging repeat customers at the same time.
Most of the online businesses focus on generating new customers for their business ignoring the existing customers who already made a purchase from their online store. Increasing conversion rates is crucial for a business but the significance of encouraging repeat customers cannot be overlooked. In fact, it is profitable to persuade existing customers to make a purchase who have already build up their trust as compared to new ones who take time to get convinced.
This article is intended to clarify how eCommerce marketing automation systems help businesses in encouraging repeat customers and build a strong relationship with them. Here is the set of features such systems provide for that:
1. A Subscription Service
Marketing automation systems allow online store owners to offer their visitors and customers a subscription service so that they can subscribe to the products they frequently use. This feature permits the customers to get a product on a monthly or annual basis. The automation software then sends customers relevant information about the product and keeps them updated about the latest trends through email communication. In this way, the customers are kept engaged with a business resulting in repeat customers when they again make a purchase after their plan expires.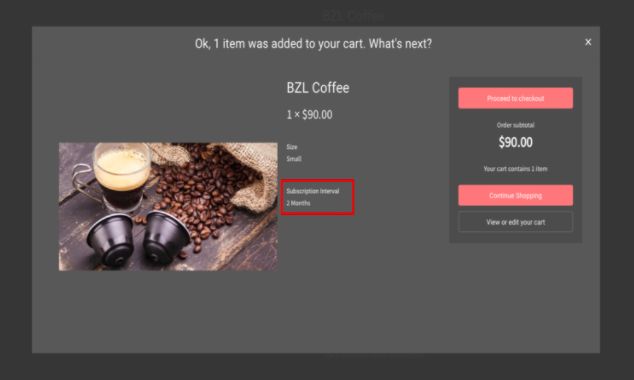 image source: https://keap.com/infusionsoft
2. Repurchase Reminders
When customers have made a purchase, the store owners can remind them to purchase some products again before they run out. This keeps customers engaged with the online store converting them into a regular one. But the store owners cannot address a large number of customers manually, while marketing automation software can send repurchase reminders to all the customers who have made a purchase from the store. Once the time interval between two purchases and product category is specified, the software can help to drive a repurchase through frequently used products.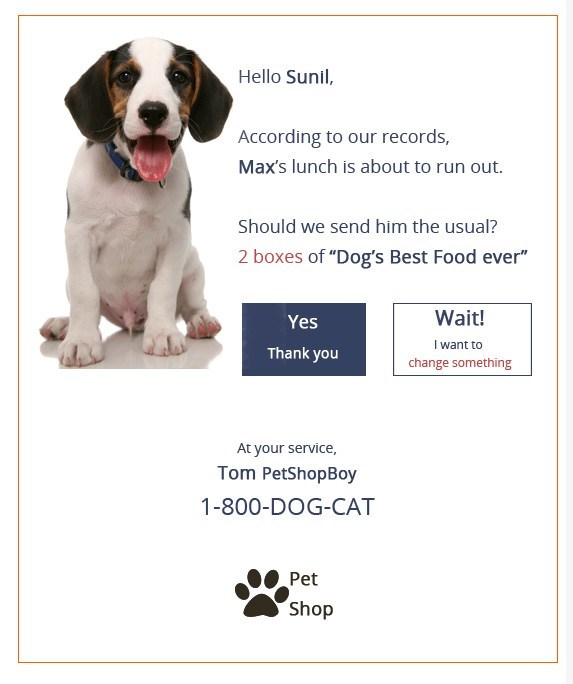 image source: https://blog.contactpigeon.com/
3. Cart Recommendations
Marketing automation systems are capable of recording an online visitor's search and order history. This is beneficial in encouraging repeat customers in the sense that, whenever a customer visits the online store for the next time, the software provides cart recommendations similar to the product they searched for or purchased earlier. It even displays an "Add To Cart" to prompt customers to buy the product quickly. It is an effective way to persuade repeat customers to make a purchase similar to the previous one.
4. Offer Coupons
The financial impact of offer coupons on a business is significant. They are important to stimulate new customers to try a product and maintain a healthy relationship with existing ones to encourage repeat purchases. Marketing automation software let businesses define an automated procedure to send special offers to their customers. The store owners can configure the coupon content as per their requirements. Offer coupons pave a clear way for online store owners to incite repeat customers by offering them frequent discounts.  
Shopping Cart Integration for Marketing Automation Software
Integration with shopping carts is absolutely necessary for marketing automation systems to carry out the functions outlined above. However, getting connected to the platform is among the biggest pain points for enterprises, due to the high technological complexity. Setting up a real-time data exchange and synchronization between two different systems involves tons of tech work, and so does their maintenance.
A much better alternative to this is to use a unified API provided by API2Cart  that allows to connect with 35+ eCommerce platforms like Magento, Shopify, WooCommerce, Prestashop and many more at once.
Here is how your marketing automation system can implement its basic features via API2Cart:
1. Send emails featuring new items, discounts, and special offers
With API2Cart it's easy to promote coupons, discounts, sales and much more for new items to encourage repeat customers.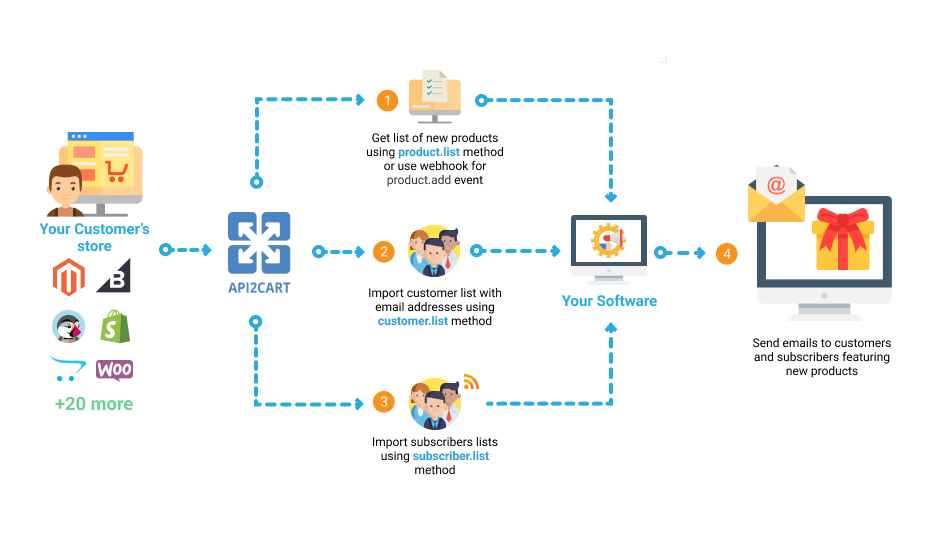 2. Data-driven post-purchase communication
Analyse order history for effective post-purchase communication.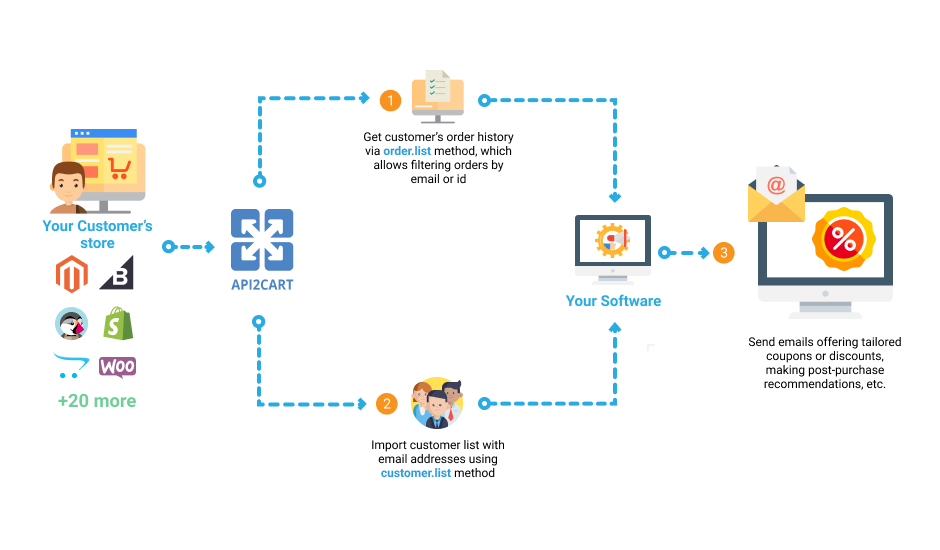 3. Spot regular purchases
Send repurchase reminders to the customers tempting them to purchase similar items of their interest.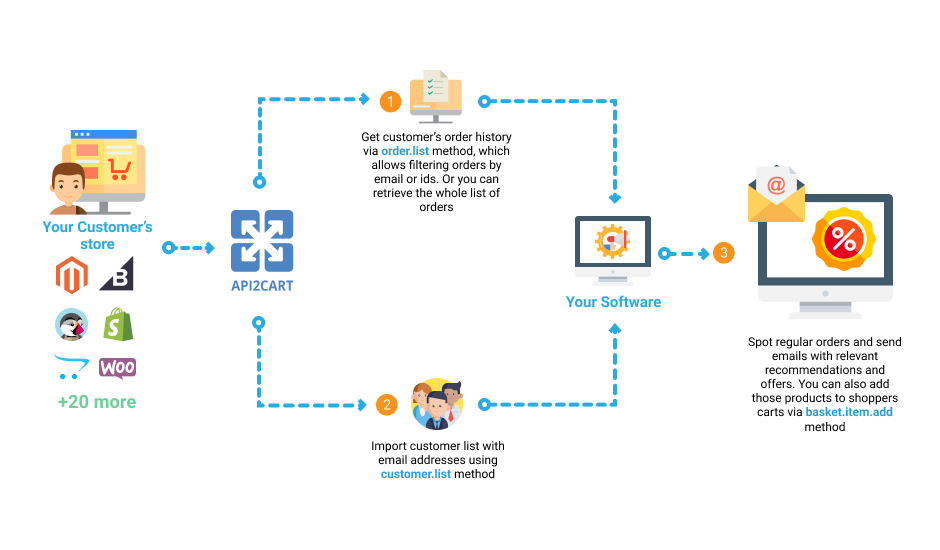 Find out more about these and other supported methods here or in our documentation.
If you are willing to check your opportunities, schedule a quick call with our expert or make a trial account to see how API2Cart may improve your marketing automation software already today.