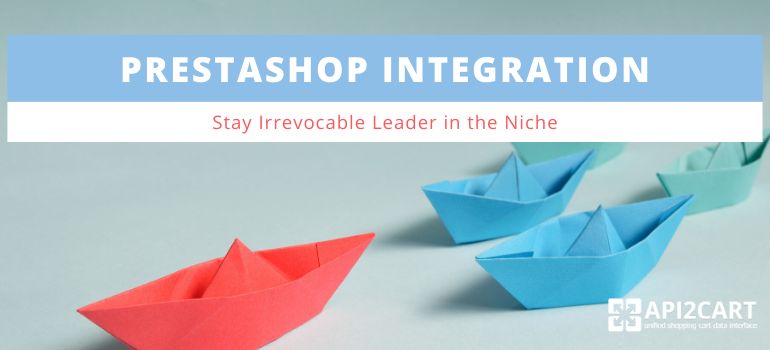 If you are an inventory management, dropshipping, data feed, shipping, mobile apps builder or other service providers, undoubtedly, you have had a time of your rapid business growth, a flux of money and pleasurable customers' feedback. Wish this lasts forever, don't you? But things are humming and digital eCommerce is far from stable nowadays. Sometimes, there is probably a  feeling that you are going around in a circle and your business requires new impulse.
The intense rivalry in the current eCommerce market dictates its own conditions of how to be profitable. That is why integration with different shopping carts turns to be the crucial step ahead of that and might open the new horizons for merchants that provide online services. When talking about PrestaShop, it's worth saying that integration with this solution will bring a lot of advantages to your eCommerce.
PrestaShop is a well-known and robust platform that powers over 150 thousand of online stores and has been working on the digital market for more than 7 years. Integration with this shopping cart will give you an added value to the business that will definitely engage multiple targeted stores' owners. Thus, you will watch the motion of excess profit. The main question that takes place, is how to establish PrestaShop integration?
Needless to say, in today's digital era, that application programming interface is the best method to proceed with the integration. Easily connect to PrestaShop and gather all needed data at once. However, establishing data interaction requires strong technical expertise to overcome the specific logic of data storage. That is why finding a simple solution to perform integration will help to solve this issue.
API2Cart is an online solution that provides single API to access 40+ shopping carts, including such industry leaders like Magento, WooCommerce, Bigcommerce, Shopify, OpenCart and others. PrestaShop with all versions is in the list of supported carts. Save your time, money and efforts on developing various methods to access different shopping carts. Integrate with API2Cart only, and get access to multiple platforms with no extra payments.
Go through this infographic that outlines all the provided benefits from PrestaShop integration and API2Cart as a way to perform data interaction.
If you have some questions or special requests, don't hesitate and schedule a FREE Consultation on your PrestaShop integration. Our dedicated manager will help to solve all dizzying issues.