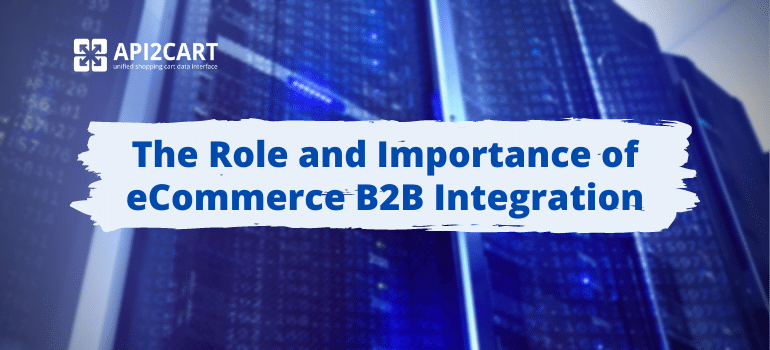 Maintaining a solid B2B integration strategy is critical for companies that want to efficiently exchange and communicate data with their partners, suppliers, and customers. Many vendors are investing in the latest B2B integration technologies, wishing to cut costs and integrate their applications with trading partners.
B2B integration typically implies taking information out of your business applications and transfer it to the applications of your business partners (customers, suppliers, banks, logistics providers) and vice versa. The purpose of such interchange is to automate and optimize key business processes that extend outside of the company. While these crucial processes vary by vertical, geography, and company size, one point remains consistent, the automation of core external business processes that touch customers and suppliers.
How B2B Integrations Work for eCommerce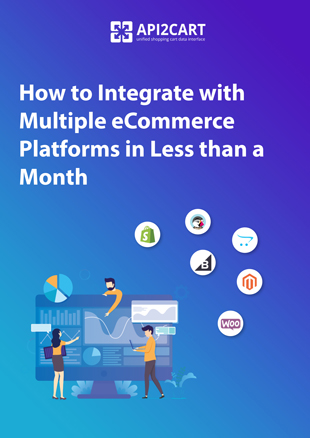 eCommerce Integration Development
Explore how to develop the integration with various eCommerce platforms in less than 30 days.
DOWNLOAD THE GUIDE
The eCommerce industry is particularly full of opportunities for B2B solutions. E-retailing implies numerous business connections and interactions, essential to proceeding with many tasks and processes. As e-retailers strive to optimize their workflow and collaboration with partners, various eCommerce B2B solutions emerge. They leverage integrations for creating tools that enable retailers to streamline many vital tasks and processes.
Various eCommerce B2B systems help merchants to effectively manage their business relations and enhance interaction through connecting their systems. For example, vendor-managed inventory tool by establishing the connection between e-retail inventory system and the suppliers', help to increase visibility between partners involved in the supply chain and thus eliminate excess and waste of stocked goods.
As we have mentioned above, the working principle of B2B integration is to retrieve the data out of one company's systems and transfer it into another company's systems, or in other words, to set up data synchronization between different applications. In the case of eCommerce B2B services, it means retrieving order and customer data from the e-store and moving it to the SaaS application in order to operate and use these data to carry out their functions.
The process would be comparatively easy if every company used the same shopping cart software. However, they do not. E-retailers build their stores on different shopping carts, and to be able to provide their services to them, eCommerce B2B applications need to be integrated with the shopping platforms merchants use. Once the application is connected to the shopping cart, it can retrieve and manipulate customer, order and other data, needed to proceed with all sorts of actions and processes such as shipping, accounting, warehousing, order fulfilment, and others.
When it comes to choosing which platforms to work with, the most widely used shopping carts are usually among the first options. But to expand the B2B system's business scope, one need to consider integration with multiple shopping carts. Actually, the more platforms supported, the better result, because a wider range of supported shopping carts means bigger market share.
Long Way and Straightaway to Multiple Integration
The problem here is that the integration process itself is complicated, costly, and time-consuming. Firstly, there is a need for an experienced developer to elaborate on the integration module. Just connecting two different systems usually takes at least a month and costs a few thousands of dollars. Secondly, integration requires further maintenance and updating. What is more, every shopping platform has its unique API architecture, which means you will need to elaborate on each integration literally from scratch.
The technology does not stand still, and there emerged B2B solutions for B2B solutions. No, there is no mistake:) API2Cart is a service that allows various eCommerce B2B systems to integrate with multiple shopping carts at once. It provides a unified API for seamless interaction with 40+ leading shopping carts. Through only one integration you can get access to multiple shopping platforms and retrieve information on customers, orders, products, tracking numbers, and shipping addresses, and process them within the system. You can also use the extracted data to process orders, automate tracking, and organize it into shipping labels.
So if you are running a shipping, inventory, order fulfilment system or any other kind of eCommerce B2B service, try how integration with leading shopping carts will work for your business. If you have any questions to ask, schedule a сonsultation with our expert.