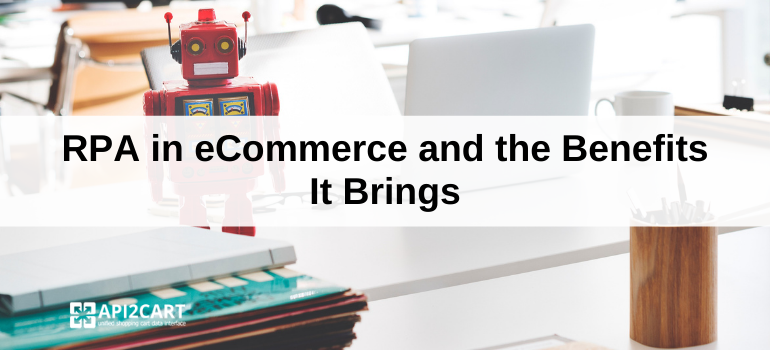 Due to rapid technology advancement, eCommerce is undergoing a major transformation and is steadily becoming more efficient and customer-centric than ever.
Such technologies as Artificial Intelligence, Machine Learning, and Augmented Reality are already widely used in eCommerce, bringing benefit to both retailers and customers. One more technology that contributes to eCommerce development is RPA or Robotic Process Automation.
By deploying RPA, the eCommerce entrepreneurs will be able to manage their business in a more efficient and organized manner. We will have a look at the different methods of using RPA in eCommerce and the benefits it delivers.
RPA 101
As CIO nicely puts it, "RPA is an application of technology, governed by business logic and structured inputs, aimed at automating business processes".
Automation of processes eliminates the need for a human operator and means that technology is able to independently process the needed tasks.
The basic RPA examples would be filling in the customers' profiles with data or claims processing. RPA aims to automate the micro-processes of the company and let employees focus on things that demand a more thorough and deep analysis.
The integration of RPA in business processes saves time and resources and, at the same time, minimizes the number of possible errors. For eCommerce, the automation of processes directly impacts customer experience which, in its turns, can lead to better sales. Considering the complexity of some eCommerce platforms, RPA integration is a 100% must-have. Magento eCommerce development, for example, is aimed at turning this complex platform in a smoothly functioning selling environment – and combined with RPA, the platform can truly work miracles.
Payment processing
eCommerce deals with dozens of processes, and payment is, perhaps, the most important of them all as it involves customers' money and their secure transaction.
The payment processing involves many actions and all of them have to be carried out perfectly: financial filings, accounts payable and accounts receivable, account reconciliation, and much more. RPA can help businesses unite all of the payment processes in a single mechanism that seamlessly works across all the channels.
Customer support and personalization
Shoppers crave personalization and are ready to wait for the product or disclose their personal information in exchange for a personalized product. RPA successfully solves the issue and lets eCommerce marketers delight their customers and promote conversions.
The automation of order placing, information search, and other processes that are related to the customer's interaction with the store result in faster and better user experience and increase customer's loyalty. An example of RPA use for customer support would be sending the user automatic notifications about the order and collecting customer's feedback after the order is received.
ERP management
The Enterprise Resource Planning system helps manage all business processes and keeps them in one place. The thing is, there are hundreds of micro-processes going on within each process and they consume a significant amount of time if managed manually.
RPA is able to automate the whole ERP process and free you from hours of mundane work. In addition, you can integrate your ERP with inventory and always know the status of your resources.
Marketing automation
Marketing is essential as it helps you let people know about your store. Apart from the creative part, marketing also includes sending emails in a bulk, filling in the information about the customers, constant information updates, handling the complaints, and any other activity that involves interaction with your shoppers.
RPA helps automate these processes and provides marketers with a ready set of data that can later be used for future campaign planning.
Logistics management
Supply chain is one of the processes that demand the most attention since it deals with products and their safe transfer from supplier to the consumer. From inventory management to shipping and order monitoring, RPA is priceless as it adds security and speed to the logistics process.
RPA is able to take care of the whole process, send notifications on the order status, keep you alert about the inventory, and all other tasks that are involved in product shipping. With the help of RPA, eCommerce retailers can ship faster and in a more efficient manner, always knowing what's going on with the orders.
Conclusion
Robotic Process Automation, without a doubt, is vital for those eCommerce entrepreneurs who are ready to adopt the latest technological innovations for the benefit of their business. While saving you time and money, RPA, at the same time, manages to increase sales by providing better customer experience and smoother, error-free operations.