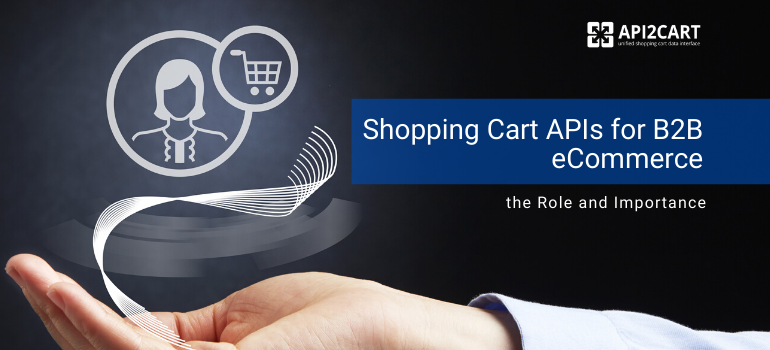 eCommerce business is highly interconnected and interdependent, especially it is true of B2B services as they mostly rely on shopping carts. Running this kind of business in isolation can hardly be effective. Such applications need customer, order, product and other actionable data to run their core processes, whether it is shipping management system, price optimization tool, inventory software, or any other solution it the niche. To retrieve and manipulate all this data seamlessly, applications need to be connected to the shopping cart, in which this information is stored. And the optimal way to set up an ongoing data interchange between two different systems is to integrate them. That is why, from the very developing stage, vendors create API strategy, and plan on the platforms they need to integrate their systems with.
The Role of APIs in eCommerce
APIs are what empowers businesses and consumers alike with advantages of connectivity. They make it possible to build connections between different pieces of software to streamline inter-software communication. This can be used for reaching new target markets and expanding the market share. With the help of APIs, useful tools can quickly be created on the base of data, accessible thanks to integrations.
Let's take eCommerce B2B services as an example. As we have mentioned before, they need integration with shopping carts to pull out actionable data. This is what enables B2B vendors to provide their service to e-retailers that use platforms they are integrated with. In other words, all users of shopping carts the system is connected to are its potential clientele. The more connections a vendor establishes the more opportunities to expand his market share he gets.
Roadblocks Along the Path to Comprehensive Integration
The problem here is that the variety of shopping carts to integrate with is large, and integration is a complicated and lengthy process. It takes about a month and at least a few thousands of dollars just to establish the connection because each system has its unique architecture, which requires time and expertise to learn it. But establishing a connection is not the end of the story. Each integration needs further upgrading and maintenance.
Due to all these difficulties, many B2B providers can afford integration with only a couple of shopping carts and hence narrow their business opportunities.
No Need to Compromise
Luckily, there is a shortcut to multiple integrations. API2Cart allows integration with 40+ shopping carts at once in much shorter terms and cheaper than you might expect. All you need to get connected to a bunch of leading platforms is to integrate with API2Cart and the team will take care of everything else.
If you are running an eCommerce B2B service and are interested in integrating it with multiple shopping carts, contact us or try out how API2Cart will work for your business.