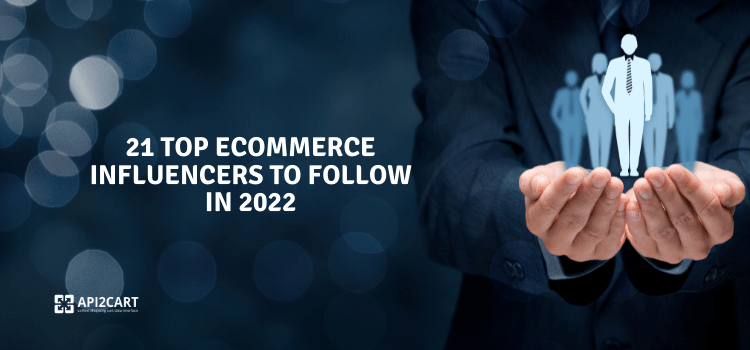 The influence of social media is transforming online retailers every day. They look to influencers in eCommerce to help them determine which eCommerce services and products to acquire to suit their exclusive online stores.
SaaS software providers can engage and acquire loyal customers through online media platforms via influencer marketing. They need to look for eCommerce influencers who are well associated with related social media websites, online forums, and associations. Interaction with business-specific influencers will help them to grow brand recognition on the market.
That's why we bring together a collection of 21 popular eCommerce influencers who would be interesting for any SaaS App provider and who can bring them many potential clients.
Top eCommerce Influencers
Richard Lazazzera is the creator of "A Better Lemonade Stand," an eCommerce website packed with tools and eCommerce tips on all kinds of topics. He also tests products, so you can get an insight before you purchase them. He also has created many eCommerce shops, and all his recommendations derive from experience.
2. Zia Daniell Wigder (@zdwigder)
Zia Daniell Wigder is Shoptalk's Chief Global Marketing Officer, a promotional forum followed by hundreds of retailers and companies around the globe. She has a deep understanding of eCommerce dynamics and business strategies of emerging retail innovations. Her tweets should keep you informed of the latest eCommerce innovations.
3. Andrew Youderian (@youderian)
Andrew Youderian is one of the popular eCommerce influencers and the founding member of eCommerceFuel, a community group of large holders of six and seven-figure online stores. He publishes valuable content packed with helpful insights. He also knows a great deal about shopping sites, such as Google Shopping and Amazon.
Steve Chou is the leader in the eCommerce of his own making. He and his wife launched an online shop, so after getting their first child, she would not have to go back to work. The shop started to flourish in under a year. Chou now writes a blog where he offers his realistic eCommerce guidance from the first hand.
She runs great and successful podcasts that should be listened to by every eCommerce provider and enthusiast. Porterfield is a popular online entrepreneur who offers a range of training lessons and generates seven figures per year. She recently published a book named "Facebook Marketing - All-In-One for Dummies." She certainly deserves to be followed.
Brian Beck is a veteran in the eCommerce community with more than 20 years of experience, including more than ten years as a C-level practical executive. He is a reliable advisor to hundreds of mid-market and multinational B2B businesses in the fields of eCommerce management.
7. Nathan Huppatz (@huppy)
Nathan Huppatz is the co-founder of a successful Australian-based online shop. His years of shipping experience to consumers around the world motivated his new company, ReadytoShip, which is a B2B platform that enables merchants to optimize their eCommerce stores' delivery system. Nathan is also one of his homeland's famous retail and eCommerce influencers.
He is the Chief Executive Officer of FreeeUp, one of the leading eCommerce sites for hiring the best remote talents. He enjoys contacting other eCommerce entrepreneurs to show them how to utilize remote opportunities. He makes himself easily accessible for consulting clients on the FreeeUp website, who want to change the way they employ for their enterprises.
As columnist-in-chief of the BigCommerce eCommerce platform, Tracey writes a lot about the innovations in online eCommerce. Her twitter feed is focused on BigCommerce, but it also contains many more common eCommerce reflections and insights. She is also the co-founder of a mattress manufacturer, and she even tweets about her personal eCommerce experiences.
Tim Peter is one of the leaders in the eCommerce field from the beginning of 1995. He focuses on eCommerce and online business strategy, with special emphasis on brand management. He created "Tim Peter & Associates," a consulting company that analyzes and develops market strategies to help clients achieve their true potential.
Armando Roggio is the communications and eCommerce manager for a farm supply company. He is a skilled and experienced marketer, eCommerce specialist, and entrepreneur. His posts cover a wide variety of subjects related to eCommerce. He's incredibly prolific too, so you should find his content everywhere.
12. Jason Del Rey (@DelRey)
Jason Del Rey is Recode's senior writer who covers Amazon, eCommerce, and payment businesses. He also hosts the "Lands of the Giant - Rise of the Amazon," a narrative podcast show. His material reaches the very tops of the online shopping market, which could offer you insights about how to run your business.
He is the presenter of the podcast "Shopify Masters". He identifies all about eCommerce, from creating concepts to product design to engaging with your clients. There is, of course, more than enough marketing material. Every week, he interviews influential eCommerce executives to break down their strategies and experiences.
14. Austin Brawner (@a_brawn)
Austin Brawner is the Chief Problem Solver at Brand Growth Experts, the eCommerce Influence podcaster, an online marketing advisor, and a successful speaker. He is a strong supporter of content marketing. His show is a combination of how to act and high-level philosophy.
He is an eCommerce advisor and owner of 2x media, an eCommerce success marketing company. Campbell is a regular contributor to several of the top eCommerce blogs. He also tweets about the current online retail developments and, in particular, the market mechanisms that form global eCommerce.
Peep Laja is the largest name in converting optimization, and also ConversionXL founder. He provides powerful techniques to help you boost your eCommerce conversions. His advice will help you to overcharge your conversions and start generating huge amounts of money if you have good sales already.
Steve Hutt is among the most successful influencers in the eCommerce industry, particularly on social media. He is a professional in Shopify and also evangelizes the site, but he shares other universal techniques for eCommerce stores and practitioners.
Ben Marks is an enthusiast of Magento, meaning he travels around the world and speaks about eCommerce sites and services. His Twitter account is a fantastic source of people knowledgeable in the eCommerce world. He likes to write towards Magento, but you could also read other great stuff about his statements on eCommerce.
Mike Wittenstein is a customer interface designer and consultant with a good knowledge of the emerging developments in eCommerce. He is the managing director and founder of Storyminers. He helped his customers gain almost $2 billion from revenue, logistics, service development and branding, and marketing improvements. Wittenstein explains how to construct eCommerce experiences tailored to the needs and expectations of your customers.
Micah Solomon is a client service expert who shares his business-centered eCommerce approach on Twitter. He is a best-selling writer and one of America's most famous guest speakers on customer care development. Follow him to know how to impress high-level clients.
21. Tobias Lütke (@tobi)
Tobias Lütke is the creator and Chief executive of Shopify, the major eCommerce platform. He is a programmer, so his reflections are tech-focused, but that might bring to your Twitter stream a bit of variety. This is a perfect source of news for all people who are interested in the Shopify shopping platform.
Start The Year Off Right
You must build up and maintain your presence on social media to be successful in the eCommerce industry. Twitter, Facebook, Instagram, LinkedIn, YouTube - your clients are sure to have them all. Social networking has become an important tool for eCommerce software providers to create trust and develop relationships with customers. That's why you need to profit from influencer marketing as quickly as now.
Another factor you need to worry about is the reality that integration with only one shopping cart is complicated, not to mention a couple of them. Obtaining all the required store data, such as orders, products, customers, or shipments is a complicated and difficult process.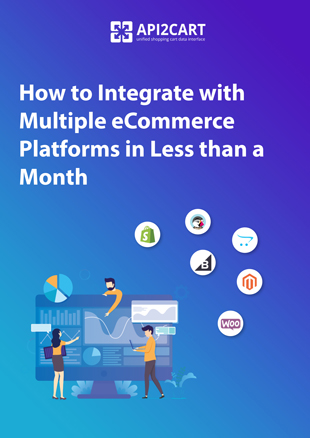 eCommerce Integration Development
Explore how to develop the integration with various eCommerce platforms in less than 30 days.
DOWNLOAD THE GUIDE
Fortunately, API2Cart can assist your software to make all integrations simultaneously. Via only one API eCommerce solution providers can easily integrate with more than 40 most used shopping platforms like Magento, WooCommerce, BigCommerce, OpenCart, Shopify, Etsy, PrestaShop, and others.
API2Cart will make it will be much easier for eCommerce solution providers to connect their software to popular shopping platforms, as they will not need to establish separate implementations and worry about any upgrades and maintenance. Also, eCommerce solution providers can test the service free for 30 days, because API2Cart has many adjustable pricing plans.
In case you have any questions regarding API2Cart, feel free to contact us.