It's not a secret that almost every person would be glad to open their business, become one's own master, however only some of us are brave enough to roll the dice. But, running a business for a while you fully realize the meaning of competition and how difficult it is to become the #1 in your niche. With the rapid growth of eCommerce, entrepreneurs use a variety of methods to handle the market at their own charge. Imitating the marketing approaches of competitors, prices reducing, or any other sticky way will come to no good, believe me.
The manual monitor of all rivals' prices is painfully familiar to business gamblers and consequently they are hard up for third-party interference. Repricing systems come as the assistants for merchants to set up the optimal prices for their products by controlling all competitors' ones.
To help out e-retailers and save their time on searching the best solution, we collect 5 top repricing systems that worth to be mentioned.
Prisync

Prisync is a competitor price tracking software for all sizes of eCommerce companies from all around the world. It tracks competitor prices and stock availabilities automatically 4 times a day and reports this information in its web dashboard, e-mail alerts, API and various other reports. It is mostly used by small and medium sized businesses.
You can connect your products manually by adding URL's with the software. If you are a Shopify user, it is much more easy to sync your products. It offers 3 pricing plans that depend on the number of products and feature sets - starting from 49$ / month.
Prisync also provides product variation tracking, marketplace seller tracking and recommended price violation tracking for suppliers. The service offers 14 days free trial for those who love to try before buy.
StreetPricer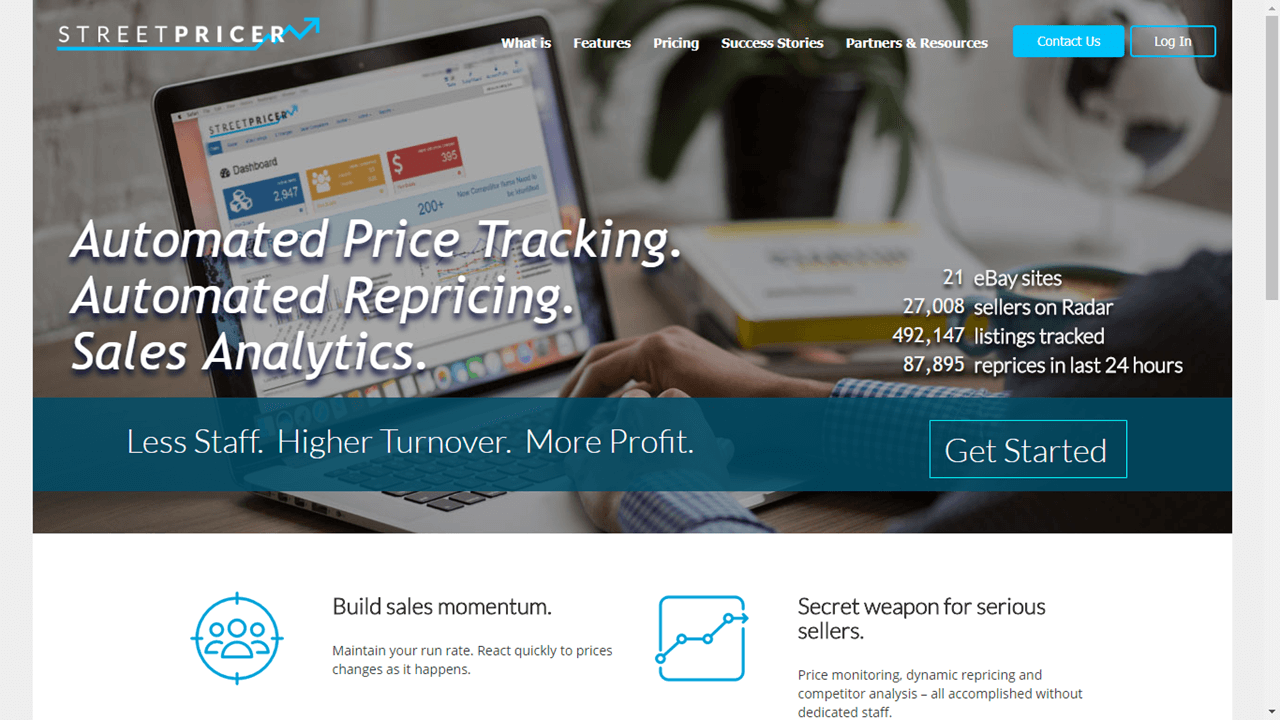 StreetPricer is an automated price tracking and repricing solution for online retailers. Its scans eBay and Amazon for competitors and works with multiple eCommerce platforms such as Shopify, Magento and BigCommerce. Its "Radar" uses artificial intelligence (AI) algorithms so it can handle catalog or non-catalog items. For catalog items, operations can be reasonably automated, and in some cases, completely automated, depending on the product categories your items are in. For non-catalog items, you can use StreetPricer's AI-Scan to give you results, without supplying product keywords. Alternatively, if you are willing to spend the time to come up with keywords for your items, it always gives more targeted results.
The results from StreetPricer's AI-Scan vary, and it is quite dependent on what information you supply with your own items, and similarly what item-specific data is supplied in your competitors' items. In any case, you can set filters and parameters in StreetPricer to tailor the results to your business.
StreetPricer is one of the very few repricers out there that supports eBay's multi-variations. It has a "Mark variations in bulk" feature, which cuts down the amount of time you have to spend sorting out all the various combinations between your items and your competitors'.
StreetPricer is easy to use. It can handle multiple stores, multi-currencies, multiple sites, as well as data download and upload. Subscription is on a monthly basis and it starts from US$29 for 1,000 SKUs to US$489 for 100,000 SKUs.
PriceSquid

PriceSquid is a solution that helps eCommerce merchants to increase revenue by reducing their time spent on monitoring competitor prices and by giving them a dynamic pricing strategy. It is a great repricing tool focused on small and medium-sized web stores. The service offers the shop owners detailed insights into their specific market, intuitive notifications and allows them to create effective reports and overviews. E-retailers can see those notifications on the dashboard panel or receive them via e-mail. PriceSquid does not limit the number of products to be scanned per web store. Nonetheless, in order to monitor a large shop URL with +250,000 products, service might need a bit more time than usual.
There are two main methods of how to connect with this PriceSquid: plugin or via online service. The former is integrated into your eCommerce system and you'll be instantly notified about any competitor's product or price change. What is more, it will automatically update the prices in your store. In its turn, the online service provides you with the same functionalities except for the automated price adjustment, and all changes have to be made manually. If you are using 3-party warehouse software or pricing software, then PriceSquid can interact with these directly via your eCommerce solution.
There are 3 options to pay for the PriceSquid service: every month, every quarter or every year. If to choose the first option, you would have to pay $38 per competitor. And of course, the more rivals you add and the longer your payment plan, the bigger discounts you get.
WisePriser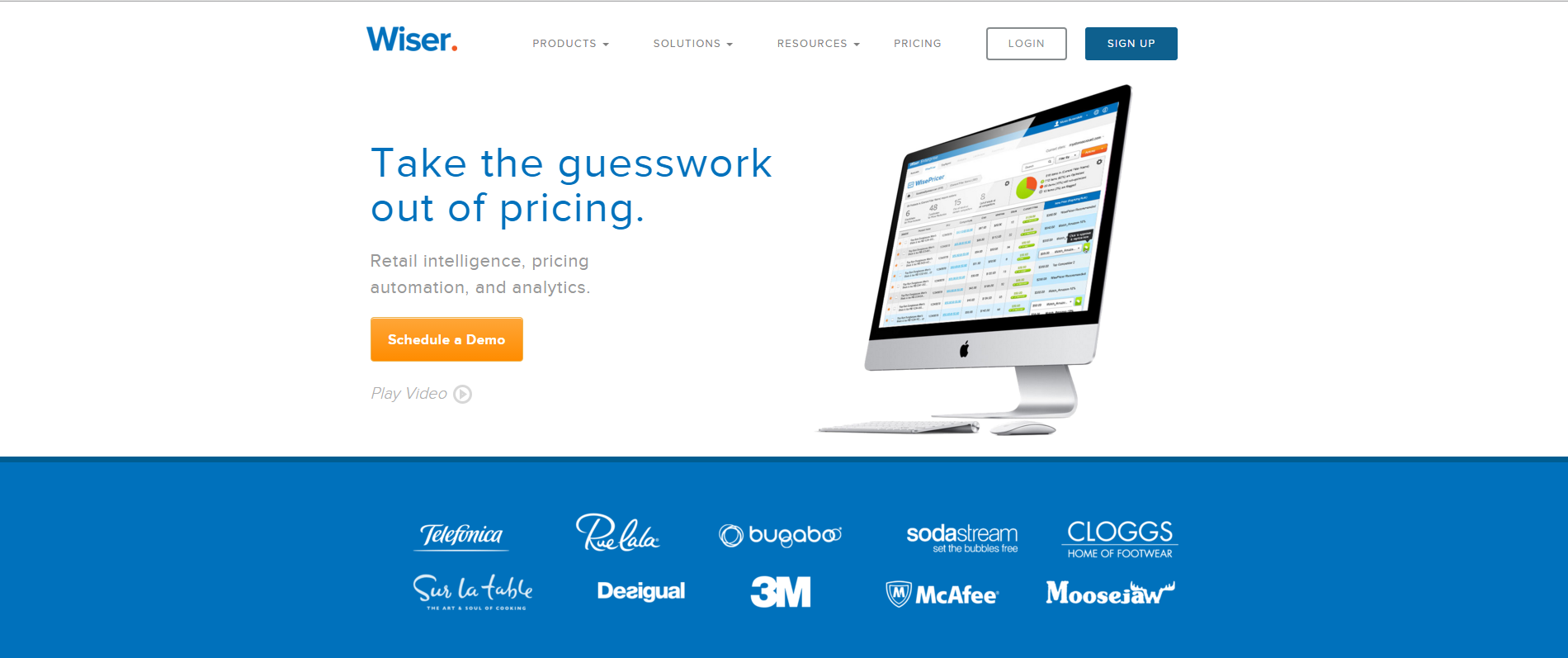 WisePriser is a dynamic pricing engine that helps to increase profit margins, price with confidence and enhance any e-retail business. The service saves your time and exempts you from the need of manual repricing. You just need to create customized dynamic pricing rules for your products, and WisePricer would do all the work for you. Also, you will be provided with the advanced analytics shows you information on revenue in real-time.
With WisePricer, you would be able to track products across multiple marketplaces and manage pricing strategy for each store or marketplace in one place.
WisePricer gives you an opportunity to try how it works  for 14 days for free. In case you like it, and decide to use this solution, you need to schedule a demo with WisePriser strategist and discuss the details of your business plan.
Solid Commerce

Solid Commerce is a web-based platform with 99.9% uptime that makes it a highly approachable and trusty system. You don't need to worry about hosting or maintaining servers. The service provides you with a range of different price management options and helps you easily monitor price list on various marketplaces. Solid Commerce allows you to control how exactly prices have to be set and lowers it only when it's needful. The Price floors, that are built in system, ensure that you never sell for less than your minimum profit margin. Solid Commerce also provides an excellent opportunity for you to set prices for various markets separately.
Therefore, you can offer free shipping for one market and charge for another, or just set different prices for them. Solid Commerce is integrated with the most popular shopping platforms as Magento, PrestaShop, WooCommerce, Bigcommerce, Volusion, 3dcart, and Shopify. Hence, you can manage prices in the web stores based on these platforms and sync inventory across all of them and marketplaces. As a result orders from one online shop will cause the item quantity in all other ones as well as in the marketplaces and will be updated automatically.
There is no information about pricing plans on the site. In order to get it, you would need to register and then Solid Commerce experts would contact you.
Darwin Pricing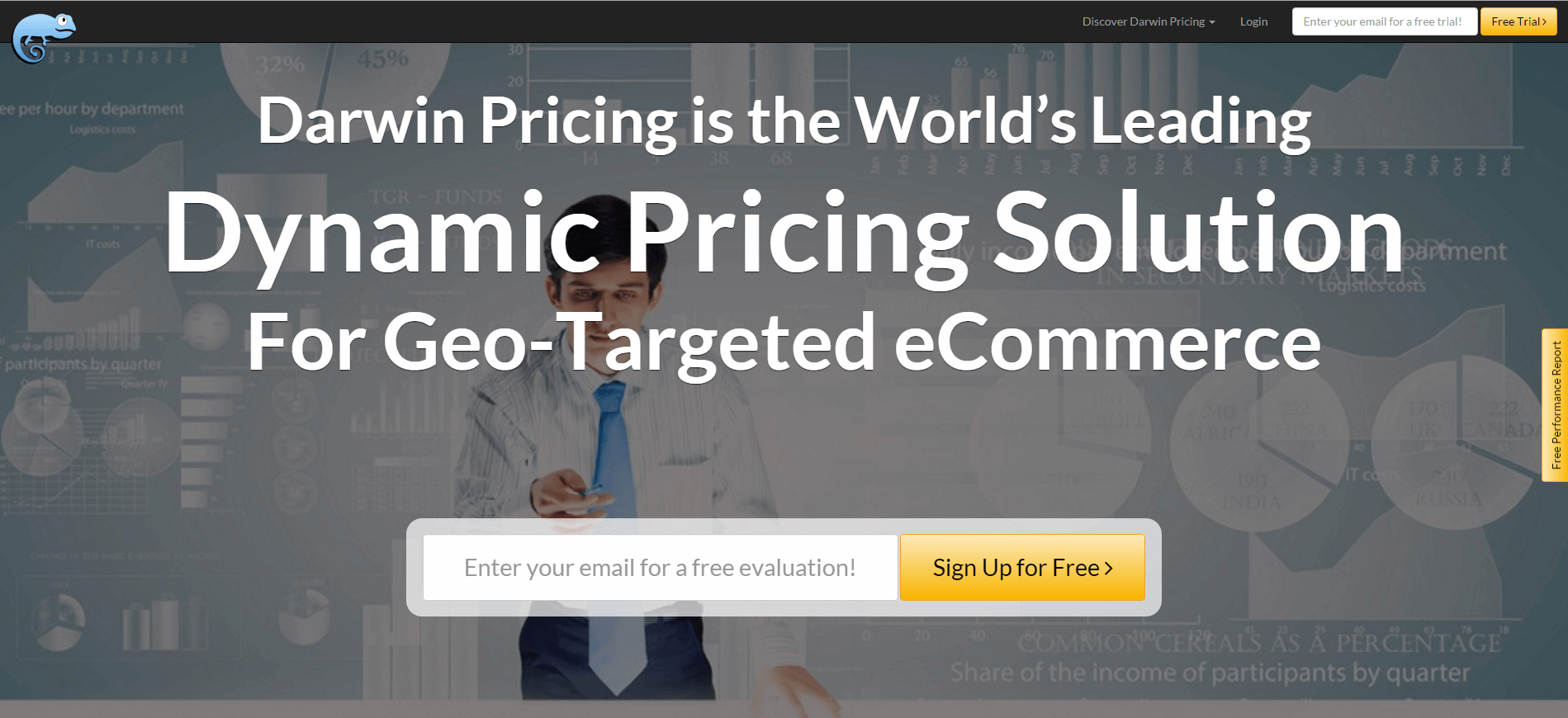 Darwing Pricing is a dynamic pricing solution that provides geo-targeted pricing optimization tool for eCommerce businesses. The service could help you to succeed even in the most competitive markets by implementing geo-targeted sales campaigns. Darwin Pricing uses real-time competition monitor, dynamic split testing, and artificial intelligence to provide its customers with advanced service. The solution serves as a connector between a web store and visitors. It retrieves the client's location and adjusts your prices according to your sales strategy by comparing them with the prices presented in this area by other retailers. So, while you are improving your competitiveness on the main market, Darwin Pricing would help you to enter new markets by decreasing your prices in locations where they are not competitive enough.
Darwing Pricing provides you with a possibility to offer geo-targeted discounts in cities where retailers beat you on price, which would definitely increase your profit. Another useful tool that is worth to be noted is exit intent detection and sales recovery on all devices, that is means that customers that are about to leave will get a discount. Hence, many customers might change their minds, and it will cause the order's growth. The service also allows you to gather social followers and newsletter sign ups with a customizable coupon box, optimized for smartphones and tablets.
Darwing Pricing offers 4 pricing plans that depend on the business size and the variety of tools you want to use. It starts from $480 per month for businesses with up to 50k sales per month.
Seller Dynamics
The repricing software from Seller Dynamics is based around the principles of supply and demand. It is applicable to all multi-channel eCommerce retailers selling on Amazon, eBay or Fnac. The service will keep a watchful eye over all your products and automatically reprice an item concerning activity on any of these marketplaces. By using Seller Dynamics repricing software as one of your management tools, you would always sell your products at a profitable rate based entirely on your rules.
Seller Dynamics repricer adjusts your price automatically, any time of the day or night, to put you back on top, and it works both ways. If a competitor that forced you to drive your price down is now out of their stock, Seller Dynamics would put the price back but would keep it low enough to be ahead of the next competitor.
The service offers a free trial for 30 days, so you can realize if it's right what you need. Aе the end of this period, you would need to pay 1,49% of Gross Merchandise Sales per month, subject to a minimum monthly fee of only $30. For this price, Seller Dynamics would provide you with not only dynamic repricing but also with stock control, FBA management, at a glance dashboard, advanced API and much more.
Conclusion
It was a brief look at the most popular and promising repricing solutions tailored for different business demands. Hopefully, this overview will help you to choose the solution that would fully satisfy your requirements and enhance your business performance.
In case you are the one who provides a repricing service for e-retail businesses and you'd like to advance it and encourage a great number of new clients, you might be interested in integration with 40+ shopping platforms simultaneously. If you do, then feel free to schedule a call with our expert and get information on how to get connected with such leaders as Magento, Shopify, Bigcommerce, WooCommerce, OpenCart, CS-Cart, and others thanks to the partnership with API2Cart.