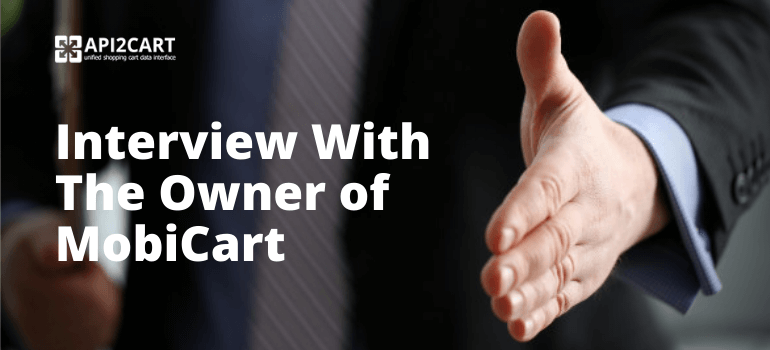 Editor's note: Today, we are proud to present to you an interview with Mike Holt, the owner of MobiCart. Since January, 2014 Mike has been leading this powerful solution that is widely used for easy m-store creation and management. His experience and expertise in eCommerce help to lead MobiCart to success.
In this interview, Mike talks about his own way of success, shares his thoughts about API technologies and tells about API2Cart and MobiCart cooperation.
Mike, tell us, please, about the beginning of your career. You worked at Silicon Systems for 8 years and helped the company grow into an industry leader. Your excellent marketing knowledge also helped to win new customers for Texas Instruments. Was it hard to be a leader just after finishing university?
I worked for Silicon Systems for 12 years followed by 4 years at Texas Instruments (via TI's acquisition of Silicon Systems). I developed capabilities in steps – nothing happened so quickly. Leadership resulted from successes and failures (and the learning from these) over a variety of situations, business, and opportunities.
Years of hard and dedicated work have taken effect. You are a prosperous person, an excellent strategist, great coach and team builder. What can you define as your key to success?
This is a results learning from great people around me, from working through significant change that resulted in growth and opportunities and always operating with the highest integrity.
Can you, please, tell us how your cooperation with MobiCart started? What position do you hold at MobiCart and what are your main responsibilities?
I run a Singapore based incubation and investment firm. I purchased MobiCart in January, 2014 largely driven by both an opportunity to great accelerate MobiCart's growth and to greatly improve MobiCart's mCommerce platform by leveraging capabilities that we have with our other solutions, especially via location based mobile commerce platform Sprooki.
Lately, Sprooki has announced about the partnership with MobiCart. Would you mind telling us about this project and future prospects of such cooperation?
Sprooki is a leader in location aware mobile commerce campaign platforms for large brands and shopping malls. Bringing these capabilities to MobiCart enables the best mobile commerce platform for small and medium-sized eCommerce stores.
Today's digital world requires strong expertise in API. How did this technology affect MobiCart? What were the key motives to use API?
Scalability and flexibility are critical. Our approach enables us to support varying customer requirements.
As it is known, earlier MobiCart established a partnership with API2Cart. Take us through the story of how your cooperation with API2Cart helped you in conducting your business?
API2Cart enables us to support synchronization to any of the eCommerce carts that our customers use. This means we can focus on what we do best enabling turnkey mobile commerce applications.
Changes in the digital market have an impact on everything that is connected with eCommerce and MobiCart feels them surely. What predictions can you make about API? How will it continue to affect eCommerce and mCommerce in the nearest future?
API enables developers to access content and data in order to build unique experiences. In turn, these apps drive more traffic and usage to social platforms, ensuring their long-term success. This allows solutions like MobiCart to meet constantly changing requirements while still focus on delivering great mCommerce for our customers.
Note: API2Cart provides integration with more than 40 shopping platforms, seamlessly with no extra efforts. If you have any questions, let our expert help you. Schedule a Free Consultation with our manager to get more details.