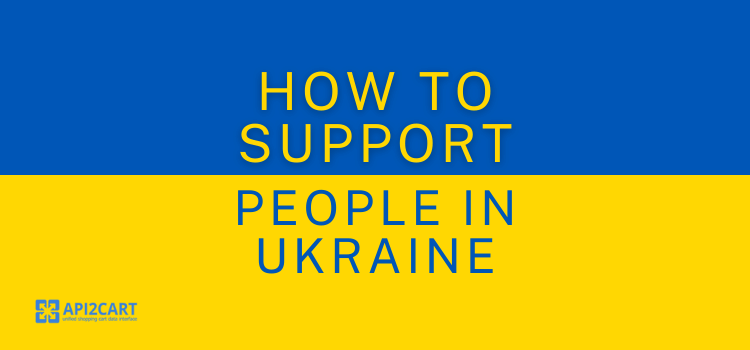 Be Brave Like Ukraine
February, 24 is the day when all Ukrainians woke up in fear and panic. Russia has launched a full-scale military invasion into Ukraine. Since that day Ukraine has lost the calendar countdown because now the countdown is in the number of days of the war.
Many cities in Ukraine have suffered and still suffer from the aggression of the Russian army resulting in the death of civilians and destroyed civilian areas and infrastructure. In this difficult time, the Armed Forces of Ukraine, territorial defense, and ordinary people show the heroism that the whole world admires.
API2Cart team is Ukrainians, and we try our best to show our support to the army in all possible ways. Due to the Russian invasion of Ukraine, we stop serving clients from Russia and Belarus.
Over the past few days, we've received dozens of messages of support from our customers and partners. It gives us enormous faith and determination to withstand. Since many have offered to help, we've compiled a list of options you can choose from to support Ukraine:
To help Ukrainian arm forces protect civilians from the atrocities of war, donate through this charity: https://www.comebackalive.in.ua/
Directly: https://bank.gov.ua/en/news/all/natsionalniy-bank-vidkriv-spetsrahunok-dlya-zboru-koshtiv-na-potrebi-armiyi
Join the fundraising organized by one of the Ukrainian banks (quick payments via Apple Pay, Google Pay, and PayPal): https://uahelp.monobank.ua/
Provide support to 7.5 million Ukrainian children: https://www.unicef.org/emergencies/conflict-ukraine-pose-immediate-threat-children
Help Ukrainian Red Cross provide first aid in the areas with limited access to medical services: https://redcross.org.ua/en/uncategorized/2022/02/19862/
Provide Ukrainians with direct humanitarian aid. Nova Poshta, a major Ukrainian postal service, will be delivering all the goods brought to its global warehouse to those in need in Ukraine. There are warehouses in the USA, the UK, Poland, Germany, France, and Italy, you can find the addresses here: https://www.europeaninterest.eu/article/nova-poshta-global-starts-delivering-humanitarian-aid-to-ukraine/
Join thousands of people all over the world in protests against the war in Ukraine!
Make a statement on social media. Many governments and international organizations are working hard to help Ukraine in its struggle right now. Diplomats and ordinary citizens have raised their voices to lend their support.
Send some love and good wishes to those you know who live in Ukraine and those praying for its future from abroad.
API2Cart team continues working and providing you with top-quality service. Our servers are up and running, so you will not face any problems using API2Cart.
Thanks again to everyone who is sharing its support. The whole world stands with Ukraine now, and we have no other choice but to win! 😉