Download Use Case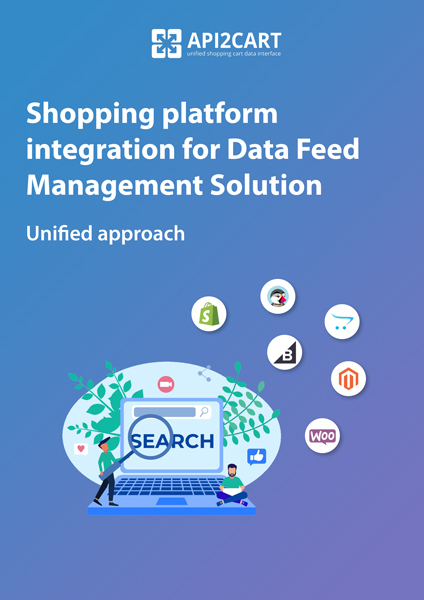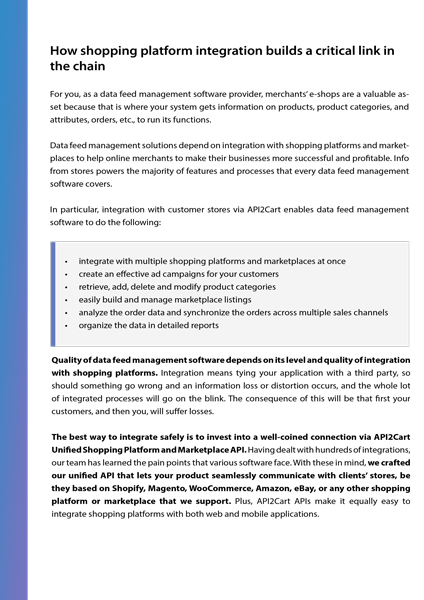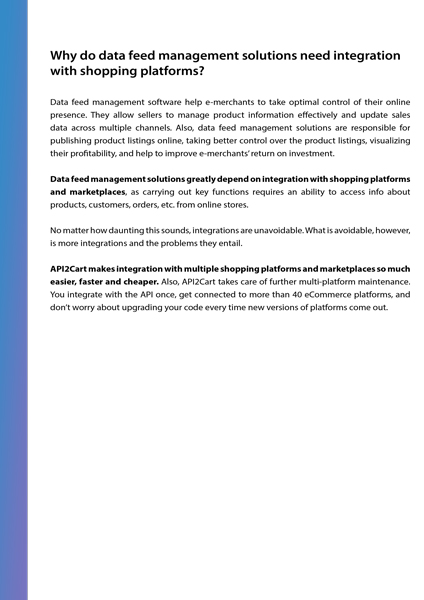 Good integration with shopping platforms and marketplaces is the lifeblood of your business.
It powers the majority of features and processes that every data feed management software covers. Read more in the Use Case
Data Feed Management
Why API2Cart
---
API2Cart allows you to develop data feed management integration with multiple shopping platforms and marketplaces at once, and retrieve all the necessary data via provided API methods to perform your software functions
Integrate with multiple shopping platforms and marketplaces at once
Create an effective ad campaigns for your customers
Retrieve, add, delete and modify product categories
Easily build and manage marketplace listings
Analyze the order data and synchronize the orders across multiple sales channels
Organize the data in detailed reports
API2Cart-Data Feed Management Software Workflow
---
What Our Clients that Provide Data Feed Management Services
Say About API2Cart
---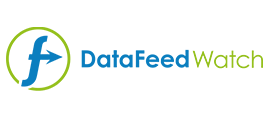 An API connection to shopping carts is the best way to work with merchants. Managing all those connections is a lot of work and requires a lot of knowledge. By using API2Cart we don't need to spend the time and effort to create and maintain all these connections.
Unified shopping cart integration saves you
---
Connect to dozens of platforms via one integration. It's months of expensive development work avoided
Minimize TCO
. In-house IT costs on integration with multiple shopping carts are up to 9 times more expensive than integration via API2Cart
Concentrate on what matters for your business. We take care of platform updates / the API maintenance