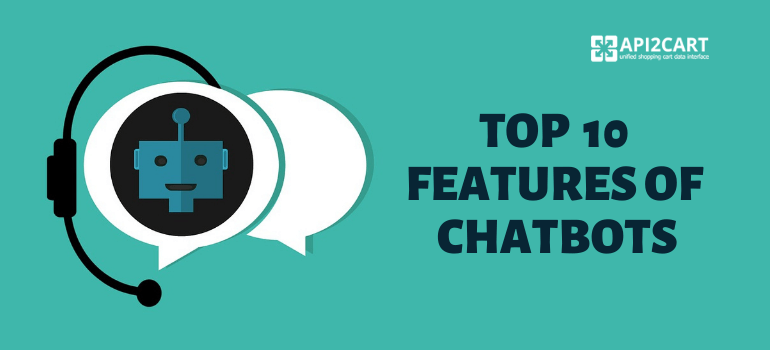 eCommerce store owners use a great number of computer programs that allow them to automate their business activity and improve customer service. One of such software that these businesses are leveraging is chatbots.
A chatbot is an intelligent technology similar to "Siri" and "Google Assistant" that helps people to navigate on various platforms. It is a computer program that is designed to support online visitors to access products of their choice and get answers to their queries in real-time when they get lost at the online store. Chatbots interact with customers based on their wishes and provide them with further assistance to make a purchase.
The stimulating conversations with the help of chatbots allow businesses to ensure customer satisfaction at every aspect of their purchasing decision. The chatbot technology assists the customers in completing their purchase and supports them in scrolling throughout the store.
ate
Nowadays, there are thousands of chatbots on the market, and for their providers, it is vital to be different, unique and engaging to ensure that their software can stand out and people can find them easily.
In this article, we describe the main features of chatbots that will help them to satisfy the customers who work in the sphere of eCommerce and differentiate themselves from the competition.
Top 10 Important Features of Chatbots for eCommerce Businesses
Lead Qualification

Retailers do not want to waste time on people who do not have an intention to make a purchase and are just looking through their website. Chatbots help them to qualify the leads for their business who are really interested in their products and ready to buy. They intelligently ask already prepared questions to the customers that allow retailers to identify the right prospects and use the time of their sales team more effectively.

Subscription Option

Chatbots provide customers with the assistance and ability to select the content of their choice from the available options. They leverage a subscription to all the brand-related news and information about the products they want to purchase. They are notified whenever there are discounts and sales available on the store.

Analysis of Customer's Needs

Chatbots can gather essential data about the customers of online stores. It helps them to gain valuable insights on customer preferences by analyzing this data. When retailers know what their customers want, they can serve them more efficiently based on their demands. Chatbots help the former to create content accordingly.

Giving Recommendations for Customers

Chatbots are just perfect in providing robust and professional customer service. They track customers' purchase history and searched items. Based on this information, they recommend buyers similar things that would go with their purchased product. For example, if a customer bought a shirt from a store, the chatbot will suggest purchasing matching trousers with it.

Integration with CRM

Integrating chatbots with CRM allows eCommerce businesses to increase their conversion rates, boost sales, and practice effective customer satisfaction. It eliminates the painful task of entering data manually into all the fields of CRM software with mobile phones by making the sales representatives enter all the data through a single field in the right place. Necessary information like purchase history, customer preferences and their complaints, user profiles, website activities, transaction history, etc. can be easily retrieved.

Multi-lingual Communication

The customer always prefers to be addressed in their native languages. Rather than translating, chatbots allow the customers to communicate in the language they are comfortable with. The multi-lingual feature of chatbots enables them to cover a broader audience with the utmost efficiency.

Run Analytics for eCommerce Businesses

Chatbots help eCommerce businesses to acquire crucial information about the customers based on their age, gender, location, etc. They can perform a survey in real-time while the customers are going through the products. This would be impossible without chatbot software. Surveys that are made by chatbots had proved to be a brief and informative source of user preferences.

Availability of Payment Plugin

There are many intricacies involved in making payment and checking out from the store. The chatbots eliminate all these difficulties and allow the customers with a seamless payment option. The payment plugins prevent the customers from getting stuck into unnecessary and time-consuming processes.

Ease of Implementation and Usage

For chatbots, it is very important to be implemented into any eCommerce business. The technology must be designed keeping in mind the customers. Retailers need to have the possibility to effectively utilize and customize them according to their business needs without any difficulties.

Social Media and eCommerce Chatbot Integration

Chatbot integration with social media is like a boon to eCommerce businesses as it offers their customers with much like a human assistant to communicate with them. Social media integration helps customers to streamline and accelerate their purchases with the ability to order their products by directly speaking to online stores. They can now easily access any information they are in need of contributing to the conversion rates.

Chatbot integration with eCommerce platforms enables them to gather product information, delivery status, sales guidance, get inventory levels, and track numbers. It enables the store owners to get all the information and work on it across all the platforms. An added advantage is the number of potential clients increases with increasing shopping carts supported by chatbots.
Conclusion
If you are a chatbot provider, you must be very well aware of the importance of integration with shopping carts and marketplaces where all the needed information is stored. The integration provides the possibility to get customer info to identify visitors, receive the lists of abandoned orders and remind visitors about them, create orders and provide tracking numbers.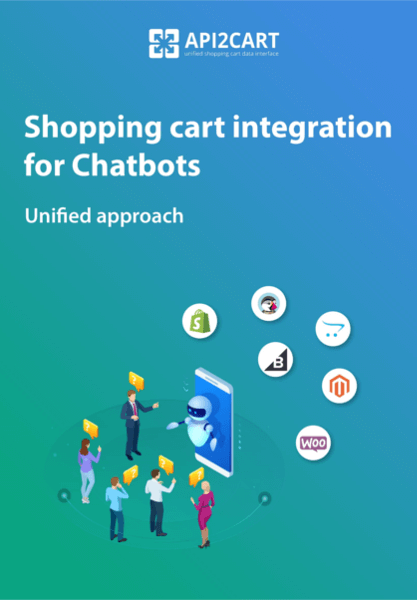 Shopping Platform Integration for Chatbot Software
Explore how to develop the integration between your chatbot and multiple shopping cart solutions easily.
DOWNLOAD
In spite of all these benefits, chatbot integration with multiple eСommerce platforms is a really difficult and time-consuming process. The advancement in tech work and additional expenses make it a horrifying experience.
With API2Cart, there is nothing to worry about. We provide the connection to 40+ shopping platforms (like Shopify, WooCommerce, Magento, OpenCart), Lightspeed, Ecwid via a unified API. Contact us for more information or try to use the service for 30-days absolutely for free right now.