API Digest #68: Living in the API Economy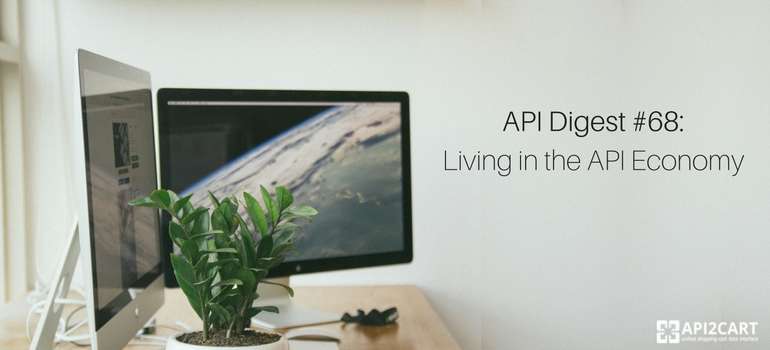 We are back with the traditional fortnight API Digest, and in this issue you are going to see a wrap-up of the following articles:
Enterprise adoption of APIs is driven by internal integration needs

6 Common API mistakes

Living in the API Economy (Ep. 23)

Getting feedback from your API community when developing APIs

Google Announces Cloud Machine Learning API Updates

The API Era

Handling exceptions in API design
In the new 23d episode of Pivotal Insights, co-hosts Jeff Kelly and Dormain Drewitz speak with Prithpal Bhogill, a product manager for API platform provider Apigee, now a part of Google's cloud platform group. They discuss the evolution of the API Economy, how APIs are reshaping the way large, traditional enterprises do business and create value for their customers, and some of the challenges developers face developing, managing and securing APIs in cloud-native environments.
The need to integrate the ballooning range of software-as-a-service (SaaS) tools being used within enterprises is driving the adoption of application programming interfaces (APIs). While many think of APIs in the enterprise as being introduced as a way to leverage a microservices architecture or as part of a broader cloud migration effort, integration is actually the early driver for using APIs in many businesses across industry sectors. Mark Boyd believes that enterprise adoption of APIs is driven by internal integration needs and Saas tools.
Building a truly secure, sturdy, hearty API requires great docs, clear and concise error messages, and to meet developers' expectations of how your API should work. Check out the list of 6 common API mistakes, why they happen, and how you can avoid them.
Getting feedback from your API community when developing APIs is one of the most valuable aspects of doing APIs, opening up your organization to ideas from outside your firewall." -  Kin Lane believes. When you are designing new APIs or the next generation of your APIs, make sure you are tapping into the feedback loop you have already created within your community, by providing access to the alpha, beta, and prototype versions of your APIs.
Google recently announced the Cloud Machine Learning API updates. This includes a set of APIs in the areas of vision, video intelligence, speech, natural language, translation and job search. They enable the customers to build the machine learning applications that can see, hear and understand unstructured data, helping with use cases like next-product recommendations, medical-image analysis, and fraud detection. By Srini Penchikala.
Just as organizations moved to cloud hosting & storage in mid-2000s, companies are now moving en masse to adopt cloud API platforms. This has been covered somewhat extensively by the tech press. Reinforcing the trend, two API companies IPO'd in the past year (Twilio & Apigee), with more on the way. Read more in the Michelle Wetzler's article "The API Era".
There are two kinds of exceptions: Errors and defects. These are bugs that developers failed to account for. Report them or crash the application. In his article, Zak Taccardi writes about Handling exceptions in API design.
For more API news and insights, read API developer weekly #157 and #158 by Keith Casey and James Higginbotham.
See you in a fortnight! In the meanwhile, send us article suggestions and ideas. Either way, we are happy to hear from you. :) P.S. In case you'd be interested in trying API2Cart, you can create an account and see how the API works on live stores.