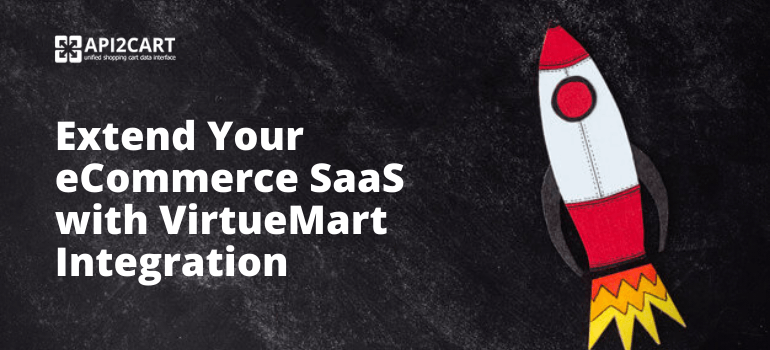 It's not necessary, currently, to put an emphasis on how important the innovations are in today's highly developed digital world as this is obvious that they really mean a lot for profit-making. Every merchant, who provides various online services has to be innovative in order to win the competition. Nowadays, it is offered a lot of different technologies to conquer the market.
API is considered to be such a modern solution that helps vendors to stay in the picture in the niche. In case you provide e-mail marketing, repricing system, analytics system, or other types of services, you are probably looking for a powerful tool to solve all the integration challenges. The application programming interface enables fast and secure integration with various shopping carts with no extra effort. This technology will help you to run your online business in the most effective way.
To be competitive and promote your service to many online store owners, you need to establish various different integrations. One of priority for your software should be VirtueMart integration, as around 293K online stores are built on it.
In this article you will discover more about the benefits of VirtueMart integration and a simple way to develop such an integration.
Benefit From VirtueMart Integration
VirtueMart, a Joomla! the plug-in has been in the leadership position for more than 9 years. No wonder it has an army of adherents, as the experience of using this shopping cart is overwhelming. VirtueMart powers thousands of online stores that equals to almost 6% of the eCommerce market. VirtueMart can be easily used on dynamic website along with many other components and modules, such as forums, FAQs, guestbooks, galleries, and more. See the platform documentation for more information. Integration with this solution will surely bring you a lot of benefits and the number of your potential clients will increase greatly.
Over 293,000 online sellers use VirtueMart for building their online stores. It is the most popular in such countries as the USA (10,157 stores), Russia (10,555 stores), Italy (2,414 stores), Greece (2,062), Germany (1,895 stores), Hungary (1,521 stores), Spain (1,283 stores). So, if you are aiming to increase your software market share in the short term, VirtueMart integration is an excellent way to reach your business goals.
VirtueMart integration is one of the steps you need to take if you want to significantly improve your software business. This will bring you a lot of benefits, such as the ability to get, add, update and sync data needed from customer stores, and significantly increase the number of your potential clients.
VirtueMart Integration Challenges
Integrating with different eCommerce platforms and marketplaces can be time-consuming and challenging, and you may encounter the following problems:
To develop a connection with an eCommerce platform, including VirtueMart, you will have to hire a skilled developer who has enough experience in developing such integrations. It is usually not easy to find the right one.
Integration with one specific eCommerce platform can take a month or more. So you can imagine how long it will take developers to develop an integration with various eCommerce platforms.
One integration with a shopping platform can cost you more than $ 10,000. This cost is too high for those who want to integrate their solutions with more than one eCommerce platform.
One of the biggest problems is the launch of new versions of platforms. Your developers may have developed integration based on previous versions of platforms, so you may have trouble trying to access data from upgraded platforms.
Integration with shopping platforms is a complex issue, so it is important to find solutions that will make it easier.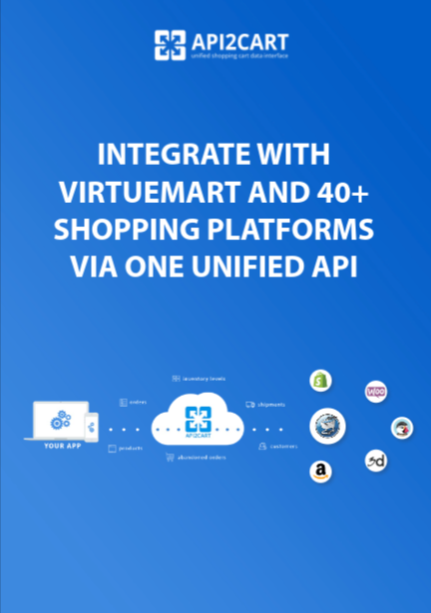 VirtueMart API Integration Development
Explore how VirtueMart integration can help your business become more competitive.
DOWNLOAD
Wonder how to perform VirtueMart integration, having no expertise and technical knowledge? API2Cart is considered to be a real hand of help to establish this process. It is an online service that provides integration with more than 40 various shopping solutions. VirtueMart with all versions and editions is in the list of API2Cart's supported carts.
API2Cart possesses advantages that are worth considering:
Interactive Documentation. The number one point is the possibility to try how everything works. Use the default API key that is given to test all API methods.
Scalability and Flexibility. API2Cart handles an unlimited number of clients' stores.
Uptime Guarantee. Service provides 99,9% uptime.
Work at a High Pace. Enjoy the fastness of API2Cart's work, retrieve, add, update and sync up to 10 various items with related data just in 3 seconds.
Full Tech Support. API2Cart provides you with full product support as well as it's feasible to broaden the functionality on your request.
High-Level Security.Our service uses SSL certificate to ensure integration process.
API2Cart as a Breakthrough for Various eCommerce Fields
API2Cart gives you the possibility to carve out a niche that you work in or waste your time on developing various integration modules. Breathe entirely new life into such online business spheres with API2Cart:
E-mail marketing. Confused about how to move data via CSV files? Forget about all the obstacles! API2Cart provides you with the possibility to retrieve, add and update customers' names, addresses, and other related data in no time.
Mobile commerce. Manage your mobile store with ease, get all the needed data from your client's website, and add it to the mobile one effortlessly.
Comparison shopping engine. Easily gather all necessary information, including product price and description to monitor competitors' prepositions and change your clients' prices in real-time.
API2Cart with its experience and expertise offers high-quality service to provide you and your customers with the best experience. We have already integrated VirtueMart for thousands of clients, as well a 3000+ online stores are supported. Also, API2Cart serves 5+ mln API calls per month which are definitely not a limit.
Moreover, after establishing VirtueMart integration, you will automatically, with no extra effort get integration with 40 other shopping platforms, including such industry leaders as Magento, PrestaShop, BigCommerce, WooCommerce, OpenCart, and others.
Dispel all doubts and improve your e-Business with the help of API2Cart. If you have some questions, feel free to ask them. Schedule a FREE Consultation, let our expert help you!