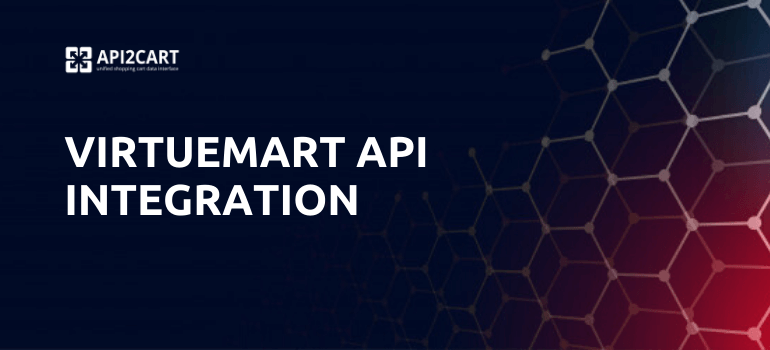 The eCommerce world is spinning around innovations and trends that actually dictate merchants how to conduct their businesses. In order to provide web store owners with well-qualified service, every SaaS app provider needs to keep abreast of all novelties and try to take them into account. It includes such services as shipping management, order and inventory management, WMS, marketing automation, dropshipping automation, and other solutions that work with retailers. VirtueMart API integration and connection with different eCommerce platforms is the best way to win the competition.
One of the most attractive novelties is Application Programming Interface (API). If you provide SaaS app for online store owners, then this innovation can be your key to a successful business. API serves as a mediator between your software and e-stores based on different shopping platforms and marketplaces. It makes it possible to perform integration with various eCommerce cart solutions and gives you a great opportunity to make your business even more profitable.
In this article, we are going to explore the aspects of VirtueMart API integration. We chose to discover all the details of developing a connection with this eCommerce solution because of the fantastic opportunities that it can bring to SaaS app providers.
Why Integrate with Virtuemart?
VirtueMart is one of the most popular shopping platforms that are presented on the market with more than 15 years of successful experience. It is a Joomla-based open-source eCommerce solution that is written in PHP and made for easy use in a PHP/MySQL environment.
VirtueMart can be easily used within your dynamic website, together with many other components and modules, like forums, FAQ, guestbooks, galleries, etc. To get a more detailed information, go to the platform's documentation.
VirtueMart API integration is one of the steps you have to do if you want to considerably improve your software business. It will bring you a lot of advantages, such as the possibility to retrieve, add, update and sync the data needed from customers' stores and greatly increase the number of your potential clients.
Over 269,000 online sellers use VirtueMart. It is the most popular in such countries as the United States (13,637 active stores), Russia (10,391 active stores), Italy (2,427 stores), Germany (1,895 stores), United Kingdom (1,297 stores), Netherlands (1,276 stores). So, if you are going to increase your software market share in the short term, API integration with VirtueMart is an excellent option for reaching your business goals.
Realizing the benefits of such integration you might be thinking how cool it could be to connect your software with many shopping cart platforms. Yes, you're right it can help you reach even bigger success. Unfortunately, it is a very hard process that requires the elaboration of various integration modules for different platforms. And also it will need further money spendings for its maintaining and continuous updating.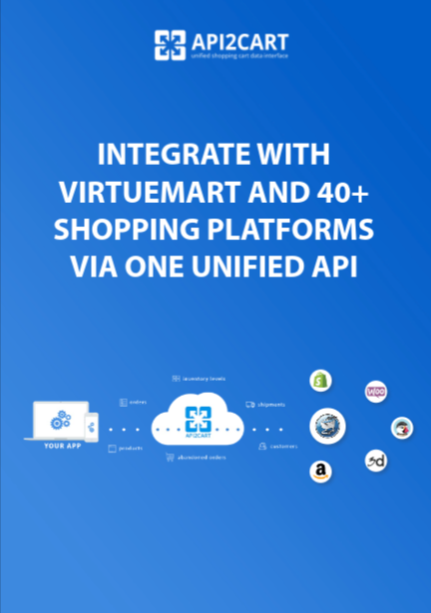 VirtueMart API Integration Development
Explore how VirtueMart integration can help your business become more competitive.
DOWNLOAD
VirtueMart Integration Challenges
Integration with different shopping platforms and eCommerce marketplaces can take a long time and be a complex task. And VirtueMart eCommerce integration is no exception. As a result, you may encounter problems such as:
To develop a connection to an eCommerce platform such as VirtueMart, you will need to hire a qualified developer with sufficient experience in developing such integrations. Usually, it is not easy to find the right one.
Integration with one specific platform can take a month or more. So you can imagine how much time developers need to develop integration with different eCommerce platforms. And also add to this time training your developers.
One integration with a shopping platform can cost you more than 10 000 dollars. Unfortunately, this cost is too high for anyone who wants to integrate their solutions with more than one eCommerce platform.
One of the biggest challenges is the launch of new versions of platforms. Your developers may have developed integration based on previous versions of the platforms, so you may have problems accessing data from the updated platforms. As well as constant updating of the API eCommerce platforms with which you have established stable integration.
Security remains a major challenge for eCommerce B2B suppliers and their customers. The consequences of API abuse, such as data breaches and data loss, can be serious problems. It can affect the reputation of the company, its finances and the harm that can be inflicted on end-users.
Integration with shopping platforms is a complex issue, so finding solutions that simplify it is important.
How to Connect Your Solution with VirtueMart?
The API integration with VirtueMart is a great way to increase the value of your software. You can develop the VirtueMart API connection in two different ways: in-house or development through 3rd Party services.
In-house integration development means you will have to search for and hire a team of developers and teach them to create an integration for your solution. However, this method can be quite expensive and labour-intensive.
API integration through third-party services is another popular choice. This approach has many benefits – it is usually much cheaper and faster than its own development, and you do not need to worry about training or managing a team of developers.
In-depth Look at API2Cart's Advantages
API2Cart is a unified shopping cart integration solution that enables you to easily get, update, add, retrieve and sync various needed data. It includes products, customers, orders and other related information. Thanks to API2Cart, you can get access to the database of VirtueMart  clients' stores and 40+ other platforms with all their versions and editions at the same time.
API2Cart will help you to enhance your SaaS app effectiveness if you provide software in such spheres as inventory and order management, e-mail marketing, mobile commerce, dropshipping, repricing system and others. Integration with different shopping platforms via API2Cart will bring you the following advantages:
a single API that is provided to get access to the various shopping platforms and marketplaces;
high level of technical support that will help you to satisfy all customers' needs;
security guaranteed, as service uses SSL certificate together with 32-symbol API key to access the system;
extensive documentation and code samples enable you see how it works.
work at a high level. Enjoy API2Cart speed, get, add, update, and synchronize different elements with related data in just 3 seconds.
Don't waste your time and put this great opportunity of integration into action with API2Cart. If you have some questions, feel free to ask and Schedule FREE Consultation with our expert.