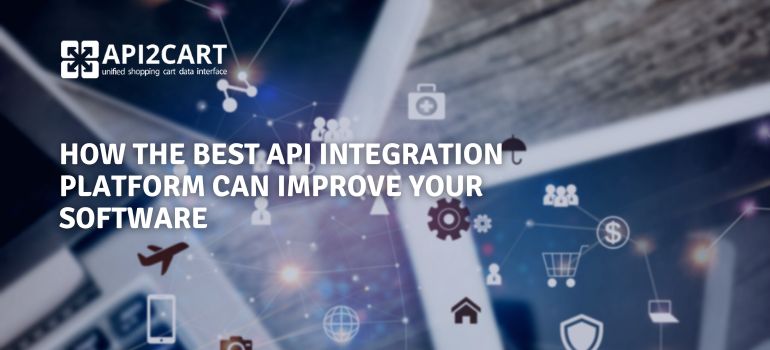 With constant technological changes and innovative ways to transform the digital world, we are all growing every day.
As a result of the big competition, many companies are trying to revise themselves, adopt new business models and not lose their competitors. Success in the constantly changing industry depends on constant adaptation and innovation.
For SaaS software providers, integration with shopping platforms is mandatory. It allows them to provide many essential functions for online store owners. They include inventory management, order fulfillment, warehouse management, etc. Nevertheless, according to the Cleo Survey Report 2022, about 24% of companies lose 500 thousand dollars a year due to a lack of reliable integration.
API integration platforms allow businesses to interact with multiple APIs. The best API integration platform helps businesses to quickly and easily connect to multiple APIs, making it possible to manage all API interactions in one place. As a result, companies can save time and money by simplifying their API management by using an integration platform.
You need a solution that will help you integrate all APIs into a variety of applications on a scale and meet your company's needs.
This article describes the most popular integration tools, including their features, that help you choose the best API integration platform for your SaaS.
What is API Integration?
API integration means establishing a secure and reliable connection between the two APIs so that they can communicate with each other and share data.
Such integration connects your SaaS to multiple shopping platforms, giving you access to millions of online sellers that use them to sell their products and do business. It is necessary for B2B eCommerce companies that want to have connection with eCommerce platforms.
By integrating with shopping platforms, you can expand the range of services provided. API integration allows software to access the data required to perform its functions. This information is about the product, order, tax, shipping, inventory and customer. Data gathered by integrating with these platforms can help your business implement new features and deliver better services tailored to your customers' needs.
Connection with shopping platforms is necessary for SaaS companies that want to increase their profits because more integration will mean more customers, large coverage of the eCommerce market, and higher earnings.
Top 5 API Integration Platforms
Choosing an integration platform requires knowing your business needs and researching which tool best meets these requirements.
Start by evaluating these best API integration platforms.
API2Cart
API2Cart is the best API integration platform for businesses that offer software as a service and want to sell their products to online retailers who use WooCommerce, Shopify, BigCommerce, Magento, eBay, Amazon and other eCommerce platforms. It offers a single API interface for integrating SaaS applications with eCommerce platforms and enhancing the application's core functionalities. API2Cart is constantly adding new platforms and new versions of already supported shopping carts.
It has around 100 API methods for working with products, orders and other entities. Furthermore, it provides users with a free 30-day trial to see how they can solve their business needs.
It is ideal for those software vendors that work in the sphere of shipping, order and inventory, warehouse management, dropshipping and marketing automation solutions, repricing, etc.
Moreover, it has 27/7 technical support that is always available to answer any questions. The API2Cart service takes serious measures to protect its clients' personal and store information. As an outcome, it saves time, money and internal development resources.
Boomi
This is one of the popular integration platform for your business that software vendors can use in a variety of ways. It provides functionality for low-code/no-code connectors between programs and systems.
Boomi also has capabilities for limited data transformation automation within the platform. The provider highlights its ability to support API and EDI connections to automate interfaces with external systems and organizations, such as vendors and partners. In addition, the vendor provides users with support regarding compliance with GPDR regulations, which protect personal data.
Zapier
Zapier is an API integration tool that allows you to create workflows between cloud-based services. The platform is great for beginners and non-technical teams because it offers an interactive visual interface with over 3,000 application integrations to help automate workflows between different cloud-based services.
Although Zapier does not require any coding, creating specialized or complex workflows can be challenging.
Celigo
Celigo is an integration platform that provides businesses with data integration and analysis capabilities. For example, Celigo allows companies to connect various data sources, analyze their data in real-time, and create automated workflows based on the results of their analyses.
Although Celigo performs well for basic connectivity needs, troubleshooting sync errors can be challenging.
Jitterbit
Jitterbit is another great integration software on our list of the best API integration platforms. The tool uses artificial intelligence to perform real-time language translation and speech recognition tasks and simplify the communication process. Some of its excellent features include robust workflows and APIs, template libraries, and sharing capabilities across an organization.
How to Improve Your Software Through the Best API Integration Platform
With the API integration platform, you can help your customers optimize their business operations while generating a fair revenue stream for your SaaS business. Choosing the best API integration platform will help you make your company better for your customers by combining the information and services they need. Tools such as API2Cart offer a complete integration solution, from connecting your software to shopping carts to managing upgrades and services.
API2Cart is a fully functional and the best API integration platform with a unified API to connect eCommerce software and applications to more than 40 shopping platforms and marketplaces simultaneously.
API2Cart eliminates the need for you to set up integrations with platforms like Magento, WooCommerce, Shopify, Amazon, or eBay at once. This solution saves you time and money without disrupting productivity by allowing your team to concentrate on more essential parts of your business while taking care of all maintenance-related tasks.
Get in touch with its managers now to know more about how API2Cart works and how it can help your business grow.