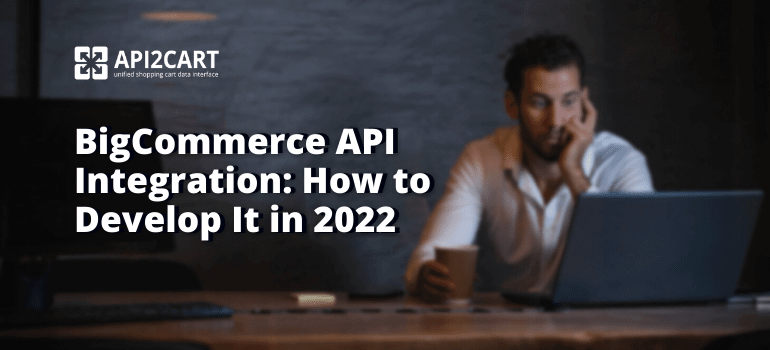 Software providers that develop eCommerce applications must find ways to reach their target audience as the competition in the software market grows every day.
As an eCommerce software provider, you need to find new options to increase your profits and outsmart your competitors. One of the possible ways to achieve that is by integrating with BigCommerce.
Here we discuss the aspects of BigCommerce integration. You will learn how to connect your software with BigCommerce, and other similar shopping platforms, in a snap.
API of BigCommerce
BigCommerce, a popular provider of eCommerce platform solution, has been featured in the list of top industry leaders for years. The BigCommerce REST API provides a uniform interface, making it easy to work with.
The BigCommerce REST API can be used to manage various types of data, such as:
order data
product data
coupons
account details
For technical details about the BigCommerce API, see its official API documentation.
Why You Need To Integrate With BigCommerce
BigCommerce is an eCommerce platform that has been active for over 11 years. It counts over 60 thousand merchants from 150+ countries among its clients, representing a premium choice for merchants seeking to increase their sales with the latest technological developments.
BigCommerce is used by 39000+ stores in the United States, 3000+ stores in Australia, 3000+ stores in the UK and 1300+ stores in Canada. The company offers new features such as improved reporting tools, and the worldwide pandemic situation has created more physically-based businesses turning to BigCommerce to open their doors online.
Choosing to integrate your app with BigCommerce will allow you to reach a broader market of prospect clients and boost the number of new customers using your product. However, building a proper integration with BigCommerce is not trivial. It requires competence and constant improvement. The good news is that third-party services can handle all of these integration issues.
Bigcommerce Integration Issues
Building a solid API integration with BigCommerce can be complicated for most software business owners. To tackle this process alone, prepare to overcome the following challenges:
To integrate with a single platform such as Shopify, Amazon, PrestaShop, Etsy, or BigCommerce, you must make a minimum of one month's effort to learn the process and spend several days investigating it.
Integration development is complex, and you should work with experienced developers who can ensure the process's success. These developers can charge anywhere from $3,000 to over $10,000 per month for various integrations as well as continual maintenance and improvement.
To ensure that integration continues to run smoothly, you need to continue to invest in skilled developers to cope with ongoing bugs and keep the connection functional.
The stability of a connection to BigCommerce is imperative to accessing data related to orders, shipments, prices, taxes, or customers.
API2Cart offers an easy and quick way to integrate your software with BigCommerce. Using API2Cart, you can save money and time while focusing on growing your business.
API2Cart - BigCommerce API Integration Solution
API2Cart is a unified shopping cart data interface that allows you to connect in one place your software with BigCommerce and other shopping platforms.
Instead of spending months performing integrations and spending thousands of dollars, you can integrate your business with multiple platforms simultaneously in just one integration by using API2Cart unified API.
Our unified API offers several advantages. They include adding unlimited stores using the 40+ platforms and reaching millions of potential customers in a single swipe. In addition, the API2Cart API Documentation is perfect for advanced users who want to safely and quickly understand all of their questions.
API2Cart API can be used to import orders, sync inventory levels, manage customers' information, and update products on BigCommerce and other platforms.
API2Cart uses the HTTPS protocol to guarantee that your data is secure. This is accomplished through the company's use of a 32-symbol API key to access your account. Additionally, the customer support team is highly responsive and eager to answer any questions you might have.
Contact API2Cart expert to discuss the BigCommerce integration's potential for your business.