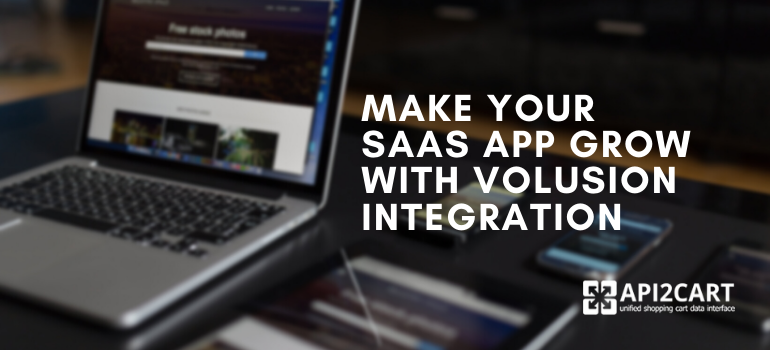 In a highly competitive world, it's obvious that you have to provide your customers with high-quality service in your niche. Volusion integration is surely a great way to empower your SaaS App, thus, increase your profits as well. Moreover, you will get more chances to conquer the sphere you work at.
Let's dive into why Volusion is worth integrating with and how you can easily connect to and work with its store data via only one integration with API2Cart.
Volusion Integration for Your SaaS App
Volusion is powerful e-Commerce solution that has 20 years of successful work behind the back. During this period of time dozens of clients have been gathered under Volusion umbrella which is definitely not a limit. This shopping platform powers more than 40 000 online stores. By integrating with Volusion, you will reach the top position and overcome your rivals in no sweat.
However, all the integration processes aren't as simple as falling from a log. Various data manipulations require strong technical expertise. API will undoubtedly help to solve the issue and facilitate retrieving and synchronizing information from your client's store on Volusion and integrate it with your soft.
API2Cart is an online service that provides you with a single API to access 40+ shopping carts. It's considered to be the powerful solution for integration problems. Volusion with all its versions is in the list of API2Cart's supported platforms.
In-depth Look at API2Cart's Advantages
Dozens of satisfied customers have appreciated our experience and expertise in Volusion integration. API2Cart provides service for more than 1000 live stores and serves over 5 mln API calls per month. The ability to hold multiple numbers of clients' stores shows that our service is very flexible and scalable. Fast work is considered to be one more important feature as API2Cart responds almost immediately. Use the possibility to add, retrieve, update and sync up to 10 items with related information just in 3 seconds. For establishing secure integration you are provided with a 32-symbol API key to access the system. In order to meet clients' demands, API2Cart offers you full tech support as well as the possibility to broaden the functionality on your demand.
API2Cart is a nostrum to empower such e-Commerce spheres:
Mobile commerce.Use the possibility to sync client's mobile store with e-Commerce one on Volusion by retrieving and posting all needed products, orders and customers' information.
Reprising system, accounting system and comparison shopping engines.Have difficulties with comparing and analysing your client's prices? API2Cart allows you to retrieve any price information from your client's Volusion store in a second and integrate it with your soft to establish qualified service.
Analytics system.Willing to provide your clients with the best reports? Volusion integration will be a robust solution. API2Cart possesses all needed patterns to solve the problem. You will be provided with all needed data to make your service the best in the industry.
API2Cart provides you with a great competitive benefit in e-Commerce market. Moreover, our service gives you more than enough set of features. You are free to add them to your own list of API2Cart's advantages.
Don't waste your time, broaden your online business soft possibilities with API2Cart which makes Volusion Integration as easy as anything. Let our expert help you! Schedule a FREE Consultation.