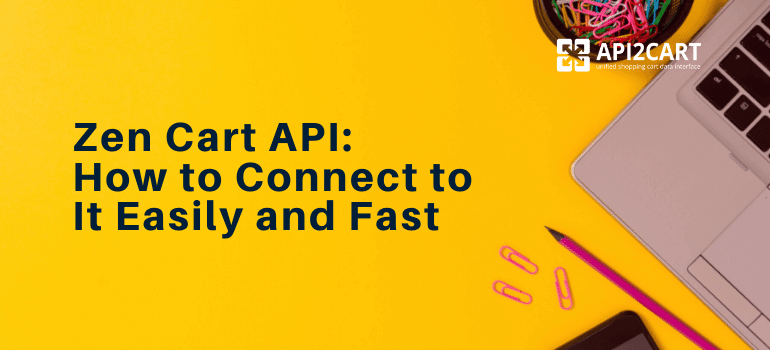 Zen Cart API Connection: Main Benefits for SaaS App Vendors
In case if you are running a B2B software for retailers, you probably think about the development of integration with a high number of shopping platforms. In this article, we will give more info related to building a connection with Zen Cart API.
Zen Cart is a shopping cart software with a high number of users. Currently, there are more than 180,000 websites that are powered by Zen Cart. It is highly popular among online retailers from the USA (65,000 e-stores), Germany (16,000 e-stores), France (9,000 e-stores), Italy (8,800 e-stores), and Spain (8,000 e-stores).
The connection of your system with Zen Cart API may bring a lot of advantages to your business. However, the process of developing integration with this platform requires a lot of valuable resources and time. It is a technically complex activity that needs qualified developers' work. Nevertheless, Zen Cart API connection may bring your B2B software business to a new level.
Main Reasons Why You Should Integrate with Zen Cart
First of all, Zen Cart integration allows your system to access the valuable data from e-stores built on this shopping platform. In other words, you will be able to work with the info connected with e-stores' orders, customers, products and prices. It will be possible for you to process this data by your software and provide your functionality to retailers who use Zen Cart.
Secondly, you can increase your profits and expand the number of your prospective clients. Development of connection with Zen Cart API allows you to provide your service to clients from the USA and European countries. Such step may hugely increase your software presence on the global market. If to talk about the increase in profits, everything is easy. More clients you have, the more money your business earns.
Thirdly, you will be able to increase your presence in the local markets. Zen Cart is highly popular not only among the USA online sellers. E-merchants from Germany and France also prefer basing their online stores on this platform. That is why if you want to gain success in the markets of the European countries, Zen Cart API integration is a good option.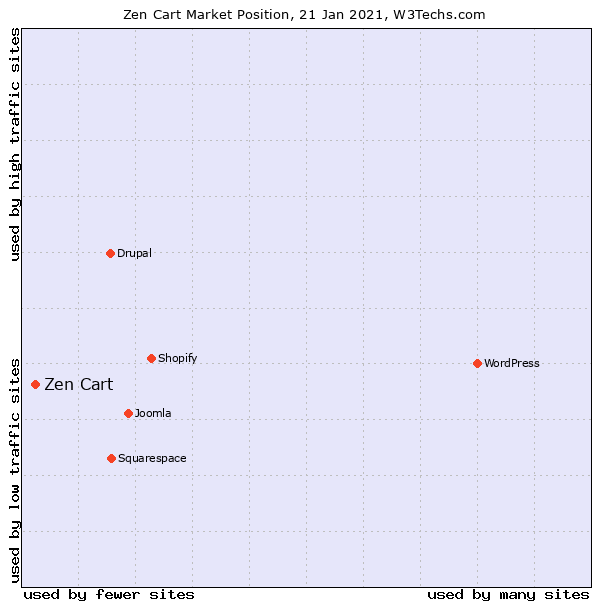 There are a great number of benefits that you can get from the development of the connection with Zen Cart.
Now, let's explore in detail the aspects of developing the connection with Zen Cart API with the help of the infographic presented below.

How API2Cart can Help You With Zen Cart Integration
API2Cart provides a single API that allows to connect with many shopping platforms and marketplaces via one integration. It includes Zen Cart and the various other platforms. The number of supported platforms also contains Shopify, Magento, WooCommerce, Bigcommerce, Volusion, PrestaShop, OpenCart, and other solutions.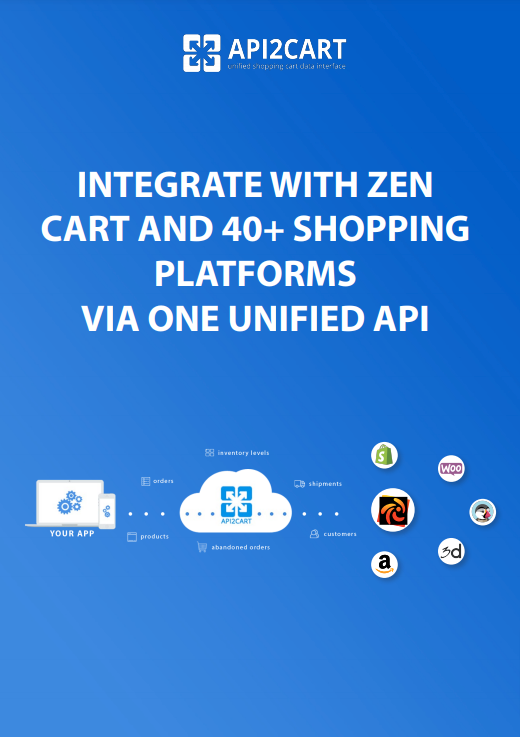 Zen Cart API Integration Development
Explore how Zen Cart integration can help your eCommerce software become more successful.
DOWNLOAD
As you can see, the usage of API2Cart integration service is the best way to easily connect your system to Zen Cart API. API2Cart provides more than 100 API methods that can help you to work with Zen Cart e-stores' data with no efforts.
API2Cart supports such methods fo managing the data from Zen Cart:
for working with products: product.list/ count/ info/ find/ add/ update
for working with categories: category.list/ count/ info/ find
for working with orders: order.count/ list/ info/ find/ update/ status.list/ abandoned.list
for working with customers: customer.list/ count/ info/ find/ add
The detailed info about API2Cart API methods you can find in our API Docs. With API2Cart, you can do various operations. For example, if you provide a shipping management software for retailers, you definitely need to import orders from Zen Cart into your system. The connection to Zen Cart allows you to propose your functionality to those retailers who use this shopping platform. The access to the order details enables your system to track and sync inventory levels, create shipments, etc.
For this purpose, you can use order.list method or webhook for order.add event provided by API2Cart. Order.list API method allows you to retrieve the list of new orders from stores. Webhook for order.add event makes it possible to track new orders on different stores.
Conclusion
API2Cart is a great solution for multi-channel, order and inventory, ERP, dropshipping automation software providers.
In addition, you can try API2Cart for 30-days absolutely for free. Moreover, you will be able to test all the functionality and provided API methods with no limits during that period.
You can get more info on how API2Cart can help you develop the connection with Zen Cart API by contacting our managers. You can do this by chat, email, or phone. We are ready to help you 24/7.
Also, you can register your free API2Cart account right now and test the service easily.
Don't waste your opportunity to connect your software to Zen Cart and other platforms quickly. Start your integrations today.