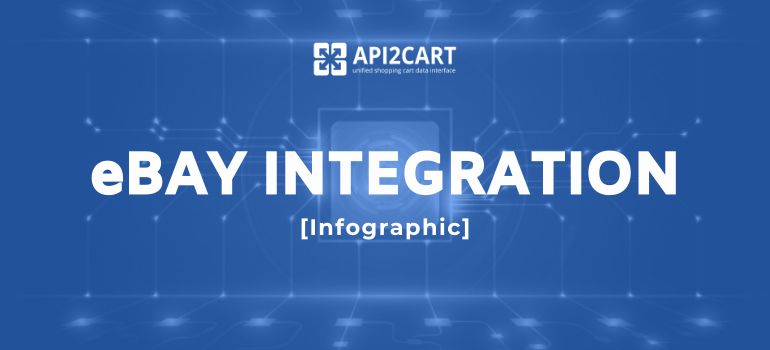 Do you provide order and inventory management, shipping management, repricing, mobile apps builder, marketing automation, PIM, ERP or other types of services for retailers? Are you interested in the connection of your software with eBay? If the answer is yes, then this infographic will help you to get more information on how to get started with eBay integration.
Integrating your software with eBay API enables your company to gain access to the data used by your customers — the eCommerce shop owners using eBay to sell their products. This data includes orders, products, shipments, prices, inventory, taxes, and more. By being able to access eBay data, you will also be better able to provide superior services to eCommerce shop owners, who will in turn be able to serve their customers better.
Integrating with eBay can be difficult, especially if you opt to do it in-house or hire an external team of developers. Instead, using a third-party service can save you time and money, and help you take advantage of secure eBay integration as well.
Moreover, the development of integration with eBay allows you to expand your customers' base and increase revenues dramatically in the short term.
So, let's dig deeper into the eBay integration process and explore the advantages and difficulties connected with it.

How to use API2Cart to Get Started with eBay Integration?
Integrating with eBay is a must-have in 2022, especially for software providers that want to expand their businesses and reach new markets. As you can see, eBay integration is an easy process if to implement it with the help of API2Cart.
API2Cart offers seamless integration with eBay and 40 other platforms and provides over 100 different API methods for working with online store data. With our service, you can update order statuses, make detailed reports, retrieve product lists, update prices, get the list of orders from stores, add shipments to the orders from eBay, etc.
Usage of API2Cart allows you to save your time and reduce costs needed for the development of connection with eBay and the other shopping platforms and marketplaces. Our unified API makes it possible for you to integrate your eCommerce software or app with Magento, OpenCart, WooCommerce, Etsy, Amazon, Walmart, 3dcart, etc.
You can retrieve, add, update, delete and sync all needed information from your clients' stores based on any of the eCommerce platforms that we support.
In addition, using API2Cart allows you to not worry about integration maintenance and support. That means that whenever any shopping platform or marketplace makes some changes in their API, API2Cart updates the connection with them.
Also, API2Cart provides flexible pricing, detailed API Docs with all the needed code examples, and full customer support service.
You can test all API2Cart functionality and API methods for a month for free. All that is necessary to do is to register your new free account and add your clients' stores listed on eBay or any other of the supported shopping platforms or marketplaces.
Do you want to get started with eBay integration and receive more details connected with the shopping cart connection via a unified API provided by API2Cart? We are always ready to answer all your questions by phone, email, or chat 24/7.