7 Reasons To Make a Unified Shopping Cart API Integration A Part Of Your Company
Today, the world of eCommerce is showing incredible results and dynamic growth. Do you know that according to Statista portal 1.8 billion consumers around the world purchased more than $2.8 trillion worth of products from approximately 25 million online stores in 2018? Global e-retail sales are expected to double by 2021. It sounds impossible, but numbers speak for themselves.
For a great amount of B2B services integration with shopping carts and marketplaces is very important because the access to data that they can get from these sources forms the basis of their activities. But how to reduce integration costs, save time on the integration with each shopping cart software separately and benefit from the market opportunities? The answer is simple: to use a unified API for multiple shopping platforms.
Application Programming Interface or API is a set of determined methods that allow different software to communicate with each other. For example, if you have B2B eCommerce service and need to receive and manipulate data from your client's shopping cart you can do it easily through the use of the application's API. It is an amazing option for those businesses that work in the field of shipping, warehouse and inventory management, email marketing automation, dropshipping and mobile app development. If you are thinking about making the API integration with eCommerce platforms a part of your company consider using Enterprise On-Premise solution by API2Cart.
Here are the seven reasons why you should certainly implement a unified shopping cart API integration into your business model:
Access to dozens of shopping platforms and marketplaces

There are several of the most popular shopping cart software systems in the world: BigCommerce, Shopify, 3DCart, PrestaShop, Volusion, Opencart, and Magento. You can integrate with these and the other supported platforms via one API that gives you the possibility to organize and automate e-retail businesses of your clients with no additional efforts.

Time and cost-saving

The average monthly salary of developers around the world ranges from $2000 to $6000. Each integration of your software with the shopping cart of your client can take weeks or even months of work for your developer. So, if you can save thousands of dollars on the integration and have no worries about maintaining separate connectors why not do it?

100+ methods to manage data

APIs give the possibility to receive and manipulate the necessary data from shopping carts such as information about products, categories, orders, customers, basket and tax.

The API documentation of API2Cart can help you to pick up the features attractive to your clients.

High-level security

If you work internationally and have more than 500 clients you must ensure them maximum data security during the process of integration. API2Cart developed additional Enterprise On-Premise solution especially for those who understand the relationship of high-level safety to their company's reputation. It gives the possibility to control who can manage your API2Cart server infrastructure by using Amazon AIM, make all requests over HTTPS protocol, supervise all connections with your clients via your software and use a unique key to get necessary store data.

Automatic updating

Your business has a very defined purpose. For example, if you are a multichannel commerce platform you take care of your client's inventory, orders, and shipping operations. Using the unified shopping cart API of API2Cart you can focus on your activity as API2Cart takes care of integration updates.

Flexibility of the system

The market of eCommerce is changing every day. The capabilities and functionality of shopping carts are constantly enhanced. For you as B2B software is very important to explore and implement new features and win more clients. You can make any desired changes that are connected with the process of integration on your own if you use API2Cart Enterprise solution.

Increase the number of clients

Millions of eCommerce stores are your potential customers. Using a unified shopping cart API gives you the opportunity to handle your clients' requests promptly and efficiently. A satisfied client is key to the success of your business.
API2Cart On-Premise Solution: Perfect Way of Integration With Shopping Cart Software
API2Cart Enterprise On-Premise supports more than 40 shopping platforms and allows you to connect with them all by leveraging unified API. The main advantage of Enterprise On-Premise solution is that you can implement the system into your business and control its activity independently and solely.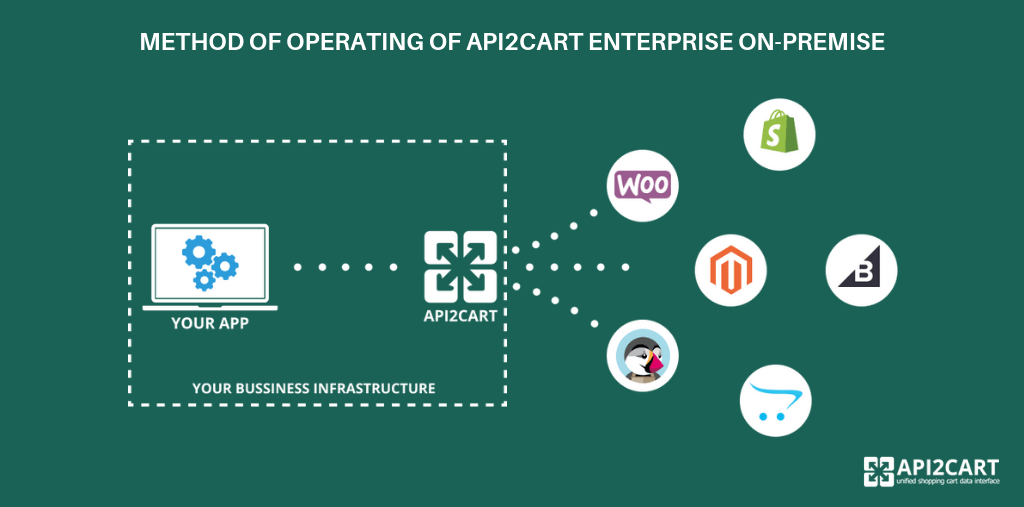 API2Cart empowers you with the ability to operate all needed data from your clients' stores and to perform integration easier and safer. You will be able to forget about the long integration time and huge budgets.
For more details on how API2Cart Enterprise On-Premise can help your business to integrate with multiple shopping platforms, contact us with a message or schedule a quick call with our expert. And if you decide to use this plan they will give you all necessary support 24/7.