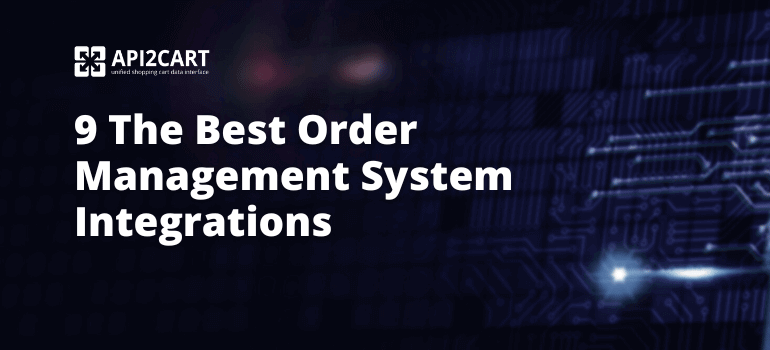 It is critical for an order management software provider to know what integrations you should do to serve your clients. By the year 2024, there will be even greater importance placed on order management system integrations with different platforms. It can give you an upper hand over your competitors while helping you increase productivity in that niche.
Based on the findings by the National Retail Federation, the adoption of order management systems can cut down on costs by about 15 percent and raise general customer satisfaction by up to 16 percent. Nonetheless, in your role as an order management system, you have to work hand-in-hand with the various third-party solutions for effectiveness.
Below, we would like to get deeper into the best integrations you can create and show you how to successfully connect your system with Amazon, Shopify, WooCommerce, or other similar platforms and marketplaces.
Main Order Management Software Functions
An order management system is a modern tool specific to an online store/CRM system whose aim is to support sales activities involved in the actual process of fulfilling orders, such as order follow-up, data entry, stock access, inventory management, and shipping management.
Usually, an order management software provider offers a plethora of functions to its customers, including but not limited to:
Multichannel order processing and aggregation: regardless of how many sales channels store owners have, the order management software can allow them to review and process all orders in a single, unified dashboard
Scalable order processing features: professional order management software provides fully scalable order management functionalities to cater to the growing needs of large retailers
Order tagging and search: another highly useful feature of order management software is order search and tagging. Such a tool can easily search for orders across the entire database, facilitating fast, accurate search results. Once an order has been found, the system can tag it into a specific category and categorize it on-the-fly
Direct integrations to all business channels: this function is crucial for allowing real-time updates to order status
Dropshipper integration: with one of these robust systems, retailers can facilitate order management automation and intelligently fulfill orders by shipping method, channel, or facility. Modern retailers can, therefore, stay on top of their order queue and maximize fulfillment efficiency
The Most Important Order Management System Integrations
As an order management software provider, you need to focus on developing a specific set of integrations to unlock the full power of your service.
Here is the list of 9 of the best order management system integrations you can perform in 2024 in order to take your business to a whole new level:
Integration with ERP Systems: integrating them with your order management software gives you an instant update of sales and stock, hence a clear insight into the client's finances.
Integration with Warehouse Management Systems: integrating this will enable your software to manage the processes of the warehouse, including inventories and stocks, ensuring your clients never run out of stocks.
Integration with Payment Gateways: this integration is mandatory for managing card transactions and third-party payments.
Integration with Tax Services: in order for your solution to compute tax based on the purchase price and the customer's delivery address, you should integrate your software with the tax services.
Integration with POS (Point of Sale) Applications: this type of integration allows you to empower retailers to administer inventories and cash payments at the physical store and produce online customers' inventories available at the particular site.
Integration with PIM (Product Information Management) Software: a PIM is an efficient approach in giving your clients an improved means of handling their products. These include the integration of videos, images, and any other digital content into the product description. Such encourages the conversion rate that helps them satisfy their shoppers effectively.
Integration with Email Software: while most order management software already offers shipment status and email order creation capabilities, sometimes using an advanced email tool ensures a better, more consistent brand experience in the case of large clients.
Integration with Parcel Adaptors: this is a special integration that you must make in order to have a correct shipping cost estimation and send the order to the right carrier. Online vendors need this for fair prices for their customers.
Integration with Shopping Platforms: lastly, integrating your order management software with shopping platforms allows you to gain access to your clients' data related to their e-store products, orders, shipments, and any other important information. You can easily automate operations and work with this data to create personalized reports for your clients.


How to Сonnect Order Management Solution with Various Shopping Platforms?
To expand your market size and build a larger customer base through 2024, it is recommended that you do the mentioned integrations. Of these, an order management system integration with the various eCommerce platforms remains one of the most important. The integration of such activity makes it impossible to add, retrieve, delete, sync, and work with the data of users whose clients sell their products online through e-stores.
To properly connect your solution with various shopping platforms, you need to play it smart and avoid the drawbacks of manual integration development. The best solution to this case is to use a reliable third-party service such as API2Cart. It basically allows you to connect your software with over 40+ shopping platforms and marketplaces via its unified eCommerce API.
With the help of API2Cart API methods, you can easily import orders from any sales channel, sync inventory management across different platforms, create shipments, update order statuses, and make personalized reports to track the situation on each sales channel.
You need to register your free account to start with API2Cart with the help of our specialists and perform successful order management system integrations with eBay, Amazon, WooCommerce, X-Cart, Etsy, and 40+ other platforms. Then, you can add your customers' stores from any supported platform and start working with store data to optimize key processes and provide top order management solutions to your clients.