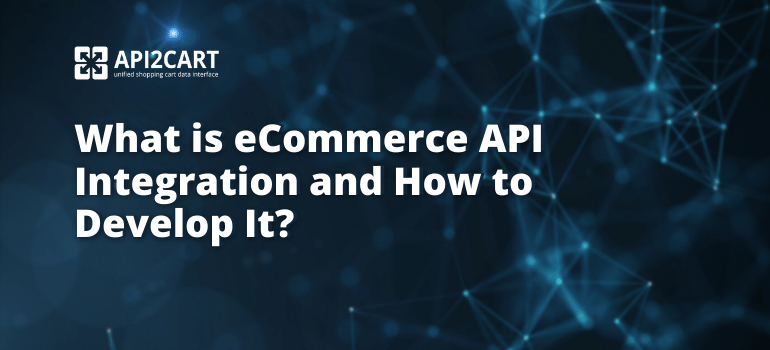 The eCommerce industry is evolving at a rapid pace, and software vendors are having to work hard to serve their clients better. Because there are so many eCommerce software vendors in the market, the need to stand out in terms of what they sell makes it hard for vendors to make a profit.
eCommerce API integration development is what can help software providers to enter new markets and gain more potential clients.
API integration enables software providers to connect their solutions with shopping platforms. It operates as a bridge of data transfer between eCommerce platforms and the software.
In this article, you will learn what eCommerce API integration is and how it is possible to develop it with multiple platforms.
Meaning of API Integration
An application programming interface (API), a machine-readable set of rules, enables software products to communicate with each other and exchange data. From a technical standpoint, it is a set of programming statements that allow data to be transferred between different apps and software.
As a software provider, you can interact with different external apps via APIs. You can also use APIs to add specific functionalities to your software and trigger the development process.
API integration occurs when a connection is made between the APIs of two or more applications. This integration enables two systems or software to interact with each other and exchange different types of data.
API integration allows eCommerce software vendors to enhance the functionality of their applications by tapping the power of other systems and applications.
Principles of API Integration Working
The incoming requests and outgoing responses must be translated to enable communication between the application programming interface (API) and the other functional units. The incoming request must be translated so that the outgoing response is understandable. Integrating an API, therefore, makes the two API layers communicate with each other and exchange data in a way that allows the data to be synced across connected applications.
Companies that provide eCommerce software are in need of eCommerce API integrations to build the connection between their solutions and platforms and marketplaces like Amazon, WooCommerce, Magento, Neto, Shopify, CommerceHQ, etc.
An eCommerce API integration is a way to connect eCommerce software with shopping platforms so the former is able to perform its functionality with the help of shopping data retrieved from the latter.
Shopping platforms' data connected to products, orders, customers are essential for eCommerce software providers that operate in the sphere of:
Order and inventory management
Dropshipping automation
Product information management
Marketing automation
POS
Shipping management
ERP
PIM
Data feed management
These solutions require data from the e-store to perform their specific functions and help the e-merchants to automate their business operations.
How Long Does It Take to Integrate with eCommerce Platforms?
Every eCommerce platform has its own API, which allows the shopping platform to interact with other applications. Each API layer has a specific logic and architecture.
As an eCommerce software provider, your clients have e-stores on multiple platforms, including BigCommerce, Shopify, Magento, WooCommerce, and more. You must ensure that you can connect your software with every platform on which your clients have built their stores. The time to develop an API integration for one shopping platform can take a month or more. And you can imagine the time involved in developing integrations with all the shopping platforms that are on your list.
In addition, shopping platforms keep upgrading their APIs to resolve security issues. As a result, you will need to upgrade your integrations, too. In the meantime, you must devote time, money, and resources to maintaining and updating the integrations.
However, if you choose to outsource the development and maintenance of your eCommerce API integrations, it can be different.
How to Develop eCommerce API Integration via API2Cart?
API2Cart provides one unified API that allows its clients to connect their eCommerce software and applications with more than 40 shopping platforms in just one go.
API2Cart leverages the REST API standard to ensure that your application communicates with shopping platforms. With API2Cart, there is no need for separate integrations, further maintenance, and updates.
Integrating your software with API2Cart will enable you to integrate all the shopping platforms you wish.
API2Cart allows you to access important store data from multiple shopping platforms. You can even retrieve, add, delete, and modify data easily. It includes the info on products, orders, shipping details, customers, etc.
You can try API2Cart for a month totally for free and test all its API methods needed for working with the e-stores' data from multiple eCommerce platforms. All you need to do is register your free trial account now. If you need any assistance, you can contact API2Cart managers by chat, email, or phone.