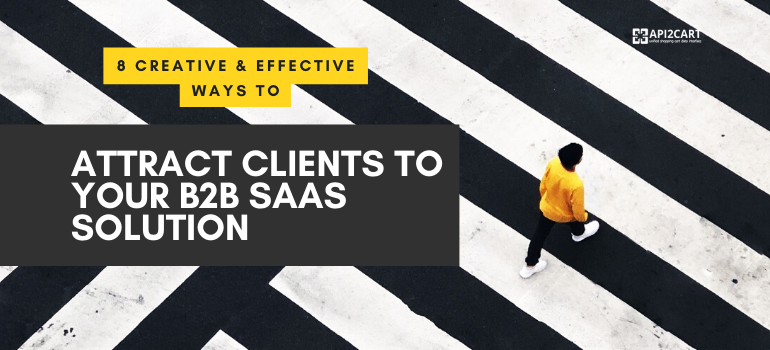 It's no doubt that clients are the lifeblood of every business. It is also obvious that no clients equal no business. But what if traditional methods of attracting new clients stop working and B2B SaaS company is getting stagnant?
One more fact is that the competition in the B2B SaaS world is intensifying. Even if you've built an easy-to-use tool that automates different business processes for online store owners, that doesn't guarantee that your business will be successful. It won't survive if you're not good at attracting new customers.
We've prepared some creative tips on how you can attract online store owners to your B2B SaaS solution. Check out them and quickly start applying if you didn't do it before!
#1. Provide educational resources
Educational content, valuable tips for using your B2B SaaS tool, product academy, guides, and other similar resources are what can help you become an authority in your industry. For that, you will need to make a research, choose reliable sources, and the format you want to present it in.
With the help of such resources, you can also explain the business logic of your service and some technical information that will considerably save you time in the future.
#2 Offer discounts or something for free
Providing some services or products for free or with a discount is also a good idea to drive new customers. Customers today are looking for value and deals.
What is also important is that discounts are attractive not only for new customers but can also bring back previous clients. However, it is recommended to ask something in return. It may be testimonials, case studies, product feedbacks, etc.
#3 Start a blog
A blog allows to promote service in an organic manner online. If the valuable content will help to solve the problems people are looking for, then it is a high chance that the followers can convert to customers. Position yourself as an expert in your field and people will trust your business more.
#4 Create helpful videos
Over 40% of people say they prefer consuming content in a video format. It is engaging, easy to share, and effective at convincing potential clients to convert on your solution.
When you create videos, you send valuable and easily consumed information to your audience. 90% of customers say that videos help them make buying decisions.
#5 Get Listed on Popular Directories
Registration on popular directories is a good way to promote your company around the world. Usually, it is completely free to get listed on them.
Business directories also allow to improve your SEO. These listings appear in SERPs and can generate you more traffic.
What is also important is that your potential customers look through many tools similar to yours. That is why you need your listing to be competitive in order to win customer attention. Customer review features can help you strengthen your reputation.
#6 Host a Free Webinar
Webinars are also a powerful way to reach and engage customers. They allow to nurture leads and educate them on why you provide the perfect solution to their problems.
For that, you can use a free webinar tool like Facebook Live or buy professional webinar software.
#7 Use a pull marketing strategy
"Pull marketing" is an approach that allows to draw customers with the help of whitepapers, infographics, blog posts, and other content. Today this strategy is considered to be more effective than "push marketing".
In general, pull marketing strategies take longer than push marketing to drive results, but that strategy ensures long-term customers and growth.
8# Have the support of popular eCommerce platforms
For your B2B SaaS solution to have the support of only two or three shopping platforms, even the most popular ones, is just unacceptable. Just look at the numbers of online store owners using eCommerce platforms:
eBay - 25 million
WooCommerce - 3 million
Squarespace - 1,8 million
Shopify - 880 000+
Ecwid - 600 000+
Salesforce Commerce Cloud - 40 000+
Shopware - 30 000+
That is only several popular platforms. Imagine how many potential clients you can get when you will have the support with 40 eCommerce platforms!
However, developing integration with each eCommerce platform is really a difficult process that takes a lot of time, money, and effort. With API2Cart unified API, you can avoid all the challenges of integration with eCommerce platforms.
eCommerce Integration Helper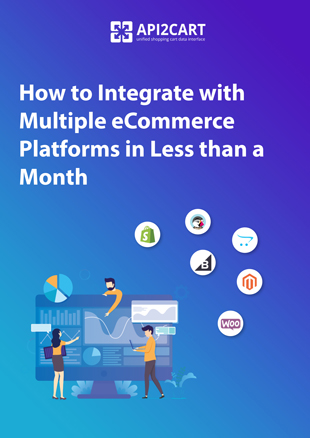 eCommerce Integration Development
Explore how to develop the integration with various eCommerce platforms in less than 30 days.
DOWNLOAD THE GUIDE
API2Cart has already investigated the logic of each shopping platform and developed the integration with 40+ shopping carts and marketplaces APIs. So, you need only to write integration with API2Cart and enjoy the variety of supported shopping platforms.
The service possesses all the needed characteristics to meet unique business demands:
Scalable and flexible infrastructure. Service provides you with the possibility to integrate an unlimited number of clients' stores.
Secure integration. SSL certificate is used to ensure integration security together with a 32-symbol API Key to access the system.
Full tech support. Professional tech engineers and managers are always ready to help you solve all the problematic issues.
Well-documented API. Both static and interactive documentations are presented to outline all patterns on how to work with the service.
The single entry point for all shopping platforms. Integrate with multiple shopping carts using a single API, overcoming all the complexity of accessing various platforms.
API2Cart enriches the functionality of such eCommerce spheres:
Order and inventory management software. API2Cart allows such solutions to update orders on all sales channels from a single place, sync inventory levels across multiple platforms, retrieve order updates, and notify your customers in no time.
Shipping management software. Via API2Cart such systems will be able to import orders from multiple sales channels, update tracking info and order statuses, create shipping labels.
Marketing automation software. With API2Cart, they can send emails featuring new items, discounts, and special prices, notify on order statuses, import contacts from stores and build segmented lists, track cart abandoners, etc.
If you have some additional questions, schedule a FREE Call with our expert and we will help to solve all dizzying issues according to your business demands.