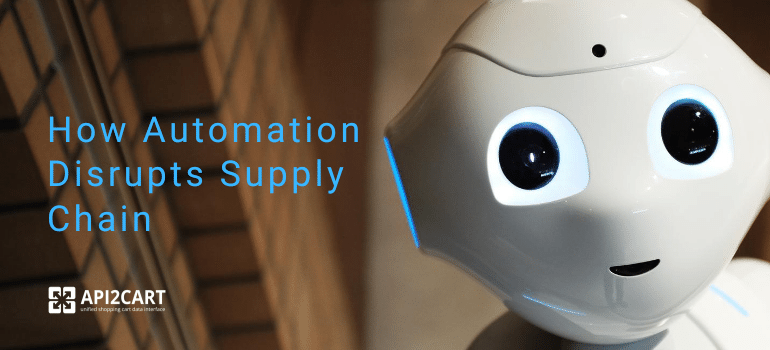 Automated technologies help businesses thrive in the fast-paced ever-changing environment. While automation is already integrated into many spheres of business, one of the mainly influenced industries is the supply chain.
Automation still has big potential to revolutionize the supply chain and 2018 is going to be a milestone year to prove this. Technologies that have been long in the making are starting to demonstrate a steady success. Here is the list of the emerging trends that are disrupting the supply chain industry:
Robotics
Autonomous vehicles/trucks
Use of drones
Automation through Integration
1. Robots in Warehouses.
Until recently, robots had been expensive, huge and clumsy mechanisms that were able to perform a few simple tasks. However, today's robots are lighter, much more affordable, and, most importantly, they can be programmed to execute more complicated actions. In warehousing and fulfillment robots can assist employees in performing logistics operations.
As more and more manufacturers bring warehouse robotics into the market it becomes easier to integrate these solutions and switch from manual to mostly automated distribution centers. For example, Chinese tech giant Alibaba already implemented robotics into their warehouses and it helped to reduce human labour by 70%. Their robots can carry up to 500 kg, receive orders through wifi, and have special laser sensors to avoid colliding with each other. And the icing on the cake - when they run out of battery, they take themselves to the charging station.
2. Please, drive yourself.
There is a growing demand in eCommerce for faster product shipping at lower costs. Autonomous transportation is the perfect answer to this challenge. Thanks to advances in technology and the Internet of Things major companies started to experiment with self-driving cars.
The evolution of autonomous vehicles plays an extremely significant role in supply chain optimisation. Though it can take a few more years for the technology to improve we can surely watch the first steps to be implemented already.
For example, Waymo, the autonomous vehicle division of Alphabet, announced last month that it would test fully self-driving minivans on public roads. Also, Swedish automaker Volvo unveiled an autonomous truck prototype as part of its strategic efforts in sustainable transportation.
3. Please, fly yourself.
Drones have big potential for supply chain automation. They can be used both for delivering goods to consumers and also inside warehouse buildings. Using drones can significantly streamline the shipping process. However, there are some legal restrictions that have yet to be resolved.
4. Automation through Integration
Traditional supply chain management systems, like ERP and TMS, date back to times when business processes were slower and much less flexible, and handling the supply chain was quite a tedious experience. Modern supply management software has a big potential to automate and streamline the majority of operations for retailers and manufacturers. For example, such software can help you centralize orders from all marketplaces, automatically update inventory counts across all channels, change customers order statuses, create shipping labels, drop ship orders directly to suppliers, etc.
Integrate your Supply Chain Management software
In order to compete in today's fast-changing global markets, there is a need for an integrated approach to supply chain operations.
Luckily, there is a special integration solution, which enables to perform integration faster, easier, cheaper and safer. API2Cart solves practically all the problems that multiple integrations present. API2Cart provides a unified API that allows interacting with many eCommerce platforms. Through only one integration with API2Cart, you can get connected with over 40 shopping carts.
In case you have any particular questions, do not hesitate to contact us.