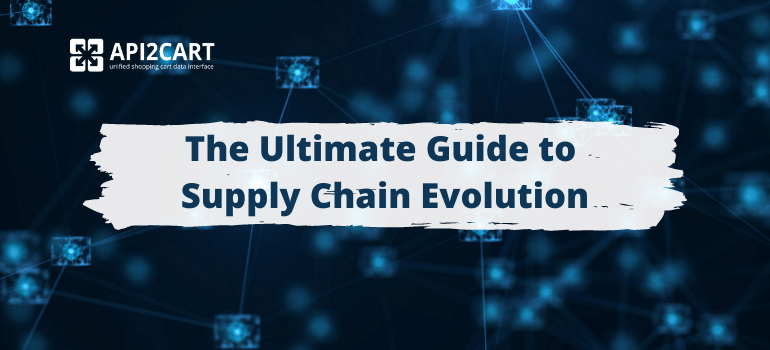 Without any doubt, in today's worldwide business environment exceptional supply chain performance is vital to competitive advantage. Due to the fact that supply chain management plays an extremely significant role within the company, aren't you interested in how the supply chain got where it is today? And what was the evolution history of supply chain management? Let's find out the answers to these questions.
Roots of Supply Chain Industry
The supply chain industry's beginning of industrial engineering and operations research has its roots in logistics. Fredrick Taylor, the industrial engineering establisher and the author of The Principles of Scientific Management, aimed at improving the manual loading processes in his studies. Operations Research initiated when the value of analytics was shown during World War II for logistical military operational solutions in the 1940s.
Despite the fact that Industrial Engineering and Operations Research tried to function as independent identities, lots of their great achievements happened when used in an integrated system. Thus, they succeeded in solving supply chain and logistics problems, and such integration started to be called "Supply Chain Engineering".
Supply Chain Management: Early Years
The 1940s and 1950s were the years when the main attention was paid to such issues as the usage of mechanization (e.g., pallets and pallet lifts) to get better warehousing space racking and layout. The 'unit load' concept and pallet became popular and widespread. Later on in the 1950s, this idea was extended to transportation management by utilizing intermodal containers together with trains, trucks, and ships to transport them. This was a precondition for the supply chain globalization.
In the 1960s freight transportation steered towards trucking rather than railroad as a trend. This resulted in the necessity of joint consideration (warehousing, material handling, and freight shipping) of "Physical Distribution". In 1963, the National Council of Physical Distribution Management was formed. Moreover, in terms of computers, it quickly became a field leader. Before the 1960s, all transactions and record-keeping were done manually. The data computerization created opportunities for innovations in logistics planning, such as randomized warehouse storage, truck routing, and optimization of inventory.
Logistics Development
The 1980s are the years of marked transformations in logistics. The outgrowth of computers and new technology such as adaptable spreadsheets and interfaces based on maps considerably enhanced logistics planning and execution technology. Commerce quickly profited from these new ways of engineering usage.
The most significant tendency for logistics in the 1980s was its reputation for being remarkably expensive and complicated to manage. In 1985, the National Council of Physical Distribution Management  renamed itself to the Council of Logistics Management (CLM). The reason for the name change was "to reflect the developing branch that included the integration of inbound, outbound and inverse flows of items, services, and cognate information." Previously, the term "logistics" had been used to specify the support of military movements.
Revolution in Technology
In the 1990s, Enterprise Resource Planning systems (ERP) were created due to the boost of logistics development. By 2000 plenty of big companies had installed ERP systems. Thus, the EPR software recognized the needs for improved planning and integration among logistics components. Consequently a new generation of "Advanced Planning and Scheduling" (APS) software emerged.
Hence, the '90s brought a trend of integration of logistics. Moreover, the statistic shows that 60% of all companies nowadays have made a remarkable progress toward obtaining the integrated logistics system.
Supply Chains: Globalization
The globalization of manufacturing in the 1990s, specifically the growth of manufacturing in China,  universalized the term 'supply chain'. Due to this fact, the need for logistics strategies to manage the complex networks including numerous entities spanning many countries with diverse control was highlighted.
It was a growing trend to use the term "supply chain management" to direct to tactical matters and logistics. In the '90s, Logistics was understood as the part of the supply chain process, while Supply Chain Management was defined as the strategic coordination of the traditional business functions, the aim of which was to improve the long-term performance of individual companies and the supply chain as a whole.
Supply Chain: From the '80s till Now
Supply and logistics utilization have clearly advanced since the 1980s. The use of Internet has dramatically changed the way we think about communication, which made for strategic growth in both international and national supply chain groups. While globalization has progressed, environmental, social and security studies continue to play an influential role in supply chain decisions.
Big Data Impact
The information age is upon us. Sensors touch almost each aspect of our lives, creating data that can produce insight and intelligence to greater support decision-making. However, data alone is not enough. It's only with the adoption of advanced analytical software that Big Data can become actionable intelligence.
In retail, it all starts with an effective supply chain. Big data is providing supplier networks with tremendous data veracity, transparency, and vision, leading to more contextual understanding shared across supply chains. In fact, 64% of supply chain executives consider big data analytics an efficient and significant technology, setting the basis for lasting change management in their companies.
Integrated vs Non-Integrated
"The future of eCommerce logistics [...] will be dominated by two words: 'optimization' and 'integration,' with digital technologies driving innovation across the entire value chain."
Dr. Wolfgang Baier, CEO of Luxasia,  2015 DKSH Future of Market Expansion Services.
Nowadays everything is about integration within supply chain management. In the past and even today, many companies don't have an integrated supply chain system. The major drawback of non-integrated companies is that they have disconnected flow of product and information, restricted possibility to react to consumer's requests, changeable product delivery rate, limited visibility on shipment information and performance based on functional activities.
Companies with integrated supply chain benefit more from a customer service focus. In addition, they minimize losses, become faster, more adaptable and flexible, even though they keep maintaining the highest of quality standards. In general, the integrated companies continue to carry out the considerable and constant improvements to stay in that position.
Integration Solution
In order to attract and satisfy the customers, and to differentiate from the competitors in today's fast-changing global markets, there is the need for an integrated approach to supply chain operations.
Luckily, there is a special integration solution, which enables to perform integration faster, easier, cheaper and safer. API2Cart solves practically all the problems that multiple integrations entail and allows them to extend their market share dramatically. API2Cart provides a unified API that allows interacting with many eCommerce platforms. Through only one integration with API2Cart, you can get connected with over 40 shopping carts simultaneously.
So if you are running a shipping, order fulfillment, or any other kind of eCommerce B2B service, try how integration with leading shopping platforms would work for your business. If you have any questions to ask, feel free to contact us.