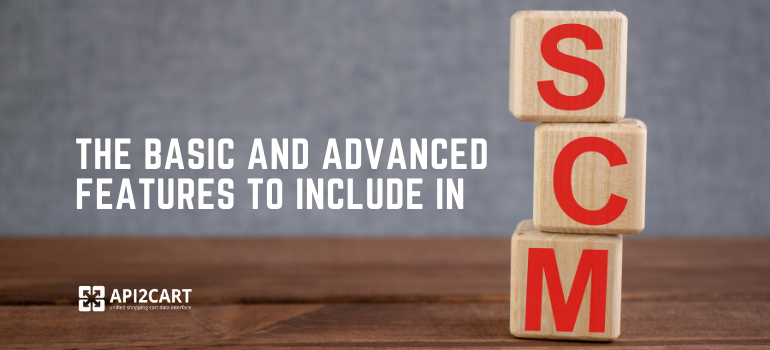 Supply chain management is a crucial process for many companies, and its optimization can significantly reduce costs, increase customer satisfaction, and vastly improve shop floor operations. Conversely, a disorganized supply chain can ruin relationships with suppliers and customers and can mess up many aspects of a business. Understanding this, business owners strive to optimize and automate this complex process as much as possible and turn to supply chain management (SCM) software to improve end-to-end supply chain ecosystem.
Supply chain itself is a quite extensive network that involves many participants and spans the set of stages and aspects that form the path from the supplier to the customer. Accordingly, supply chain software comprises the range of tools that enable business processes, execution value chain transactions, and management supplier relationship control. While functionality in these systems varies significantly, there are some features that are common to most of them.
#1 Inventory Management
Needless to say, an effective and seamless supply chain requires organized inventory. All materials, supplies, goods, and additional parts need to be stored properly, in the proper number, and at the proper time. Inventory management tools help to optimize inventory levels to minimize storage costs and prevent companies from shortage, excess, and waste. This tool also displays where the inventory is in real-time thus allowing to make decisions based on up-to-the-minute information.
#2 Order and Billing Management
This function of the SCM software enables to create orders and bill clients from one dashboard within the system. It also gives vendors the possibility to manage orders from multiple channels from one place. Order management software keeps track of the order-to-cash process, improves quote accuracy and revenue recognition, eliminates billing errors, and drives fulfillment accuracy.
#3 Procurement
Procurement allows to fully automate and facilitate all sourcing, purchasing, and payables related processes. With its help, a company's entire supplier network, including suppliers, employees, and customers, can collaborate from different systems in real-time, ensuring that everybody is involved in problems or issues as they appear. As a result, businesses can build stable relationships with vendors, and better assess and manage their performance.
#4 Logistics and Transportation
Such tools are designed to ensure that the company's materials and goods are transported efficiently and at the lowest possible cost. They automatically offer the optimal delivery modalities (air, land, or sea) and manage multiple delivery variations.
#5 Warehouse Management
Warehouse management tools optimize warehouse stock and increase warehouse accuracy. With their help, one can effectively manage receiving, putaway, replenishment, and cross-docking.
All the functions listed above comprise the minimum value SCM system, but to stand out of the great number of analogous systems, SCM software providers need to offer more. Read on to discover what advanced features that will help you attract more customers and make your SCM platform a more encompassing solution.
#1 Planning systems
Many, but not all, SCM systems include forecasting, which helps to predict customer demand more precisely and adjust the supply and production processes accordingly. This tool uses complex algorithms and consumption analysis to evaluate buyer histories. It can be priceless for many companies that need help in maximizing production efficiency and planning for the future.
#2 Vendor-managed inventory
Vendor managed inventory is what provides suppliers with the capability to oversee and replenish the buyer's stock themselves, thus adjusting the demand and supply gaps. Due to different communication options, it helps to increase visibility for all business partners involved. Buyers can automate sold inventory reports, and suppliers respond with new shipment notifications and invoices.
#3 Strategic Sourcing
Sourcing software is used to ensure the company gets the best service/product at the best value. This tool is mostly applied before the supply process. Spend analysis displays current spend in comparison to other market options, which helps to define and cut unnecessary costly supplier relationships and to find more vendors.
#4 Integrations
No matter how great your SCM system is, it cannot become an encompassing solution if it has little to no integrations with shopping carts. Establishing a connection with shopping platforms is what enables SCM software owners to provide their service to e-retailers that build stores on those platforms. In other words, all users of the shopping solution your system is connected to are its potential clients. The more connections you establish, the more opportunities to expand your market share you get.
Obstacles and Shortcuts to Comprehensive Integration
The thing is that there is a wide range of shopping carts to integrate with, and integration is a complicated and time-consuming process. Each system has its unique architecture that requires time and expertise to learn. Just to establish the connection will take about a month and at least a few thousands of dollars because you will need to find an experienced developer to elaborate integration module. But it is not the end of the story. Each integration needs further upgrading and maintenance, which also requires time and money resources. Due to all these difficulties, many B2B providers can afford integration with only a couple of shopping carts and hence narrow their business opportunities.
You can perform multiple integrations much faster and easier than you might think. API2Cart provides a unified API that allows connection with 40+ shopping carts at once. All you need to integrate with all leading platforms is to connect to this service. If you are running an SCM system or other e-Commerce B2B service and are interested in integrating with multiple shopping carts, contact us or try out how API2Cart will work for your business.