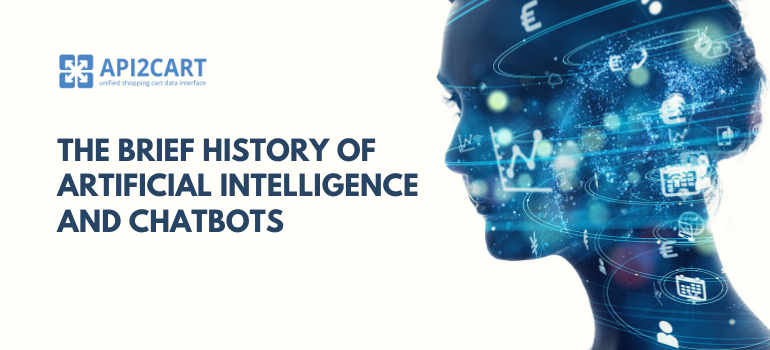 Artificial intelligence (AI) is among the top technological trends in many spheres, including e-commerce. However, the concept of AI has its roots in antiquity: Realistic humanoid automatons appeared in Greek myths, ancient Egyptian sculptures, and other ancient civilizations. The idea of creating a machine that could imitate human thinking has been developing by Chinese, Indian, Greek and European scholastic philosophers, including Aristotle.
In 1872, the idea of "mechanical consciousness" was first voiced in science fiction by Samuel Butler in his novel "Erewhon". After that, there were a lot of talking about AI, which we are skipping and moving straight to the successful attempt of realization AI in the form of computer programme that could lead a human-like conversation. In 1966, Joseph Weizenbaum has created the Eliza. It was a prototype of modern chatbots: the programme used "pattern matching" and other technologies to imitate communication of a psychotherapist and a patient. Eliza gave dialogue participants the illusion of human conversation and understanding. It even passed the Turing test, which was a method for determining whether or not a computer is capable of tricking humans into believing they it is also a human (in virtual communication).
This is what the conversation with Eliza looked like:
Example of Eliza in GNU Source: Wikipedia
Fun fact: Siri knows who Eliza is. 🙂
The programme was a breakthrough in its time, but due to the embryonic state of computer technology this programme did not find wide practical application until the 2010s.
It's all about smartphones
The advent of smart mobile phones spurred the active development of AI, and chatbots in particular. When the smartphone came to mass market in the 2000s, web designers faced the challenge of cramming the websites into a small screen. Creating a website that maintains its functionality and looks good across all devices -- desktop, tablet, and smartphone -- became a critical task in the web design world. The challenges that these devices with tiny displays created led to the popularity of mobile apps. And it happened that messaging apps became the most popular among the handful of apps, that became widely used.
And then it all begun…
The proliferation of messaging apps boosted the advancement of chatbots -- interactive software apps that use messaging as the interface to provide information or do tasks like setting an alarm, scheduling a meeting, assisting users in finding needed products, etc. They are especially well suited for mobile devices: Most chatbots currently exist on messaging platforms like Messenger, Snapchat, or Slack.
Nowadays AI has grown so greatly that chatbots can lead highly engaging and human-like conversations, allowing businesses to use affordable (and, in many cases, cost-effective) technology to engage with more consumers and automate a range of processes.
Foreseeing huge potential, businesses are starting to invest in the bot commerce. Numerous e-commerce brands have already implemented chatbots on messaging and collaboration channels for customer support, human resources, or even in Internet-of-Things (IoT) projects. Now there emerged third-party chatbots solutions that enable online retailers to embed chatbots into their websites fast and easily.
For those vendors who run chatbot systems for e-commerce or are planning on elaborating one, API2Cart offers a way to save money and time on integrations with shopping carts. It has crafted a unified API that lets you integrate your chatbot system with many platforms at once. We also maintain all the connections, so you will not need to worry about further upgrades when new versions of e-commerce platforms come out.
If you would be interested to hear more about what we do and how our API can power your application, drop us a line or schedule a quick call with our representative.
What do you think the future holds for chatbots? Leave your opinions in the comments section below.