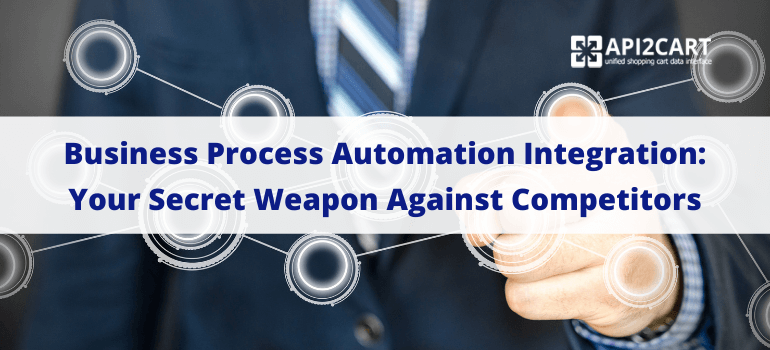 As an eCommerce market is growing rapidly with each passing day - a number of different B2B services are developed in order to simplify business processes. However, not all e-retailers wish to implement many services of such a type, because they may complicate their workflow. Therefore, they find themselves in need to search for an all-in-one solution. Business Process Automation (BPA) systems have been specifically developed to help them all.
What BPA System Actually is?
Business process automation software is exactly the tool that aims to simplify e-retailers life by reducing their time and money investments for such common business processes like accounting, billing, inventory and order management. In other words, BPA system helps to make routine operations less complicated exempting web store owners from a lot of difficult jobs and helping them to focus on other business objectives.
What BPA Services Can Expect from Integration with Shopping Carts
While web store owners are sweating choosing the best BPA software, providers in this field are striving to find ways to encourage more new clients to their product. Integration with popular shopping carts is one of the great ways to get new advanced functionality and expand the pool of potential customer. Having access to the platform's data, software vendors automatically get thousands of its users as potential clients. But e-retailers build their stores on different shopping platforms with each of them having its own way of data storage. Thus, software providers need to develop separate integration modules for each shopping cart, and needless to say that it's not a one-click affair.
BPA software providers will need to make a considerable effort to find an experienced developer to elaborate integration modules. Not to mention that they cost a pretty penny. Moreover, each of the integration modules needs further maintaining, which implies even more expenses. So, finding a solution to helping such B2B services to get access to various shopping carts would be great. Luckily, there is a service that helps to overcome challenges related to the complexity of integration with shopping platforms.
Why API2Cart?
API2Cart is an online service that allows to perform integration with 40+ eCommerce platforms seamlessly, with no extra effort. The number of supported carts, together with versions may be considered as 80%-85% of the whole digital market. By integrating the soft with all these platforms, you will receive up to 1 million of potential clients. The service enables to retrieve, update, add, delete and synchronize all needed data, including products, orders and other related information at one stroke.
API2Cart service makes it possible to integrate the BPA software or any other B2B system with various shopping platforms simultaneously and easily get all the information necessary. You'll be able to retrieve all the details on products, categories, customers, orders, prices, etc. and synchronize them within your system to easily automate various business processes.
In order to make the process of integration easier, API2Cart provides you with a well-documented API and full technical support. To ensure the security of the interaction process, API2Cart offers a 32-digit API-key together with SSL certificate.
So, in case you're provider of the business process automation system, dashboard system, inventory, order management, email marketing or other eCommerce solution, catch the possibility to get connected to 40+ shopping platforms simultaneously. If you have any questions, feel free to schedule a call with our expert by simply pushing the button below.