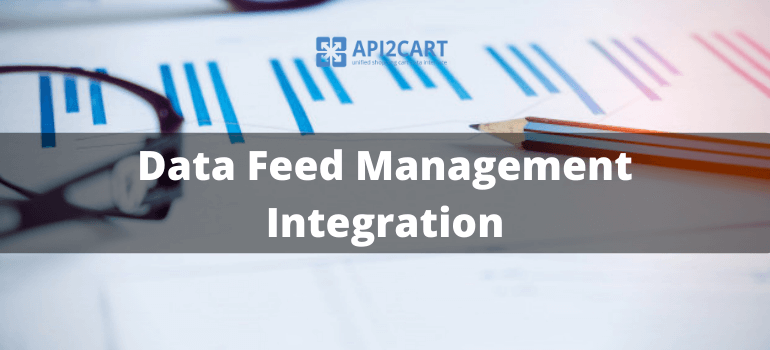 Data feed management tool optimizes products listing on various shopping channels like eBay, Google Shopping, Amazon, Kelkoo and others. One of the main benefits that are provided by the service is analytics that alerts you on whether your items are profitable and even suppresses unprofitable ones from the feed. Also, all the changes made on e-store are reflected in the feed immediately.
Each specific marketplace has its own feed requirements. Usually, it includes files, made up with a list of attributes that define your product in a bespoke way. So, every data feed management provider has to deal with a problem of feeds customization according to channels' demands. Another challenge that appears is integration with different shopping carts and retrieving all needed information to create feeds.
Application Programming Interface appears to be a system that has tied together different platforms and allows to perform data sharing in a fast and secure way. In accordance with the fact that every shopping cart has a specific peculiarity of data storing, designing various integration methods doesn't contribute to a seamless job and will cost you both time and money constraints. The simple and effective solution to perform integration will help to solve the problem.
API2Cart is an online service that establishes integration with 40+ shopping platforms, including such eCommerce leaders like Magento, WooCommerce, Bigcommerce, PrestaShop, Shopify and others. The service enables you to manipulate products, orders, customers and categories with related information. Easily retrieve, add, update, delete and sync all needed information and provide your customers with powerful data feed management tool.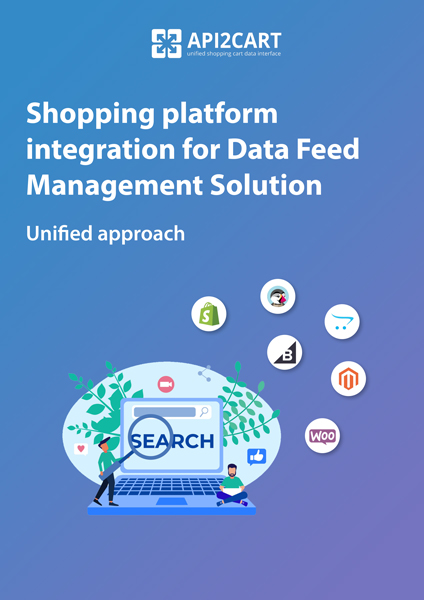 Shopping Platform Integration for Data Feed Management Software
Download this guide and explore how to develop the integration between your data feed management software and multiple shopping platforms and marketplaces easily.
DOWNLOAD
API2Cart possesses all needed tech qualities that are worth mentioning:
Scalable and flexible solution. Use the possibility to integrate an unlimited number of clients' stores with your soft via API2Cart.
Reliable data interaction. You are provided with a unique 32-symbol API key to access the system together with SSL certificate to ensure data interaction security.
Full product support. Highly qualified support technicians and managers are ready to answer all questions and provide advice in order to satisfy unique requirements.  Moreover, it is possible to broaden functionality on your request.
Well-documented API. Static and interactive documentation are available to make API2Cart clear tool for use. Docs outline main principles of work with service as well as it's feasible to try how each API method responses.
API2Cart enriches data feed management soft possibilities and offers opportunities to:
Integrate data feed management software with multiple shopping carts in order to gather all necessary data;
Retrieve products, orders, customers, categories and other related info from online stores and send it to various channels to establish data feed service;
Sync products info and price from the clients' stores to reflect changes into feeds easily;
Get product count to perform inventory updates to the marketplaces.
In case if you provide data feed management solution and feel like make no headway, schedule a FREE Consultation with our expert. API2Cart is always here to help you expand your business possibilities and be on top of eCommerce mountain.