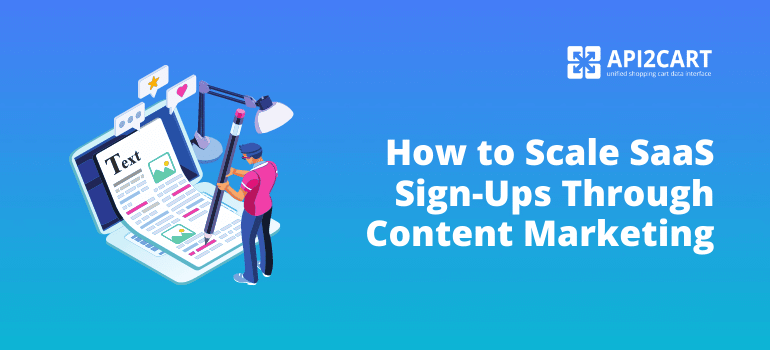 The biggest challenge to a Software-as-a-Service (SaaS) company's survival is its ability to consistently bring new customers through the door.
As a business grows, so does its need to cultivate and maintain a more extensive client base. However, it comes at an enormous cost, with research showing that the average price of a lead is just below $200.
Also, consider that the SaaS industry is a competitive field, in which you consistently have to strive to get extra sales, higher profits, and more customers.
The price of a lead and the industry's competitiveness mean you must spend more, and that is unsustainable in the long-term.
The good news is content marketing helps you scale your SaaS sign-ups and boost your company's growth.
Content marketing is the ideal solution for your business because it:
cuts the costs of customer acquisition;
attracts new prospects and raises awareness about your brand;
allows you to show your expertise and build authority;
helps you teach and guide your customers through the sales funnel;
gives you a platform to present information or announce new products.
So, how can you use content to get new clients to sign up for SaaS services? Keep reading to learn more.
4 Ways Content Marketing Can Help SaaS Businesses to Sign New Clients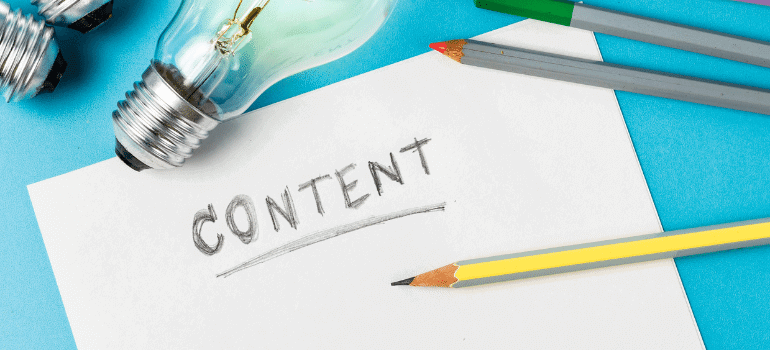 SaaS businesses making less than $10 million per year lose customers at a median rate of 20%. A more acceptable churn rate — the term used to describe customer losses — is usually about 5%.
This means that if you are not signing up new clients, your company will be in a lot of trouble.
Customers have many SaaS options available to them. That's why you must implement a targeted content strategy to attract clients and convince them to use your services.
Here are a few points to consider if you want to use content marketing to scale your SaaS sign-ups.
Creating Buyer Personas
Start by writing your criteria for an ideal customer. They make up the profile known as a buyer persona.
Since SaaS is mostly business-to-business (B2B), your buyer persona will consider B2B companies, particularly their:
size
revenue
employee numbers
pain points
sales and marketing team members
Such a profile makes it easier to create targeted content that addresses issues affecting the chosen businesses.
You'll know what they need, and you'll be able to anticipate questions or respond to direct questions. This will enable you to present product demonstrations to take away the prospect's unease about buying from you.
Use stories to show similarities between buyers in different locations or demographics. In them, talk about actual people and real-life issues your audience can identify with.
Find out which platforms your model buyer visits and share your content there.
These steps align your goals with your services and selected buyers. When you know the type of consumer you want, you can tailor your content to attract them to sign-up with your business.
Creating Different Content Types for Various Stages of the Sales Funnel
Get new customers to choose your SaaS company by guiding them through the sales funnel's various steps. In each stage, you'll be using different types of content.
At the top of the funnel, your content should create awareness, which will attract the target buyer to your services. You'll use blog posts, video reviews, podcasts, and social media updates.
In the middle stage, use content to educate customers, thereby building trust and showing your expertise. Examples include eBooks, case studies, tutorials, and webinars.
When you reach the end of the funnel, you'll be trying to convert prospects into buyers. Thus, create user guides, testimonials, and various promotional offers.
Utilize a referral strategy to get your loyal customers to recommend new ones to the business.
Before you publish, test different headlines and topics for your content. Make them descriptive and include keywords to allow customers to find your content with ease.
Listen to Customer Feedback
Use customer comments, questions, and feedback to create further content that addresses their concerns.
Improve your services by responding to their questions and highlighting upgrades that tackle those concerns.
Moreover, check which headlines or topics resonate with your audience and add more information to those posts.
When you're going through the feedback, note how customers describe their pain points, and add those keywords to your content.
Display testimonials and write case studies about how your business dealt with a customer's feedback or about how another customer used your SaaS services to fix their problems.
Automate some parts of your website to respond to customers while you're away. These tools include chatbots and mail software for sending email content.
Work hard to fix clients' issues, such as pricing, customer experience, upgrade requests, and customization options.
Such an approach will build loyalty, and the clients will refer your services to others.
Close the Gap Between Sales and Marketing
A brilliant content marketing strategy not only attracts new sign-ups but also converts them into paying customers.
It is an inexpensive way of growing your business because it closes the gap between sales and marketing. Customers are desperate to buy into a good service, but they also want to learn how it works and how they'll benefit from it.
You can accomplish this strategy by setting targets. For instance, give free trials, discounts, guidebooks, and extensive support in exchange for sign-ups.
Focus on customer satisfaction and experience to connect sales to your marketing efforts. A happy customer will be loyal to the business, and they're likely to make user-generated content (UGC) posts, which draw more sign-ups to your brand.
Increase brand awareness using search engine optimization (SEO). You'll start seeing additional website traffic as well as prospects reaching out to hear more about your service.
Turn your product users into a community to boost loyalty, which will lead to repeat sales.
Track the data on:
the sign-up volume
website traffic
unique page views
the location of the potential lead.
Use this data to confirm whether the site visitors fit your buyer persona, or you need to adjust your buyer profile.
These statistics help you change your tactics in selling and marketing to enhance your company's growth.
Conclusion
Creating content is both a short-term and long-term strategy. After the initial burst of inbound traffic, you'll find that your content will continue to convert visitors because it will always be available online.
Begin by establishing who your buyer is and what they are saying about your business.
Do your best to deliver various types of content at each stage of the funnel to close the sales and marketing gap.
Content marketing will save you the money you would otherwise spend on recruiting a large sales team.
As a result, you'll have enough funds left to promote your work, for example, through paid ads, social media, and influencer outreach.
With a landing page that captures a prospect's email, you will be able to begin the sales process immediately.
To make it more effective, audit your site and fix SEO issues such as broken links or spammy content.
Have the right systems in place and automation to ensure customers have a point-of-contact and can register seamlessly.
With these tips, you will be able to grow your business by bringing in new clients and converting them into loyal buyers.
---
In case you are running an eCommerce SaaS application and need to integrate your solution with multiple shopping platforms to expand your business, try API2Cart.
API2Cart provides a unified integration with various shopping platforms such as Magento, Shopify, and WooCommerce. It saves you money in integration development and gives you data from all the stores, making it easier to sign up new customers.
Additionally, it offers 24/7 support and a 30 day free trial period.
---
About the author: Joe Peters is a Baltimore-based freelance writer and an ultimate techie. When he is not working his magic as a marketing consultant, this incurable tech junkie devours the news on the latest gadgets. Follow him on @bmorepeters.