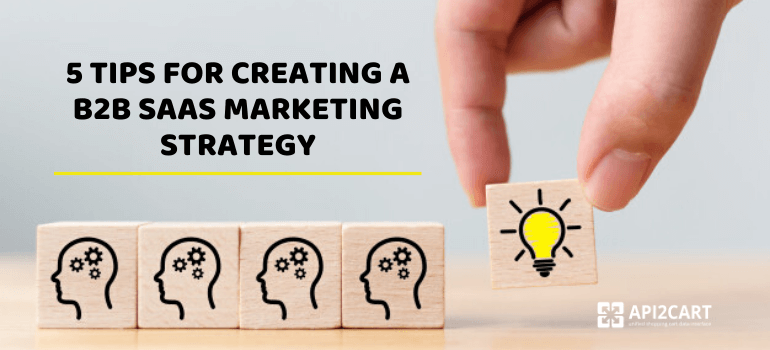 Starting a SaaS company is never an easy task; the competition is fierce. Plenty of fledgling SaaS startups dies out quickly.
Given how crowded space is becoming, it can sometimes be difficult for the average customer to tell the difference between the offerings of various companies.
Nevertheless, there is still a strong argument to be made for why companies should get into the SaaS game. Plenty of SaaS companies that do survive go on to thrive and become inspiring success stories.
In addition, the industry itself is still experiencing constant growth. The global market for SaaS services should reach 164.3 billion dollars by the end of the year 2022 according to the report by the Transparency Market Research.
So, what is the main difference between the SaaS companies that succeed and those that fade into oblivion? It's how you market your offer.
The Basics of a Successful B2B SaaS Marketing Strategy
The main difference is marketing, as well as how these companies utilize tools and strategies to acquire, engage and retain their customers.
The success depends on what you can offer before the customer even pays and make sure it is in your B2B SaaS marketing strategy. You can do much by:
Generating valuable content
The B2B market needs content as well! With so many similar solutions, it's hard to distinguish between which one is better.
When you establish yourself as a thought leader and demonstrate expertise, customers will trust you. Content helps you achieve just that.
Creating quality content is very similar to making a good investment. You put your money in once and the dividends keep coming in.
Social media, particularly the leading social platforms such as LinkedIn and Quora, and any other relevant online community, are an excellent choice for B2B companies.
Educational content, such as webinars, is often a beneficial content marketing choice for SaaS businesses. Seeing as a demo can be a useful tool to close a sale, a webinar can be an effective tool that can close more than 100 deals simultaneously.
You can't go wrong with how-to guides either to help prospects who haven ever used your product or anything similar.
The most important thing about the content generated is that it is actionable and beneficial. If the content comes across as too pointless, it will cause the prospect to lose leads.
Offering the best customer experience
SaaS companies have to make sure that every aspect of the customer experience is remarkable and present in their B2B SaaS marketing strategy. From the moment a lead takes their first look at your website till the moment they decide to make their purchase, every interaction has to be just right.
Offering the customer too many choices can be a bad thing. It will confuse them, and their resulting indecision can shove them towards a competitor.
Instead, businesses would do well to keep the choices simple and few and to be crystal clear about the offerings of each option.
The sign-up process itself should be easy and smooth, especially during the trial period. The last thing you want is to turn away an interested prospect who was this close to trying out the product just because the sign-up process was too convoluted or asked for too much information.
When converting a user into a paying customer, one of the most important variables is the price of the offerings. Hence, you need to figure out what the ideal price point is that it will maximize your bottom line. This might require some experimentation, but the effort will have been worth it.
Using both PPC and SEO
Today, the software purchasing process happens mostly online. When an individual realizes that they have a specific need, they start searching online for a solution. Once they find a solution, they research different providers of it.
This all goes to show how important it is for SaaS companies to establish their online presence.
One of the main tools SaaS companies have is the use of Adwords, Google's way of helping advertisers reach the right consumers. Seeing as Google offers a Pay-Per-Click model, PPC, it is essential for companies to get their target segment right and to make sure that their marketing dollars are going to good use.
Another important element is Search Engine Optimization. When done right, SEO helps you rank high on search engine results. Companies should be thinking about both on-page SEO and off-page SEO.
Offering a Test Run
Let the customer experience the product. People have a much easier time buying something they can see, like a shirt or a pair of shoes, as opposed to something they can't hold with their hands, like a piece of software.
One of the best ways to facilitate the acquisition phase is to have them try out the product or at least see it at work. You can do this by offering free trials of the product—when prospects can try out how it works; you will increase both interest and acquisition.
It shouldn't be difficult to change the prospect into a paying customer if the product works as advertised.
You can create demos that highlight their product's best features. These demos will help potential customers better imagine the benefits that will come with the product.
Getting the customers talking
The most powerful form of marketing will always be that of word of mouth:
A SaaS company should encourage its current client base to create testimonial videos. This is the simplest method of establishing social proof.
SaaS companies ought to get listed on review sites like Capterra. Even though such as move is risky because a company can't control what gets said about it, it can still pay handsomely if the reviews are all positive.
If a company wants its customers to help it grow, the company can put in place a good incentive structure for referrals. In addition to being the most effective type of leads, referrals can also be the cheapest as most of the heavy-lifting is done by the customer.
Word of mouth can be especially valuable when it comes to reeling in big customers, particularly enterprises and large corporations.
For enterprises, a lot of the software they use is custom-made, so the first thing they want to know is how well the cloud software integrates with their current infrastructure.
They also want to make sure that the SaaS company offers full support in case anything goes awry. Now, an enterprise can only find the answers to both of its questions if it asks other users who are familiar with the company.
Winning at the SaaS game
The market of software as а service is an ever-changing environment, one that evolves quickly. Consequently, SaaS marketers need to be aware of all the latest trends and keep a close eye on the competition. Also, they need to create a robust and detailed B2B SaaS marketing strategy.
Otherwise, a company sleeping at the wheel may realize that its market share has been taken by a competitor, and the company will be left out in the cold.
Nevertheless, the fundamentals listed here are everlasting. B2B companies need to adjust their marketing efforts to their prospects. When they establish themselves as thought leaders and show rather than tell the customer what their product does, they will boost their conversions easily.
In case you are a SaaS company that works in the sphere of shipping, warehouse, order and inventory management, marketing automation, ERP, POS, etc., developing a good marketing strategy is not enough to succeed. For you, it is critical to have high-quality integration with multiple shopping platforms and marketplaces.
API2Cart is a service that provides a unified API for integration with 40+ eCommerce platforms at once. Using it will help your SaaS to expand the number of prospective clients, reduce costs needed on developing each integration separately, and forget about further maintenance.
Want to get more information about API2Cart? Contact our manager and try API2Cart for 30-days for free!
---
About the author
Lisa Michaels is a freelance writer, editor and a thriving content marketing consultant from Portland. Being self-employed, she does her best to stay on top of the current trends in business and tech.