How Product Catalog Software Integrates Data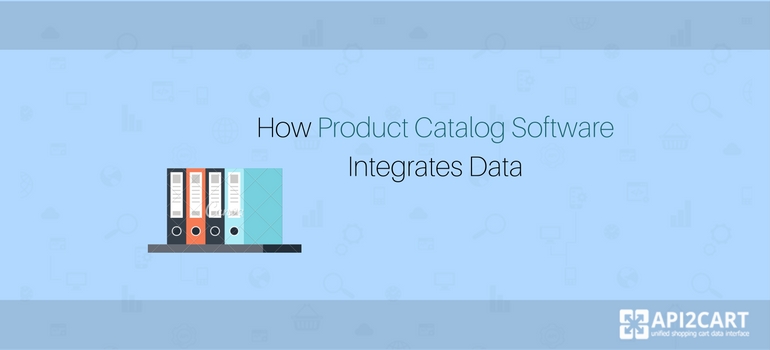 Online customers are deprived of the opportunity to examine and try on the products presented in online shops. To compensate it, merchants create product catalogs to provide visitors with a detailed presentation about the goods they sell. Also, merchants spread product catalogs across the sales channels, which helps them to expand the market share and enhances discoverability of the products they sell.
Catalog creating is quite a laborious process. There is a special software designed to help retailers to manage product data and create beautiful catalogs automatically. Product catalog software offers its users various tools and templates which help to make customized and professional catalogs and presentations. Also, it runs functions, like data and images organizing, managing and storing, library creating, catalog building, SEO, etc.
To run all these features, such systems need to retrieve data from stores. To be able to do this automatically, catalog management systems have to be integrated with the shopping carts, on which stores are based.
Integration as It Is
The integration process is not an easy one: It involves overcoming many challenges and considerable spendings in terms of money, time and efforts. Anyway, the benefits it brings are totally worth doing it.
Integration is technically complicated and thus, requires an extensive tech expertise to perform it. It is difficult to find and expensive to hire developers with sufficient knowledge and experience to elaborate a quality integration module. This process takes 2-4 weeks for only one integration. After the integration is set up, it needs regular updating and maintaining to work properly.  
Shopping Cart Integrations Simplified
You can have you your time, money and nerves saved if integrating via API2Cart. It makes it possible to interact with 30+ shopping carts. Among them are industry leaders, like Magento, PrestaShop, WooCommerce, OpenCart, Shopify. So, you make integration only once and receive access to information from multiple platforms.
If you want to integrate your catalog management software with shopping carts and want to know more about it, schedule a consultation with our representative by clicking on the button below, or see how API2Cart would work for your business by registering an account.