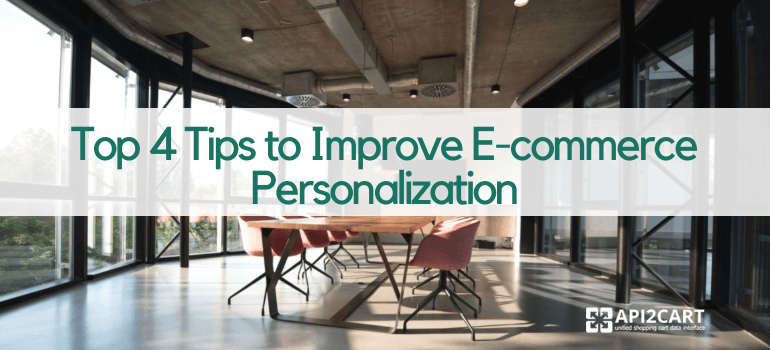 As an owner of an e-commerce business, what are you doing to improve customer experience? Have you been researching various factors to see how they impact your e-commerce sales? Or is your marketing strategy based on intuition and hearsay?
If you're focusing on irrelevant, or relevant but not-so-important e-commerce trends, you will struggle to improve your profits. Therefore, make amends and start targeting determiners that really matter, such as personalized experience. 
This trend alone can make or break your business. According to the following infographic by Subscriptionly, 43% of customers like to purchase from e-commerce stores that personalize their experience. This brings us to the most pertinent question: How can you offer customers superior personalization?
The 4 tips listed in this post are certainly a good place to start, but first we need to understand what e-commerce personalization is.
E-commerce Personalization – An Introduction
In e-commerce lingo, personalization entails showing individualized recommendations, offers, products, and other content to visitors depending on their location, previous actions and personal data.
By investing in e-commerce personalization, you can make sure your offers and products are relevant. This is important because irrelevant content is a huge turn off for many visitors. In fact, a survey reports 74% of consumers hate seeing irrelevant content.
4 Effective Tips to Do E-commerce Personalization the Right Way
Show weather-sensitive offers
For some e-stores, this can be a game changer. For instance, if you own an online fashion store, you would do well to offer weather-sensitive promotions. Display summer clothes if the day is bright and sunny. Likewise, if the temperature outside is freezing, make sure your homepage has images of winter clothes.
Show content based on visitor's previous actions
One way to make sure your content meets users' needs is to display content based on their interests. Continuing with the previous example, let's say a visitor who had previously looked at your men's section types your site's URL. Instead of taking him to your default homepage, you can have him automatically redirected to your men's section.   
Show recommendations based on users' browsing behavior
When users visit your site and navigate to their personal page, offer them recommendations based on their previous search behavior.
A good example of a company that does this pretty well is Amazon. When you land on one of their pages, you are shown product categories based on your previous searches. Take a leaf out of Amazon's book and incorporate this strategy to improve customer satisfaction.
Send personalized emails
Do you like when you receive an email having the salutation 'To Whom It May Concern'? Of course, you don't. The same holds true for your customers. A good way to get around this is to send emails that start with the recipient's name.
Personalization is a key determiner in e-commerce--but it is not the only one. So ensure your strategy includes other important factors as well. Check out the infographic below to learn more about the trends that will shape the future of e-commerce.
In case you are interested in integrating eCommerce software with multiple shopping carts and marketplaces via unified API, try API2Cart. It makes it possibles to retrieve and operate all the necessary store data such as orders, customers, products, categories, etc. If interested, do not hesitate to contact us right now to discuss details.
About the Author: Ana Bera:
5'3 ray of sunshine and chocolate addict. As the Head of Marketing and Content at Subscriptionly she uses every opportunity she gets to learn from others and then share the knowledge and generate fun and informative content. She is a Toronto born world traveler, hungry for knowledge and ready to make a difference in the marketing world.