4 Reasons Why eCommerce is Better with Mobile Product Catalogs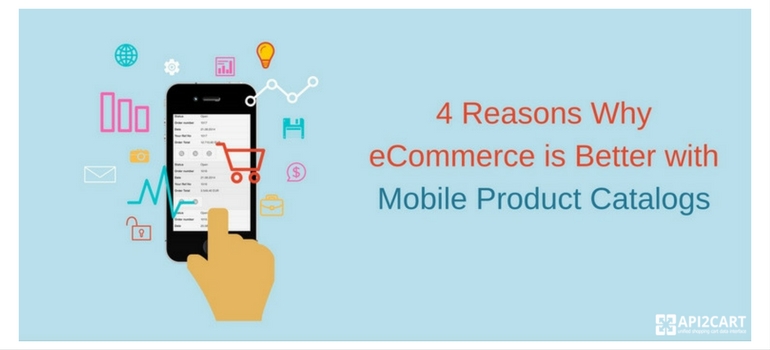 "For years, shoppers have enjoyed flipping through glossy print catalogs to be inspired, discover new trends and find great products… Today, mobile technologies can make catalog shopping more engaging, social and creative." writes Kinnari Jhaveri. Paper catalogs replaced with mobile (or electronic) ones has long become the norm in eCommerce, rather than just a modern customers and sales reps whim. If you already use an eCommerce platform and have a digital ordering platform, you understand the importance of optimizing it for the mobile and the desktop experiences.
Mobile platforms streamline the ordering process and improve the visibility of the business. Here are four main advantages that mobile product catalogs give to customers as well as reps:
The main advantage of using mobile product catalogs is the flexibility they provide. That is you can easily and quickly update catalog information. Notifications enable setting up instant communication process with a potential customer. You need to take into consideration new mobile technologies and the power of m-Commerce. Information about new products, descriptions, quantity etc. can be updated and controlled from a central location and the changes are made automatically at once. Mobile eCommerce apps usually integrate with a bunch of much-needed tools and services, like mobile payments or Bluetooth barcode scanner.

Modern mobile product catalogs enable reps to submit orders on their mobile devices and synchronize them automatically with back office systems. Whereas years ago reps used to write orders manually and fill Excel spreadsheets. So, mobile product catalogs are beneficial for both reps and consumers.Moreover, reps give their customers rich, detailed, and updated information about their goods, promotions, discount structures and pricing, customer's last visit and buying history.

Given the simplicity and flexibility in updating catalogs information and orders, mobile catalogs give a great opportunity using data to increase performance. Top products, tailored prices, and customized catalogs impel customer to make further orders.

The mobile catalog can be downloaded straight to the mobile device for future access without an internet connection.
Using rich data about order history gives an opportunity for reps to make performance-driven decisions. Now, there is no limit for tailoring meetings and sales pitches, giving recommendations based on customer's past activity. Mobile catalogs consolidate data to show sales figures, tendencies in client's behavior and trends in marketing initiatives.
Most customers use platforms tailored for mobile devices for researching, whereas for ordering and paying they choose desktops. This means that the process of mobile purchasing needs to become smoother and more convenient.
Another important aspect of mobile catalog software is syncing it with the desktop version of the e-store. This usually involves integration with shopping carts, on which online stores are based. Integrating with each of shopping carts separately is quite a long and expensive process.
It is much more reasonable to use a unified shopping cart API, provided by API2Cart. It is a solution that allows eCommerce software vendors to connect to 30+ shopping carts, providing the opportunity to retrieve and operate all the necessary store data. In case you are interested in integrating your B2B system with shopping carts, schedule a consultation with our representative or you can try how API2Cart would work for your business right away.