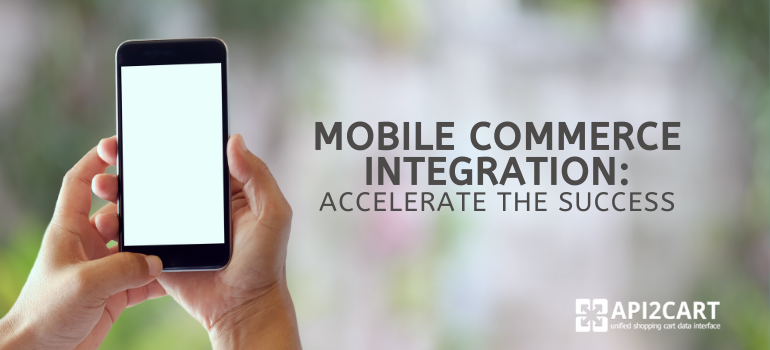 As the eCommerce market expands, no wonder that there is a strong need in various online systems that eager to help vendors doing their business. Its number is increasing day by day, and a lot of new services appear continually. Inventory and order management, accounting and repricing systems, mobile commerce, dropshipping and many others are presented on the market.
Currently, a new era of various gadgets and apps dictates its own conditions on how to thrive. So, in order not to leave themselves with a broken through, merchants use mobile commerce system. It turns existed online store into mobile one, providing its customers with the possibility to sell products with the help of gadgets.
However, such service providers are under colossal pressure to innovate in order to provide their customers with the new and updated functionality. Integration with various shopping carts turns to be a key to success. And the most effective way to perform data interactions appears to be an Application Programming Interface. It allows merchants to manipulate with different information at once.
So, let's have a look at the details. Moving products, syncing orders, and prices as well as images, descriptions and multiple product variants - all appear to be a hard and technically complex process. API streamlines it and provides the possibility to retrieve, add, update, delete and sync all needed data.
However, each platform has its own specific way of data storage, so you have to develop various integration methods to access different shopping carts. As a result, this will cause both time and money constraints. Finding a simple solution to perform connection to various shopping carts will surely help.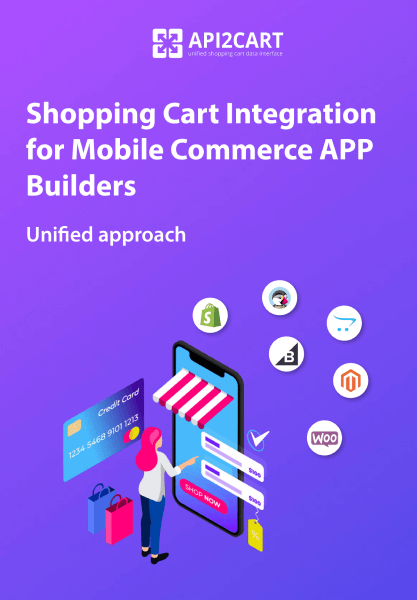 Shopping Platform Integration for Mobile Commerce App Builders
Explore how to develop the integration with multiple shopping solutions easily.
DOWNLOAD
API2Cart is an online service that performs integration with 40+ eCommerce platforms seamlessly with no extra efforts. The number of supported carts, together with versions may be considered as 80%-85% of the whole digital market. By integrating your soft with all those platforms you will receive up to 1 million potential clients. API2Cart enables retrieving, updating, deleting, adding and syncing all needed data, including products, orders and other related information at one stroke.
API2Cart offers opportunities to:
Integrate mobile commerce system with multiple shopping carts in order to gather all needed data.
Retrieve products, orders, customers, categories and other related info from eCommerce store, process it within your system and establish mobile store easily.
Sync products info and price as well as orders from the clients' stores to reflect changes into m-shop immediately.
Get product count to perform inventory updates on mobile store at one stroke.
Retrieve customers details to send notifications containing special offers or informing user about inventory.
Get orders and order statuses to notify clients anytime, anywhere.
So, in case if you provide mobile commerce system and you want to improve your business processes, API2Cart is a right solution to help you shift to a new level. Don't hesitate to schedule a FREE Consultation with our representative. We are always ready to provide qualified advice.