5 Dropshipping Solutions to Automate Your Business Routine in 2020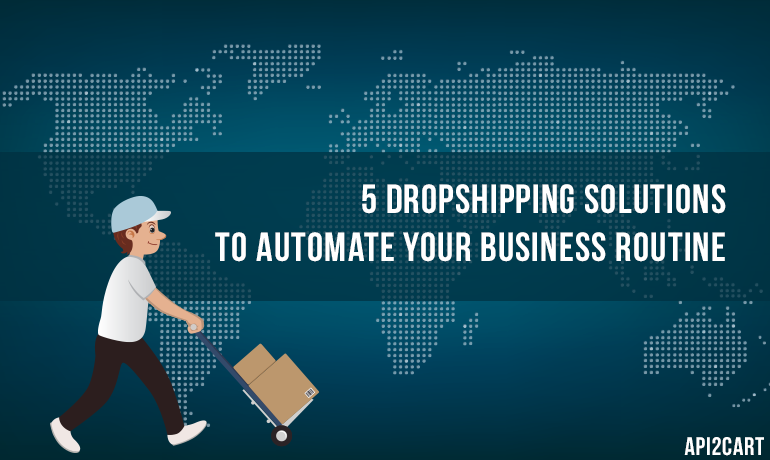 Dropshipping automation tools help to simplify the eCommerce companies' activity and make them more profitable and successful.Dropshipping is a relatively new word in the business dictionary and a new type of business sales process. It is advertised as simple and easy to start, positioned to be especially good for first-time merchants and so on. In fact, it is way far from being a breeze, since it hides a lot of underwater reefs that are felt only when one gets into the business.Basically, the main advantage of dropshipping is the ability to sell products directly from the supplier, but with no need to keep your own warehouse and handle the shipping. On the one hand, it means less financial risks and less delivery headache. On the other hand, many specific routine issues appear, like the necessity to quickly update product feeds/description once the supplier does; the need to provide order details to the supplier as soon as the order is placed; the need to have up-to-date info on supplier inventory levels to avoid misunderstanding when an out-of-stock item is ordered etc.To help out the merchants that are a part of dropshipping business, there appeared numerous dropshipping platforms and services that automate most of the data exchange operations between retailers and suppliers and integrate with other business tools like ERP systems, online marketplaces, and ecommerce platforms. Let's look at some of the top dropshipping tools in more details in order for you not to get lost in their variety and pick the most suitable one for your business.
What are the
best dropshipping software

?
Inventory Source - automated dropshipping software and integrated supplier network

Founded in the far 2002, this dropshipping automation solution can be proudly called one of the most experienced in the sphere. It attracts users by the easy start opportunity and flexible pricing. Also, the number of dropship products -- over 3,500,000 -- and about 180 suppliers are impressive enough. Inventory Source allows to pick one of the six plans which would best suit the company's needs and budget, the first plan being totally free. It would work well for the beginners willing to familiarize themselves with the industry with no initial financial commitment.Also, this platform does its best to automate such routine tasks as uploading product information to your existing website or automatically updating products info daily if any changes are made by the supplier. However, this convenience is only available in two of the most expensive plans, while the cheaper ones offer the ability to import product data (description and images) via data feeds. There are also numerous integration options for owners of online stores on over 20 popular platforms.

Printful - best dropshipping service for products customization

Printful stands as a dropshipping automation service that offers custom printed and embroidered product dropshipping under your own brand, integrates seamlessly with a variety of different e-commerce platforms and marketplaces. Their platform automates everything from order monitoring and incoming order import to alternative product selection in case a product you're selling your designs on goes out of stock.All products offered by Printful are printed, packed, and shipped in-house from at their own fulfilment centers, and they have a mockup generator you can use to create and push lifelike images of your custom products directly to your store.Additionally, Printful also offers warehousing & fulfillment services, so if you're an online retailer juggling dropshipped and own-produced products, you can automate the entire order management process by sending your products to Printful warehouses and have them handle the rest.Setting up an account with Printful is completely free, and there are no monthly subscription fees or paid premium accounts - it's all fair game and you only need to pay once an actual order comes in.

Dropship Commerce - Distributed Inventory Platform

Dropship Commerce was started in 2011 as the "child" of a popular Doba resource for dropshippers. It is a B2B integration SaaS platform targeted at midsized businesses, with the goal to streamline their dropshipping operations. This dropshipping automation software works to maximally automate integrations between retailers and suppliers, helping them exchange products, inventory, and order data. This is achieved thanks to the peculiar architecture of the platform -- a customer-first integrates with the automation platform and then receives access to other tools in the form of modules like order analytics, catalog, inventory, orders, and shipments.Dropship Commerce also offers a wide range of integration tools to suit any customer already using certain business applications or sales channels, including leading OMS, ERP, eCommerce systems.Attractive as it looks, Dropship Commerce has the pricing model that requires certain commitment as it is paid annually in advance. Three major packages range from $3000 to $12000/year and include various features to fulfill even the most sophisticated demands. Also, a setup fee starting from $1000 in the Starter plan is mandatory before you can get going with the platform. Like in other similar solutions, you will also be charged a monthly fee of $30 per connected trading partner.

Spark Shipping - custom dropshipping automation solutions

Spark Shipping is one of the youngest, but very promising dropshipping automation platforms on the market. Founded in 2013, they quickly progress in developing their software aimed at helping online merchants free their hands from routine dropshipping operations.Spark Shipping helps to save time by automatically processing orders being sent to specific suppliers in the required format. It also does a good job with synchronizing stock levels with the vendors, automatically updating inventory and routing orders.This software is clearly positioned to help existing merchants owning one or several e-stores, especially those based on Magento, Bigсommerce, Shopify or WooCommerce and selling on Amazon. However, this solution isn't recommended for total startups that haven't worked up any orders yet, since "there is nothing to automate".As far as pricing is concerned, a customer can choose from the four plans, starting from $99 a month, which range in the number of orders processed (starting from 150) and SKUs available (Basic plan allows up to 5000 SKUs). Unfortunately, there is no trial period to try Spark Shipping, so there's no other way than to pick a suitable plan and make the payment.

Etail Solutions - dropshipping automation control of operations and your margins

If you are a high-volume online merchant using multiple sales channels, Etail Solutions might be the right dropshipping automation tool to help you manage most business operations. Founded in 2010, this software has grown a solid reputation on the market.Etail Solutions works on the basis of Etail Vantage Platform (EVP) that integrates all your sales channels within one interface, including marketplaces like eBay and Amazon, shopping carts like Shopify and Magento, and other software like Sears, Living Social, and Rakuten.This software automates various daily workflow procedures and decreases the need for additional staff as the business grows. It manages inventory across all channels and automatically replenishes popular items by making purchase orders, which is a rare feature for the similar software. It also keeps the product catalog up-to-date with the suppliers and manages various order fulfillment methods.Etail Solutions does not offer a trial period, but its potential customers have a chance to request a Demo in order to see the tool in action. The pricing info isn't available directly on the website, so if this solution sounds interesting to you, it's best to contact their representative for details.
Closing remarks
This was just a quick look over the most promising dropshipping tools, tailored for different company needs and business sizes. Hopefully, this overview will help you decide whether or not your business needs this type of software, and if it does, select the one that would fully satisfy your requirements.In case you are interested in integration with e-commerce platforms, try it with
API2Cart
. It provides
a single API
to work
with more than 35
shopping carts and marketplaces
including Magento, Shopify, WooCommerce, BigCommerce, OpenCart, PrestaShop and others. 
---
With API2Cart shopping platforms integration is easy
Integrate once, save 4-8 weeks and thousands of dollars on each integration.
Never worry about maintaining separate connections.