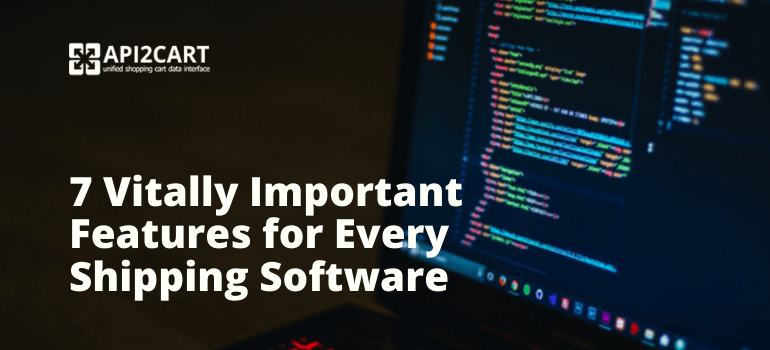 eCommerce consists of many components but which one is the most important? There is no clear answer but as shipping is the culmination of the online purchasing process we can confidently say that it is one of the major factors to succeed in e-retail business.
The main factors that encourage customers to make a repeat purchase from the online store are also related to shipping:
the cost of or free shipping;
return options;
delivery times and their flexibility;
the speed of shipments;
the possibility to track shipped items;
updates during the shipping process;
and others.
It is no exaggeration to say that the importance of shipping for eCommerce is huge. Consequently, the demand for such services is also big so starting a business in this field is a great idea.
The number of shipping software providers in the market is huge and no matter whether you have just started a business in this niche or have been running it for years, the key question is how to stand out of the crowd. And the point is that you don't need to reinvent the wheel to be successful.
Extra features are not always critically important. In most cases, it is enough to learn about your customers' expectations and meet their major demands. To exempt you from big research work, we have identified must-have features for shipping solutions that your customers will surely appreciate. So take a look at them and check out if you are providing each of them.
High Usability Level
First of all, you need to check out that you provide a user-friendly interface with an intelligent system design that saves e-retailers time and effort by handling and managing shipments, no matter what stage they are at. There is no second chance to make a first impression. Therefore, your service has to present the required information, when it needs to be seen, and it has to be easy to understand.
Carrier Partnerships Matter
The next thing you need to take care of is the possibility for your users to choose their favorite carrier from all possible. They need to be able to sign-up for a new carrier account right from within your system interface or use their existing one by entering the information required.
Carriers Comparison and Lowest Rates for Each Package
Possibility for users to choose any carrier they like is great, but you also should exempt them from the need to search for the most cost-effective option. Your service has to compare rates among all carriers and select the cheapest way to deliver the package according to the required delivery date.
Automation of Shipping Tasks
Another must-have feature for shipping services is the possibility for your users to automate any shipping task they want. Depending on where a package needs to be shipped, its weight, requested by buyer shipping speed, etc. your customers might want to adjust their shipping settings. It needs to be as simple as "if this, then that".
Instant Package Tracking
People like to track where the package is at the moment of interest. Hence, it would be great to provide your customers with such an advantage, and once an order is shipped, send them a shipment notification email with tracking number.
Documentation Management
An important thing to every shipping solution is to provide customers with all the required shipping documents, from packing slips and compliance labels to special reports and customer-required forms, including all barcoded formats. Besides this documentation for domestic shipments you need to provide them with commercial invoices for international shipments.
Integration With Shopping Platforms
The features mentioned above are indeed of great importance, but the integration of your service with different shopping carts is no less critical. To provide your clients with all these features, you need to be able to extract the necessary data from their stores built on different platforms. So, the more eCommerce platforms your shipping solution is integrated with, the bigger number of potential clients you will have.
While you are thinking that it would be challenging to pick shopping carts to connect with, the major issue is to integrate with each of them. Establishing a connection with every particular platform is a painful and time-consuming process since each of them has its own unique way of storing information. It also requires significant money investments due to the need to pay to the qualified developers that will work on each integration separately.
According to the foregoing, many shipping providers choose only a few shopping carts to work with and hence limit their business opportunities. However, you can perform integration with multiple eCommerce platforms in much shorter terms and cheaper than you might expect. Thanks to the one integration with API2Cart, you can get connected with over 40 shopping carts simultaneously. The list includes all industry leaders including Magento, Shopify, WooCommerce, VirtueMart, BigCommerce, PrestaShop, etc.
In case you are interested in integrating your shipping solution with multiple shopping carts and would like to talk about the technical details, feel free to schedule a consultation with our representative or leave us a message. We are happy to answer your questions and provide you with all the information needed.