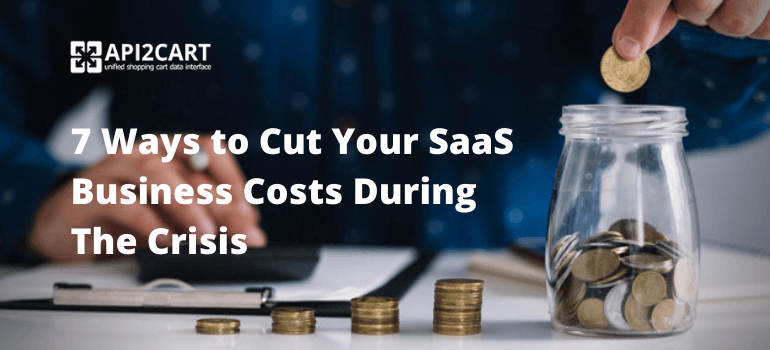 Cutting SaaS costs is imperative, especially for companies that want to survive through this COVID-19 crisis. As a growing number of industries are shutting down and eCommerce is affected big time, it becomes the main priority for any software vendor that works in the sphere of marketing automation, warehouse management, shipping management, and order or inventory management, to cut costs as much as possible.
The profits for most of these companies might go down, especially as more and more eCommerce sellers are more interested now in making ends meet instead of investing in advanced services.
If organic traffic and conversions are down in most industries, there is some light at the end of the tunnel. After the threat has gone in China, a growing number of Chinese people are turning to online shopping and even online grocery purchase. This trend might also come to Europe and the USA after the lockdown is over.
Nevertheless, there is a long way to go until the market starts catching up. That's exactly why you need to be able to cut your SaaS business costs during this crisis.
7 Easy Ways to Cut Your eCommerce SaaS Solution Expenses
Tweak your Pricing Model

Probably the first decision most software owners have to take during an economic crisis is to reduce the prices. Do not do that, even if most of your competitors are doing it. Reducing your prices will instantly cut your margins and decrease your cash flow. Moreover, if you reduce prices for existing customers, your actual customers will also want a price reduction.

Price acts as a strong signal on the market. Price cuts send the message that your business is in trouble. Moreover, when a price is down, it's hard to get back up shortly, because people won't be willing to pay more for a service that has already been decreased.

While price decreasing is always a one-way street, you can offer specific discounts to new or existing customers. You can work with them on payment plans and leverage pre-payment discounts. You can tweak your pricing model for a few months without having to change the base price.

Reduce Infrastructure Costs

Another smart thing you can do to cut SaaS costs is to work at the infrastructure expenses. When it comes to hosting, you can significantly reduce costs by switching to the cloud. Thanks to cloud computing, you won't need to use and maintain expensive on-premise servers. Your information will be stored in the cloud, and you'll be able to access it at all times.

Additionally, your cloud provider will take care of all your hosting needs and will help you with the recovery processes. If you're already in the cloud, but you are paying too much for your hosting plan, maybe 2020 is a good time to move to a cheaper hosting platform, at least until the business starts working normally again.

Review the Costs Needed for Certain Tools

During a crisis, not all the tools you use are effective. You might use a particular analytics tool that you pay a lot of money on, but you can replace it with Google Analytics or other free tools for the moment. If the number of your customers is slowly decreasing, there is no point in using certain expensive onboarding or loyalization tools. For the time being, you can pause specific tools or replace them with something less expensive.

Lower Your Office Space Costs

If your employees or most of them are already working from home, you can probably relocate to a new office space that is cheaper. Even after this lockdown period is over, you'll pay less in rent, and you'll be able to alternate the number of people who work from home with the ones who work from the office.

If your team is doing great working from home, maybe you can try working fully remote with 90% of your staff, and just keep 10% in a small, cozy office. The savings you'll get will be dramatic in the long run, because office space cost tons of money.

Cut Advertising Costs

Advertising is becoming more expensive by the day. You just need to know how to make the most out of each penny spent online. Instead of paying an agency, it's much cheaper to hire a PPC expert. Moreover, instead of focusing solely on paid ads, you could start using SEO and email marketing to boost your leads.

Put Full-Time Staff on Part-Time

This is a harsh decision, but sometimes big crises require such decisions to be made.

Reduce your eCommerce Integration Costs

Integrating your SaaS solution with eCommerce platforms requires extensive effort, both financially and time-related. If you choose to do the integration in-house , you'll probably have to spend thousands of dollars and months of hard work. We're talking here about integration development costs, subscription costs, server hardware costs, maintenance expenses, plus employee training & development.

The great news is that you can dramatically reduce your eCommerce integration costs by using a third-party solution such as API2Cart.
How can you Cut Your Costs on eCommerce Integration using API2Cart?
With API2Cart, you can integrate your SaaS solution with multiple eCommerce platforms seamlessly, without having to pay high salaries to developers or waste your precious time. Our service is a cutting-edge, high-end tool that allows you to connect your system with dozens of shopping platforms at once via a unified API.
With API2Cart, you can get quick integration with 40+ shopping platforms, including WooCommerce, Magento, OpenCart, VirtueMart, UberCart, XCart, ZenCart. By integrating your app with all of these platforms, you'll be able to gain access to millions of potential customers, while providing them with superior services.
You can try API2Cart absolutely for free for 30 days. Contact us now, and one of our experts will come back to you with a personalized offer.