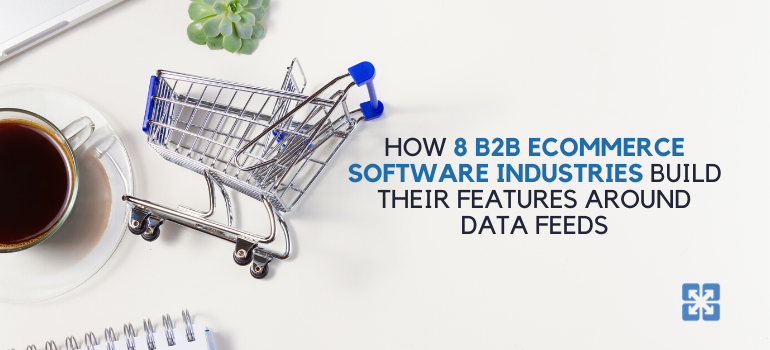 Data feeds are widely used in the e-Commerce. We have already written about how data feeds can be used in B2C e-Commerce by merchants, and now you are going to discover how B2B software vendors can leverage merchants' Data Feeds. Now that you know how product feeds work for e-commerce we are getting to specific practical examples. Let's see how 8 industries successfully build what features around data feeds extracted from customers' stores.
#1 Multichannel commerce
The basis of any multichannel software is the database. Its main task is to consolidate data across multiple channels. Once the system has access to the customers' inventory and order feeds, it can automatically update the inventory across multiple channels. With access to the product lists, it can export data to new channels and make product updates in seconds. All that changes on the main web store changes automatically across the channel right away.
#2 Comparison Shopping Engines
Integration with multiple shopping carts and therefore with stores' databases, empower comparison engines to gather products descriptions, prices, images, categories from all online stores, submit them to the system and update them immediately to provide customers with accurate and up-to-date information.
#3 Dropshipping Software
Due to the fact, that in dropshipping business retailers do not keep in stock the products they are selling, it is important that suppliers provide retailers with accurate product data and quantities. With the help of data feeds, dropshipping systems can automatically export and refresh product information on the dropshippers' stores. Such software also syncs the retailer's and supplier's inventory and order feeds to provide dropshippers with accurate product quantity and prevent availability mismatches.
#4 Mobile APPs Builders
Building a mobile version of a web store requires tying them together. To always display app visitors current information on prices, newly added products, their availability and quantity, etc., the mobile application needs real-time syncing with inventory and product data feeds.
#5 Data Feed Management System
Data Feed Management system optimise data feeds for the various listing platforms and automatically submits them to shopping engines and other marketing and sales channels. To perform these and other functions, such systems also need access to the store's data feeds or at least to products, orders, and other lists (they can organize them into a data feed themselves).
#6 E-mail Marketing Systems
Access to data feeds with customer information and contact details allows e-mail marketing systems to perform mail-outs. If the system can retrieve product, price, and order information from an e-commerce store, it can use it to notify clients about new items, discounts, and special prices. Having all related clients' information at their fingertips allows the system to make e-mail statistics.
#7 Inventory Management Systems
Inventory management systems use inventory, product, order, and customer data lists to update stock levels and to perform predictive analysis, which allows to maintain adequate stock levels.  
#8 Social Commerce Software
Access to the data feeds allows the system to export product lists to social platforms' sales groups, automatically add new products, notify social media community about discounts and special prices. Integration with the store also helps to maintain information current on social platforms.
How to get access to the stores' data feeds?
Merchants build their stores on shopping carts and that is where their databases are stored. So to get access to these databases you need to integrate with shopping carts. Let's take Magento as an instance. Integration with this shopping cart enables the system to access data feeds from all stores, that are based on Magento. Similarly, once integrated with many shopping carts, you can set up a real-time synchronization with data feeds stored on all platforms supported.
Integration Difficulties
The thing is, integration is a difficult, long, and costly process, especially when we talk about multiple integrations. Finding a qualified and experienced developer is not easy, his work on 1 integration costs a few thousands of dollars and endures a few weeks. Due to the fact that every integration is unique, each next connection will take no less time and resources than previous ones. What is more, after the integration module is ready, it needs ongoing maintenance and upgrading.
How to avoid integration difficulties?
Luckily, there is a service that helps software vendors avoid all these integration difficulties.
API2Cart offers a unified API that lets you integrate with many shopping carts at once. We also maintain all the connections, so you will not need to worry about further upgrades when new versions of e-commerce platforms come out.
If you have questions to ask, schedule a quick call with our representative or try out how API2Cart will work for your business.