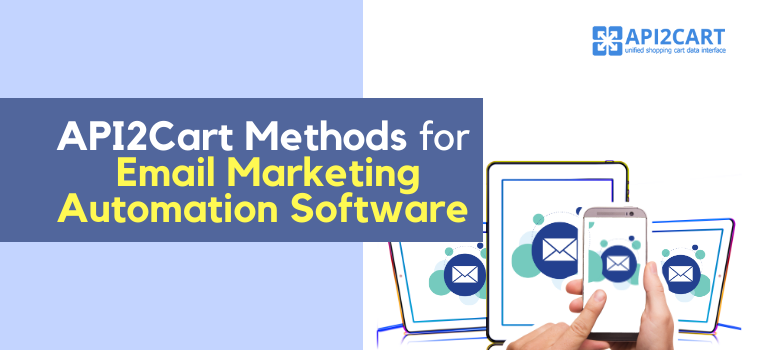 Today, eCommerce industry is unthinkable without email marketing automation. It has been winning back customers, recovering lost revenues and nurturing relationships with clients since the very beginning of eCommerce.
For running the functions above email marketing automation software needs to use various data from stores like customers, orders, product descriptions, etc. As all information from the online shops is stored on shopping carts' databases, email marketing automation software needs to integrate with shopping platforms.
However, getting connected with platforms always involves tons of tech work to do, let alone maintaining all these connections. Instead, API2Cart offers you one API to get connected with more than 40+ shopping carts and marketplaces such as Lightspeed, 3dCart, OpenCart, Cs-Cart, Salesforce Commerce Cloud, etc at once via just one API.
Email marketing functions API2Cart powers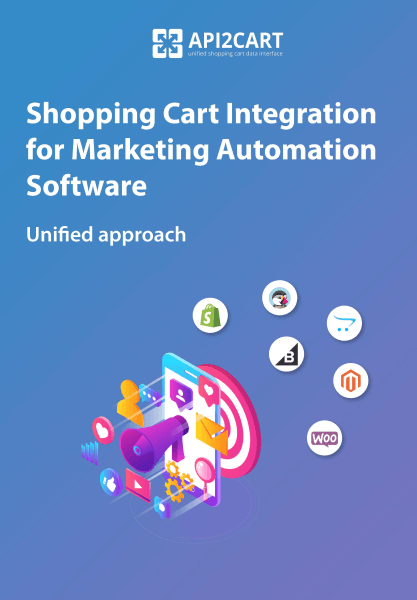 Shopping Platform Integration for Marketing Automation Systems
Explore how to develop the integration with multiple shopping solutions easily.
DOWNLOAD
Send emails featuring new items, discounts and special prices
Special offers and suggestions encourage customers to make a purchase. With API2Cart it's easy to get lists of new products with discounts and special offers. Using product.list and order.list methods you can retrieve product, price and order information you need, process it within your system and notify shoppers about new items, discounts and special prices via emails.
With API2Cart method order.list you can get orders' statuses. We also have order.update webhook that is triggered every time the order get updated (including it's status changes). Thus, getting the database, your system can send customers notification emails on order status changes.
Import contacts from stores and building segmented lists
Personalization in eCommerce business means a lot for customers. It results in sending relevant offers, strengthening relationships with customers and building trust. For implementing personalization you need to divide clients into segments based on different factors.
For getting access to the database, API2Cart has such methods as customer.list and customer.info which allow to import customers' list and info from the stores. Then your system can process gathered information to build segmented lists.
Spot and track cart abandoners and uncompleted purchases
It often happens when customers for some reasons leave orders in their baskets uncompleted. Email marketing automation tools notify customers about abandoned items, encouraging to come back and finalize the purchase.
With API2Cart method order.abandoned.list it's possible to retrieve lists of abandoned orders from stores along with info about cart abandoners.
You can find all supported methods here or in our documentation. In case, you have any questions, click the button to contact us. Our representative is always ready to get you informed.