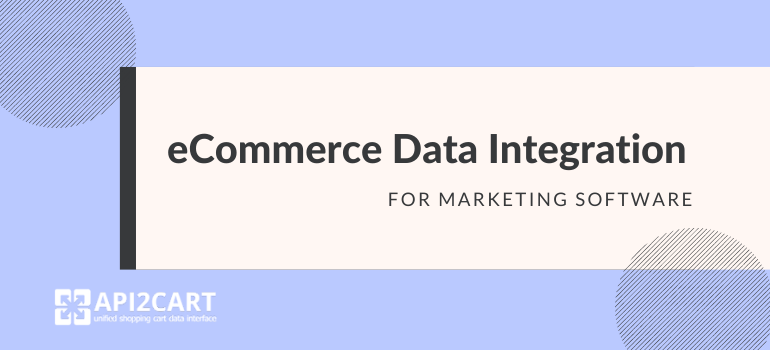 Amongst all existing marketing channels, email marketing is king for nearly all types of businesses. As to the eCommerce industry, it is certainly unthinkable without the use of email. Aside from business communication, online merchants widely use special email marketing tools. They allow to win back customer attention, recover cart abandonment, boost sales with special offers, send order status emails, etc. Running these processes implies using various data from stores' databases, like product descriptions, prices, customers, orders, etc.
However, getting these data is the pain point of many eCommerce marketing software. Requesting the up-to-date information from the customers every time the system needs it, is absurd. For the unhindered and automatic launch of email campaigns, such software should be able to freely and easily receive data.
Shopping Cart Integration for eCommerce Marketing Software
For getting access to the store data, email marketing software needs to integrate with shopping platforms. Having ongoing access to stores' databases empowers email marketing software to run many eCommerce-oriented features and do the following:
send emails featuring new items, discounts, and special prices;
send order statuses;
import contacts from stores and build segmented customer lists;
spot and track cart abandoners, website visitors, and successful purchases;
generate reports and statistics.
A Tough Truth About Integrations
eCommerce data integration is necessary for email marketing systems to get its market share in the eCommerce industry. As to shopping cart connections, more means better: The number of supported shopping carts defines the number of potential customers. However, integration is a complicated and expensive process, so it often becomes the main bottleneck for the system's growth.
Setting up data synchronization between different systems involves tons of tech work, and so does integration maintenance. It is much more reasonable to entrust shopping cart integration to professionals.
An Alternative to Separate Integrations
API2Cart is an integration solution that offers a single API to interact with over 40 shopping carts. The API2Cart API helps email marketing systems and other B2B eCommerce software to connect to multiple shopping platforms at once. What's more, API2Cart has detailed documentation that makes API utilizing easy.
Using API2Cart, you can concentrate on your business, save time, money and get a qualitative and secure connection with shopping carts.
In case you are interested in eCommerce data integration, contact us or make a trial account to see how API2Cart would work for your business.