eCommerce Data Integration: Pitfalls and Benefits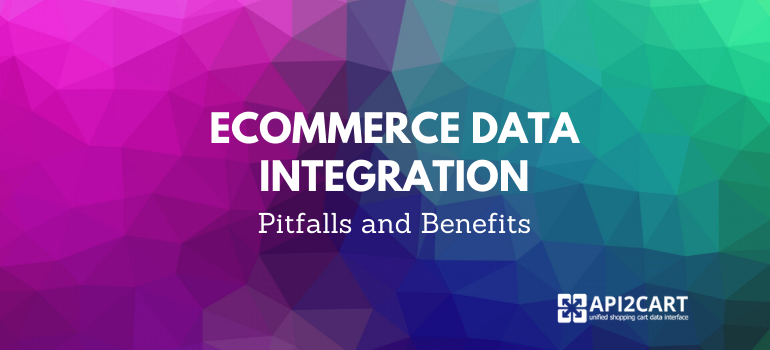 Data has been used in nearly all areas of the eCommerce business. It is what consumers take into account when making decisions. It is what online merchants use to give their customers a first impression. And lastly, that is the basis for most of the SaaS eCommerce solutions. Data has been the foundation of all methods of trading, inventory control, ordering, dropshipping, warehousing, and much more.
Constant data acquisition means integration with shopping platforms. For you as a B2B SaaS software vendor, whose clients are online store owners, integration with various eCommerce platforms is important to achieve a competitive edge.
This article will tell you more about what is an eCommerce data integration and how it might impact your business as a SaaS solution provider.
What is eCommerce Data Integration?
eCommerce data integration allows each B2B SaaS software provider to manage and control its business operations efficiently. SaaS solutions can use it to handle information about products, shipments, orders, clients, and much more of their customers' online shops. Without eCommerce data integration quick access to client stores isn't possible at all.
Additionally, eCommerce data integration eliminates unnecessary operations and saves substantial time for B2B SaaS solution vendors who can now concentrate on other essential tasks. It also establishes reliable and up-to-date product information across all online services to prevent out-of-stock scenario. If B2B SaaS solution providers are looking for a way to increase its client base then eCommerce data integration is essential for them. The more integrations it has, the higher increase in its market position.
eCommerce data integration is very important for SaaS software providers like shipment management, email automation, order and inventory management, warehouse systems, ERP, and other B2B SaaS solution vendors, whose clients have online shops.
What are the Main Benefits of eCommerce Data Integration for Your Business?
Recognizing what is eCommerce data integration is not enough, as you need to fully comprehend why this integration is required to make your SaaS solution quite competitive. In general, the more shopping sites you are linked to is better, since that means surrounding yourself with advantages like new positive business marketplaces and a greater number of various clients and increased revenues.
A robust eCommerce data integration helps to utilize the following:
Expand the customer base by linking to Magento, Shopify, BigCommerce, WooCommerce, Opencart, PrestaShop, and many other shopping platforms. Integration with such eCommerce platforms offers access to the vast number of online merchants that are based on these online shopping platforms.
Via eCommerce data integration you will have access to a variety of online merchants who will become your potential customers. With this integration, you as a SaaS solution vendor can collect and process all the required data from online shops based on eCommerce platforms.
Integrating with various shopping sites will also help you accept and introduce advanced functionality to your clients which will generate even more revenue for your company.
You're going to increase your profit because more customers will bring more revenue to your business.
Which Features You Can Perform Having eCommerce Data Integration?
For those B2B SaaS businesses whose clients are online store owners, eCommerce data integration allows them to provide the following functionality:
Email Marketing System
Send emails featuring new items, discounts, and special offers
Analyze order history
Notify customers on order statuses
Recover abandoned carts
Work with product reviews
Order and Inventory Management Software
Import orders from any sales channel
Sync inventory management across different platforms
Create shipments and update order statuses
Make reports to track the situation on each sales channel
Shipping Management Software
Monitor and sync inventory levels
Import orders from multiple sales channels
Create shipments and update order statuses automatically
Create shipping labels
What are the Pitfalls of eCommerce Data Integration?
You also must be mindful of the integration challenges that can occur.
1. On average, integration development takes 4-12 weeks. That is the time when your developer will learn the platform logic and architecture, put effort into reducing the friction between the product and the system, and much more.
2. Be ready to pay a few thousands of dollars plus maybe extra if the need for additional development occurs. Once the integration is complete and successfully iterated, it will need developer work and attention because new versions will appear and this will mean upgrades to be made. Plus, your clients might request modifications and custom improvements.
3. Each integration is both tons of work to do and a separate thorn in the side that never goes away after the work is done, that somebody has to handle. For better and more reliable results, you will want someone to be reliable and expert, and that is not easy to find and difficult to allocate if they are a part of your product team.
How to Easily Implement eCommerce Data Integration?
The best strategy for all integration issues would be to use a third-party option like API2Cart. It takes care of all implementations and allows B2B SaaS solution vendors to focus on other business needs.
The key benefit that API2Cart brings to B2B SaaS providers is that it enables them to connect to multiple shopping platforms using a single API. API2Cart is a great option for all types of B2B eCommerce vendors, such as shipping, order, and inventory systems, and many others, that are looking for a quick and effective way to integrate various shopping carts and marketplaces. The API2Cart API allows SaaS software to get, add, update, delete and synchronize online merchant's data based on popular shopping platforms including WooCommerce, Magento, Shopify, OpenCart as well as more than 40 others platforms.
With API2Cart's completely integrated API, you as a SaaS solution vendor can eliminate almost all of the issues concerning shopping platform integration and save considerable amounts of money on building integration modules and on other expenses. As API2Cart makes it much easier to connect to common shopping platforms, your company doesn't need to set up separate integrations and you don't have to stress about any improvements and upkeep.
What is even better is that API2Cart has plenty of pricing options and you can test the service free for 30 days.