How to Easily and Fast Synchronize Stock Across Multiple eCommerce Channels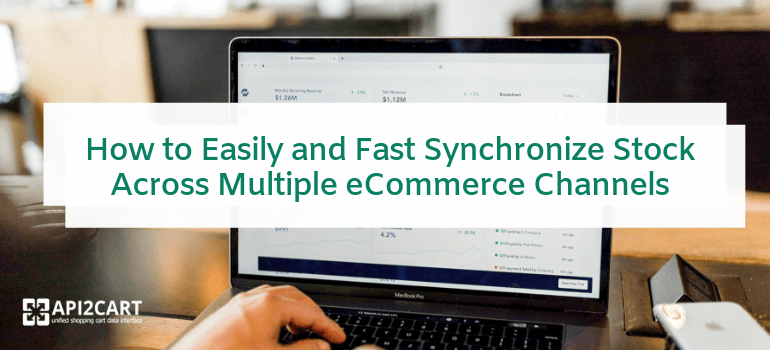 Ecommerce is all about selling products online and at the same time maintaining variety in every aspect of a product. It is a diverse platform where every product has its own properties viz, size, color, price, etc. and everything needs to be recorded for customer preferences. For online store owners, whether large or small, it is impossible to manage all this information and stock status in an inventory manually. Further, if an item is out of stock, it needs to be added in time so that the customers do not switch to another site. But how is that possible without the manager been informed about the stock status? Here is where inventory synchronization between all online stores holds significance. It is responsible for maintaining an optimal amount of resources in all the stores.
Inventory synchronization across multiple eCommerce channels can be best achieved by inventory management systems. These systems are capable of keeping track of items being sold out in the inventory across all online stores. Any retailer would be benefited from an inventory management system in the sense that the former would not have to bother if an item is sold out on one online store and is still available on others as this information is a part of inventory synchronization process itself.
This article illustrates how the process of inventory synchronization actually works and a simple way for inventory management systems to sync stock across different eCommerce channels.
How do inventory management systems help with accurate inventory numbers?
Inventory management systems usually perform inventory synchronization every few minutes or sometimes in real-time. Here is how the process of stock sync works:
Retailers enter manually the quantity of items and link everything to the listings across all their platforms.

Customers place orders on one of the channels online store owners are selling on, like Shopify or eBay.

The orders are "imported" to inventory management system which automatically adjusts inventory.

Once the system recalculates inventory and it updates automatically the information on all linked listings.
With the help of such an inventory management system, retailers are able to monitor regular sales and be aware of what items are needed to refill the stock. This would definitely need to improved customer satisfaction.
To sync inventory across multiple sales channels inventory management systems need to be integrated with shopping carts and marketplaces on which the stores are built on.
As a matter of fact, integrating with every eCommerce platform manually is difficult and when multiple platforms are under consideration, it turns out to be quite challenging. Every integration is a complicated process and requires an expert for flawless accomplishment. Moreover, it is time-consuming and expensive too.
How to easily sync inventory across multiple sales channels?
Register API2Cart account.

Add your store.

When an order is placed on the store you get notified about the order via webhook for order.add event or retrieve new orders via order.list method.
Update stock quantities on all sales channels via product.update method using increase_quantity and descrease_quantity parameters.
Instead of integrating with each e-commerce platform separately, a better solution is to use a unified API integration with 40+ shopping carts and marketplaces provided by API2Cart. The service provides the whole scope of functionality for providing inventory sync.
If you need more information on how to integrate your inventory management systems with eCommerce platforms, you are welcome to contact us or schedule a call with our expert. Or better yet, make a trial account to see how API2Cart fits your business.