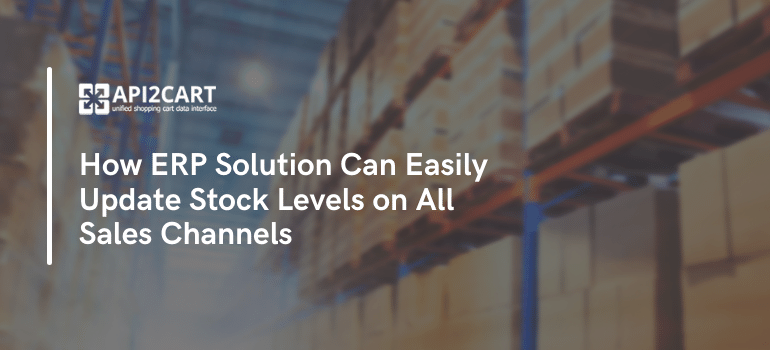 ERP (Enterprise Resource Planning) is a broad term used to define a process that integrates the various business functions in a company, including finance, manufacturing, HR, services, supply chain, and procurement, to name a few. ERP applications stand by the side of a business to equip them with intelligence, efficiency, and visibility across their operations on employing the latest technologies like machine learning and artificial intelligence.
A critical business function of such systems working in the eCommerce industry is to update stock levels. All the sales transactions need to be processed in real-time to ensure seamless inventory management.
For that ERP systems need to use an integration solution that will update stock levels on different eCommerce platforms. Let's see below how API2Cart can help your ERP solution to easily perform your core functions including accurate inventory.
Important Features of ERP Solutions
For an ERP application to work smoothly across the organization, it needs to update stock levels in real-time. The following ERP features require real-time stock updates more than any other business process.
Accurate inventory

The quintessential feature of an ERP application is to maintain a perfectly accurate inventory. Labelling unavailable items as 'in-stock' and available items as 'out-of-stock' is the worst thing for online store owners. In both cases, they will bear significant losses. Hence, to avoid such situations, your ERP solution needs to update stock levels in real-time to report accurate inventory.

Quick data synchronization

When your ERP application deals with a variety of products or a large number of items, it is difficult to sync the inventory across all the sales channels. Loads of information need processing to update stock levels. On the contrary, real-time stock updates can offload the daunting task of syncing the inventory in comparatively lesser time.

Link vendor inventory

Dealing with multiple suppliers and vendors is a tedious task for your ERP applications. Especially, when the inventory comes from multiple locations. To streamline this process, you need to update stock levels in real-time so your ERP application can link the stock to the vendor's inventory without any missing details.

Import orders from e-stores

For your ERP application to import orders from various e-stores, it is important to check the stock levels in the inventory. A little delay in updates or misinformation can corrupt the whole process and lead to unsatisfied clients and customers. Hence, the ERP application requires you to update stock levels as and when changed to avoid being misled by the inaccuracies of the inventory.

Ease shipment tracking

When an ERP application has real-time updated stock levels, it helps the merchants offload their inventory management tasks to suppliers. The latter uses the updated information to inform their customers about their shipping date and time based on the order statuses as recorded by the ERP.

Reports and analytics

ERP applications streamline business processes by providing comprehensive reports related to inventory, providing e-store owners with detailed insights into their stock. But these reports are based on real-time stock updates that tell the owners precisely how their inventory is managed.

How to Easily Update Stock Levels?

API2Cart provides a unified API to integrate SaaS applications with more than 40 eCommerce platforms including Shopify, Magento, Prestashop, WooCommerce, Amazon, eBay and others.

The steps below show how your ERP solution can easily establish an integration with shopping platforms and update stock levels across all the sales channels using API2Cart.
Create an API2Cart account.

Add your clients stores.

When a customer places an order on the store, you get notified about new orders with the webhook for order.add event or by executing order.list method.

Stock levels are updated on all the sales channels with the help of product.update method.
That's how you can integrate your ERP application with eCommerce platforms and update your inventory.
Conclusion
The process seems easier than it actually is. Unless you go for a unified approach, you have to integrate your ERP application with each eCommerce platform separately, one-by-one. It can cost you significant time, money, and resources which you can invest in other important business functions.
The easiest way is to integrate your ERP application with all the eCommerce platforms at once using a unified API provided by API2Cart. Not only can you update stock levels, but you will also get access to add, update, delete store data such as customers, products, orders, and shipment information from all the eCommerce platforms at one place.
With the help of API2Cart your ERP solution will be able to:
Retrieve products lists along with prices, images, descriptions, attributes, variants, categories, etc.
Sync inventory on all storefronts to show accurate items quantity
Import orders, as well as order details
Determine shipping details (e.g. names, addresses, tracking orders, and carriers)
Organize the data in detailed reports
By integrating via API2Cart you pay one price for as many connections as you need. Once the connection with API2Cart is complete, you'll be able to quickly access the data from your customers' e-stores and use it for your needs.
API2Cart provides all the necessary API methods that help ERP solutions to provide all their functions to online store owners.
For working with products: product.update/ list
For working with orders: order.list/ add/ update/ shipment.tracking.add/ shipment.update/ shipment.add
For working with categories: category.add/ delete/ update/ assign/ unassign/ image.add/ image.update/ image.delete
For working with customers: customer.list
You can also schedule a call with our sales representative if you want to get detailed information and examples of how API2Cart can help your ERP software to win more clients and integrate with shopping carts at one go.