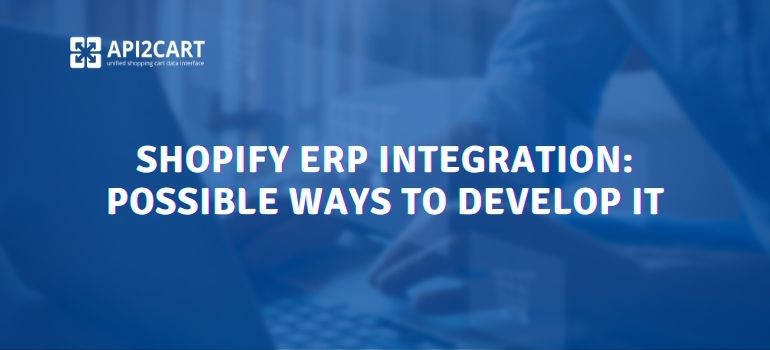 ERP software is a strategic business solution that companies use to streamline their processes. It helps finance, human resources, accounting, sales, and marketing. Many ERP software must be integrated with different shopping platforms, like Shopify.
Integrating Shopify with an ERP solution gives the latter access to order, price, and customer data from all Shopify online stores. This article explains the benefits and process of connecting your ERP software with Shopify.
What is an ERP integration?
ERP integration is crucial for connecting your ERP software with other systems. This integration enables the smooth flow of information between your systems and the others, automating business processes and improving productivity across the enterprise.
Enterprise Resource Planning (ERP) is a crucial factor in the success of top eCommerce brands. ERP integration is essential for companies connecting their ERP software with other programs. The main objective is to share data and improve productivity by creating a single data source. This allows us to get relevant information quickly and easily.
Integrating ERP with shopping cart software like Shopify, Magento, or Wix is crucial to operating efficiently. This integration gives easy access to the necessary information for your system to function correctly.
eCommerce ERP software must integrate with various shopping platforms to perform all its functions. Therefore, data from e-stores built using different eCommerce platforms and marketplaces is essential for ERP software. One of the most popular shopping platforms is Shopify, and we will discuss how to develop Shopify ERP integration in detail. Fortunately, integrating Shopify with an ERP system is easier than ever, thanks to API (Application Programming Interface) technology.
Features of ERP Software
ERP software is a must-have for businesses looking to boost their eCommerce presence. Enterprise Resource Planning offers users a range of features that help manage daily tasks. This software benefits accounting, shipping, and inventory management operations crucial for a successful eCommerce business.
 ERP software streamlines financial management by allowing users to make crucial decisions without worrying about individual invoices or paperwork. It also helps e-retailers avoid unexpected product shortages or over-ordering.
 With eCommerce ERP solutions, the entire process of getting products to customers is simplified. This includes calculating shipping costs, evaluating delivery companies, and ensuring timely delivery.
 ERP software offers features that help eCommerce businesses become more organized, efficient, and successful. However, it must be integrated with different shopping platforms to perform all its functions.
 The data used by ERP software comes from e-stores created using various eCommerce platforms and marketplaces. Shopify is one of the most popular shopping platforms, so we'll discuss how to develop Shopify ERP integration in detail.
How does Shopify ERP integration work?
ERP integrations provide a comprehensive view of the enterprise and its operational applications. They facilitate real-time monitoring of critical performance indicators, guarantee data accuracy, and offer numerous other benefits. Let's look at how ERP integration works.
As an ERP service provider, it is imperative to integrate your solution with Shopify to expand your customer database and gain access to untapped markets. The following integrations will facilitate this process:
Retrieve comprehensive product lists, including descriptions, images, prices, variants, attributes, and categories from Shopify stores;
Synchronize inventory across all storefronts to display real-time, precise product stock levels;
Obtain details and lists of orders from Shopify stores;
Organize data in customized reports and track any changes;
Determine shipping details, including carriers, addresses, names, and following orders.
How to Build Shopify ERP Integration
Shopify offers a robust API that makes adding features and functionality to your solution easy. And because Shopify is a worldwide platform with a significant user base, integrating with it can assist you in reaching a wider audience.
Two ways to develop integrations with Shopify are in-house or via third-party services. In-house integration development requires hiring a development team, who then must be trained on developing integration with Shopify. While the integration process may incur expenses and require a significant amount of time, it gives you excellent control over the entire process and the final outcomes.
Third-party services provide ready-made integrations that you can use in your software. These services offer a faster, cost-effective, and more accessible option for integrating software systems with shopping platforms.
Fortunately, API2Cart unified API simplifies the process of developing eCommerce integrations. It allows software vendors to work with multiple eCommerce platforms, including popular ones like Shopify, Amazon, eBay, Etsy, Magento, Wix, WooCommerce, BigCommerce, and X-Cart. It can significantly reduce the time and effort required instead of developing separate integrations for each system.
It can streamline your integration process and save you valuable time and effort. Also, you can quickly access eCommerce data after establishing the connection.