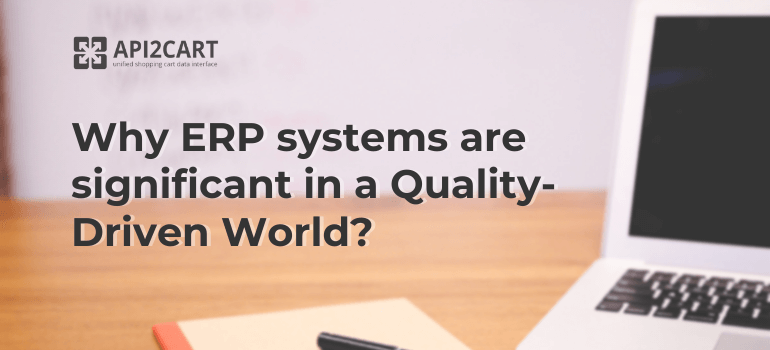 ERP or Enterprise Resource Planning is a process through which all the vital parts of a business are managed and integrated by the company. To implement resource planning many ERP systems exist to help companies by assimilating all of the processes it needs to run a company with a single system. Without an ERP application, each department would have its own system optimized for that division's particular task. Each department still has its own system with an ERP software, however, all the systems can be accessed through one application with one interface. It became easier for the company to share and communicate with each department easily.
Why Enterprises Use ERP for Business Functions?
We have learned that Enterprise Resource Planning manages a number of business functions however the question is how it is better than any other system? The unique attributes of ERP makes it distinguished from all the competitors in the software market. Here you can look at some of the reasons why one of the ERP systems should be considered by any organization:
To save more money

Many vendors in recent years have introduced flexible pricing, however, ERP packages still look like a big investment for them. Many organizations think that its large cost will end up saving any money at all. With Enterprise Resource Planning users don't have to search for data across multiple systems.

Enhanced collaboration

As earlier mentioned all systems improve collaboration in some way, the features of ERP systems can vary to some extent depending on the program you are using. What makes an ERP unique is the centralized database which reduces the errors brought on by working with the incorrect data.

Improved productivity

Tedious and boring tasks are generally assigned to the employees such as monitoring inventory levels, generating reports, timesheet tracking, etc. which are unavoidable. Also these tasks lower down employees' morale. ERP system can systematize your most tedious task easily. ERP system software helps to eradicate redundant tasks by performing advanced calculations within minutes.

Risk management and easy submission

It becomes problematic to keep track of all the diverse regulations imposed on your business when the company does business in different countries. Hence many ERP systems are built with these regulations in mind to help you maintain compliance at every stage.

Improved production planning and resource management

Enterprise Resource Planning provides an understanding of all manufacturing operations. This permits users to improve production schedules, labor and equipment to maximize capacity. Also, ERP manages your fixed assets and Bill of Materials (BOM).

Customer satisfaction

Offering client-centered goods and services are the best ways to improve customer satisfaction. ERP systems are prepared with a customer relationship management (CRM) tool. With an ERP, your CRM has admittance to information across business functions.

Better-quality inventory monitoring

Increasing the inventory level is a major challenge for the budding companies. To keep a check on your inventory at every supply chain stage, ERP systems use Radio-Frequency Identification (RFID) tags, barcoding, and serial numbers. Thus it helps companies to keep a track of inventory levels at different warehouses.
Types of ERP Systems
Usually, ERP systems are categorized on the basis of the size and complexity of the enterprises assisted. Though most open source Enterprise Resource Planning are designed for small organizations, it can either be proprietary or free and open source. Typical tiers comprise of-
Tier I ERPs

It supports and handles all the international product issues of global enterprises which include postal code, language, currency, accounting rules, etc. Oracle and SAP have been well-thought-out Tier I for years.

Tier I Government ERPs

This tier ERP supports large and federal, government agencies. These vendors support the finest details of government human resource, accounting and procurement.

Tier II ERPs

Under this Tier comes to the large enterprises that may function in multiple countries however they lack global reach. Most of these ERPs have some internationalization but lack Tier I breadth.

Tier II Government ERPs

This tier basically focuses on state and local governments with some federal installations. UNIT4 and Tyler Technologies fall in this category.

Tier III ERPs

This tier supports mid-tier enterprises. There are 75 to 100 ERP solutions depending on how ERPs are categorized.

Tier IV ERPs

These are designed for micro-enterprises and focus on accounting and are not considered full ERPs by IT professionals.
Various Uses of ERP
Organizations use ERPs to manage their business functions within a centralized and combined system. The company uses ERP to work within the supply chain to support keeping track of all the moving parts of manufacturing and distribution. ERP can be utilized by a number of different industries together with those in nonprofit groups, healthcare, hospitality and construction. Also, you can rely on ERP to manage your organization's staff, inventory and customers. To allow all departments to work with the same information, ERP stores all entered data into a single database. Also, this data can be organized, analyzed and made into reports with the help of Drupal web developers.
How ERP Requires to Progress for a More Quality-Driven World
ERP system needs to keep pace with the changing customer preferences. Manufacturers are handling more pressure to meet time-to-market demands, quality levels and price competition than ever before. It's now common to see design-to-manufacturing workflows that include failure mode and effects analysis (FMEA). Therefore, by using the digital twin test every product is tested to meet the highest product quality possible. By allowing design-to-manufacturing, ERP platforms form a basis for the future quality of the product.
Conclusion
The challenge of allowing the greater context of information across production grounds, supply chains and service locations, define the future of ERP systems in a quality-driven world. To become a learning system, ERP systems require to move beyond a transaction-centric outlook and hold an edge and more intelligent role. Manufacturers can accurately define what excellent product quality looks like using ERP system that capitalizes on the rapid gains in AI and machine learning and use automated systems to achieve it.
In case you are ERP service provider, then you know how important integrations for your system are, especially, when you deal with eCommerce platforms. However, it is usually tedious to get connected to each platform. The better alternative is to use a unified shopping cart integration service such as API2Cart. It allows you to integrate with 40+ popular shopping platforms such as Prestashop, WooCommerce, Magento, eBay, Amazon and many others through only one integration. You will be able to easily get, add, update, sync and manipulate the needed store data such as orders, products, customers, categories, etc.
We provide a FREE 30-days trial for you to try how easily you can solve your business cases with API2Cart.
---
Author Bio
Ashley Marsh is a senior content writer at Maan Softwares Inc. She has been writing for various companies for over four years on a variety of topics. Ashley specializes in technical writing with an emphasis in mobile development, web design, and technology trends. Ashley finds covering the tech world to be an exciting and engaging experience as each day brings new and groundbreaking technologies to explore and write about. When she's not writing about tech she enjoys walking her two chihuahua-poodle mixes, Ginger and Pepper.